Brownells Gunsmith Career Fair 2013 Dates Set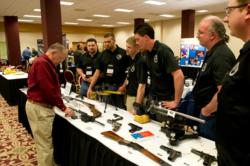 Montezuma, IA (PRWEB) July 24, 2012
Brownells The World's Largest Supplier of Firearms Accessories and Gunsmithing Tools – is proud to announce that its 7th Annual Gunsmith Career Fair will be held at the Downtown Marriott in Des Moines, IA, on March 27-28, 2013.
An ideal venue for prospective, student or working gunsmiths to interact with the industry's top employers, and for employers to find new talent or show off their latest gunsmithing wares there's no better place to be.
In addition to the unique networking and potential employment opportunities, the career fair will offer attendees a host of seminars ranging from firearm-specific tips to best business practices.
With more than 200 attendees and 50 exhibitors expected, interested individuals and companies are encouraged to register as soon as possible. The event is free of charge for attendees.
"Being recognized as a leader in the firearms industry and for our vast inventory or firearms parts, tools, and ammunition has taken hard work and 76 years to accomplish," said Pete Brownell, President/CEO of Brownells. "Staying grounded in our roots as a gunsmithing supply business is very important to us. Therefore, we created the gunsmith career fair to give back to this great industry. A forum for future gunsmiths, veteran gunsmiths and gun-related companies to learn, share, and interact with one another this has grown into an annual event that we all look forward to. We hope to see a lot of new faces there."
Online registration is available for attendees and exhibitors. For more information, contact Mary Anna Christiansen at 641-623-5401 or by email at careerfair(at)brownells(dot)com.
Specific information regarding speakers, seminar topics, and exhibitors will be announced at a later date.
Founded in 1939, Brownells is an Iowa-based, family-owned company that supplies more than 75,000 firearms parts, accessories, reloading components, gunsmithing tools, and ammunition to armorers, gunsmiths, and shooters worldwide. In addition to their industry leading 100% lifetime guarantee on EVERY product sold, their staff of veteran Gun Techs are available to assist customers with any need free of charge. There are no minimum order sizes or fees. To place an order, or for more information, call 800-741-0015 or visit http://www.brownells.com.