Wanted: Teens Who Want Jobs Tomorrow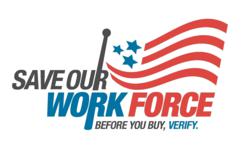 Hawthorne, CA (PRWEB) June 28, 2012
Savvy students know that even having a college degree may not be enough to land a good job after graduation because the jobs just arent there. The unemployment rate for Americans aged 18-29 is 12.1% and 'unofficial' rates are much higher. More than 50% of recent grads are under or unemployed, according to a recent investigation by the Associated Press. It has been estimated that the U.S. needs to add about 250,000 jobs a month on a regular basis to bring the unemployment rate down to the level experienced prior to the 2007-2009 recession. So some students are taking action. They are building SaveOurWorkforce, an organization with a powerful database to harness consumer buying power and ultimately influence job creation and preservation in the U.S.
Not everyone votes but everyone spends money, explains Ross Mazzolini, a sophomore at Texas Tech University, and a principle founder of SaveOurWorkforce. Money is power and we can have a lot of power if we get organized and act together. SaveOurWorkforce helps people figure out which companies to buy from to best support our country. When companies that employ Americans cut U.S. jobs or shift jobs overseas, their decisions dramatically affect U.S. workers and their families. These companies are not out to hurt Americans; their intention is to lower costs and improve the bottom line. SaveOurWorkforce recognizes that these companies may exercise substantial power, but the resources of the American public are greater because Americans are their customers.
Consumers make choices everyday weighing factors such as quality, price, convenience and company reputation. SaveOurWorkforce is asking consumers to consider an important new factor before making a purchase – the companys commitment to American jobs. Consumers can verify a companys level of commitment by using the SaveOurWorkforce free website tool "Before-You-Buy, VERIFY". The premise of SaveOurWorkforce is that if enough people used their spending power to make the same demand, then ultimately business creating more U.S. jobs would become more profitable. Companies would be motivated to save U.S. jobs.
SaveOurWorkforce is recruiting students who are interested in developing valuable research, communication and career skills. The database was launched in June, 2012 with information about 100 large corporations. Students are needed to maintain and feed the SaveOurWorkforce database. Plans are to add about 40 companies a month. Im asking other college students and high school kids to form SaveOurWorkforce clubs, says Ross. We can show you how to get started and youll find out that its not hard to be part of something important. We even have a good time while we are doing something about our own future.
About SaveOurWorkforce:
Founded in 2012 by California teenagers Austin Mazzolini and his brother Ross, the mission of SaveOurWorkforce is to save and rebuild the U.S. workforce. The organization encourages the involvement of teenagers, companies and individuals throughout the country. Teens are asked to join or start campus clubs. Companies that join must pledge that they understand how important jobs are to families and the health of our nation and that they will do everything possible to keep jobs in America. Individuals are encouraged to try the Before-You-Buy, VERIFY free website tool at http://www.SaveOurWorkforce.org.