Coming-Of-Age Psychological Thriller Dont Stand So Close Hits Stands In July Pre-Order Available Now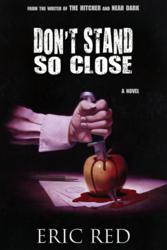 Los Angeles, CA (PRWEB) June 11, 2012
Every teenage boys wildest fantasy becomes his worst nightmare in this provocative erotic thriller debut novel from one of Hollywoods masters of suspense. SST Publications announced today the worldwide publication in trade hardcover, trade paperback and eBook of famed motion picture screenwriter and director Eric Reds first novel, the dark coming-of-age story about teenagers, Dont Stand So Close. The official release date is July 1st 2012.
Publisher Paul Fry says: From the very first time I read Dont Stand So Close I was hooked. Its excellently written, erotic, exciting and compelling. The book draws you in and doesnt let you go until the very end. Eric Reds writing is very descriptive and atmospheric, and once the book has you in its grip, its very hard to let go.
Plot Summary: When handsome 17-year-old Matt Poe moves to a rural town in Iowa, he is the new kid in school. An outsider who cant fit in, his only friend is his beautiful and sympathetic teacher, Linda Hayden. The older woman is the first to take an interest in him, helping him adjust to the community and keep his grades up. Matt cant help falling hard for Linda and what begins with a kiss becomes a torrid, secret affair. But his teacher is a lot more than he bargained for and the kids wildest dream becomes his worst nightmare. The only people who can save Matt are his two classmates, Grace McCormack and Rusty Shaw. But the three of them are in way over their heads against an evil adult trying to make sure they stay after class permanently.
About The Author: Eric Red is a Los Angeles based motion picture screenwriter and director whose films include The Hitcher, Near Dark, Cohen and Tate, Body Parts, Bad Moon and 100 Feet. He has had short fiction published in Weird Tales, Shroud, and Dark Delicacies III: Haunted. He was also the creator & writer of the graphic novel Containment for IDW Publishing. Dont Stand So Close is his first novel.
Please click on the links below to view the cover art on Flickr:

Trade Hardcover painting by Vince Natale: http://flic.kr/p/c8iS95

Trade Paperback photograph by Eric Red: http://flic.kr/p/c8jxwq
To pre-order on Amazon:

Trade Hardcover – http://amzn.to/Lbk9h3

ISBN-13: 978-0-9542523-3-5 (270 pages, $ 29.95)

Trade Paperback – http://amzn.to/KlDUmT

ISBN-13: 978-0-9542523-4-2 (278 pages, $ 14.95)
For more information about Dont Stand So Close or to order directly from the publisher, please visit the official Book Site: http://www.sstpublications.co.uk/dontstandsoclose

###
Short, Scary Tales Publications, 15 North Roundhay, Stechford, Birmingham, B33 9PE, England