A Volatile Market has Higher Education ERP Solutions Looking Incomplete and Niche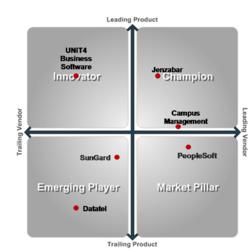 London, ON (PRWEB) June 26, 2012
Continued acquisition and re-platforming leads to undefined solutions and loose offerings in the Higher Education ERP market, according to Info-Tech Research Group. A recent Higher Education ERP Vendor Landscape report published by Info-Tech Research Group, ranked Jenzabar and Campus Management as Champions in a market it feels is still in flux.
No one vendor provides a comprehensive solution that allows management of all constituent and financial activities. Each vendor is inherently a specialist, said George Goodall, Senior Research Analyst for Info-Tech Research Group. The solutions offered as a whole are incomplete. A key for customers is to decide which features they are willing to purchase as add-ons to the core ERP product. These add-ons complicate both the selection cycle and budgets.
Jenzabar, listed as a Champion, provides financial management and faculty management married to a student information system. Jenzabar is the only vendor to have all three of these areas covered and serves 20% of all higher education institutions in the USA. With excellent control of grants management, and a robust solution for tracking grant awards, applications, and report deadlines, Jenzabars ERP solution has the ability to meet the needs of a range of institution sizes.
Also a Champion in the report, Campus Management is a strong vendor with best-in-class

e-learning and self-service portals. With several deployment options, Campus Managements performance analytics enable admissions forecasting and strategic decision-making.
Ranked as an Innovator in the report and receiving the Innovation Award, UNIT4 Business Software offers an agile solution built on workflow and analytics. The companys Agresso Business World platform can combine disparate data for analysis, yet has excellent presentation that does not overwhelm.
For the full list of Info-Tech Research Groups recommendations for selecting a Higher Education ERP Vendor, visit: http://www.infotech.com/research/ss/it-vendor-landscape-higher-education-erp
Info-Tech Research Group Vendor Landscape reports recognize outstanding vendors in the technology marketplace. Assessing vendors by the strength of their offering and their strategy for the enterprise, Info-Tech Research Group Vendor Landscapes pay tribute to the contribution of exceptional vendors in a particular category.
About Info-Tech Research Group

With a paid membership of over 25,000 members worldwide, Info-Tech Research Group (http://www.infotech.com) is the global leader in providing tactical, practical Information Technology research and analysis. Info-Tech Research Group has a fourteen-year history of delivering quality research and is North America's fastest growing full-service IT analyst firm.
Find More Tech Press Releases