Signbox Wins Sign Company of the Year Award for Second Time Running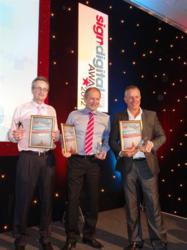 Egham, Surrey, UK (PRWEB UK) 5 May 2012
Signbox has won Sign and Digital UK's top award for a second year running. Named 'Sign Company of the Year' at the award ceremony in April in Birmingham, the judges described Signbox as "the industry benchmark for quality, creativity and service" and "what a modern sign company should aspire to become". Full details of the award judges decision can be found at Sign and Digital UK.
Signbox entered, and won, two individual categories. The company's work producing signage and environmental graphics at the UK office for Expedia, was awarded the Wide Format Print Project of the Year award; this was described in the judges' comments as "simply a perfect blend of materials, creativity, expression and precision". Signbox also won the Individual sign project of the year for companies with 10+ employees with its work at Blackrock, the global investment solutions firm; this judges were described as being 'blown away by Signbox's unique and contemporary signage with creative use of materials to really capture the branding and environment of the organisation".
Commenting on winning these top awards, Mark Bartlett, Managing Director of Signbox Ltd, said, It was a huge honour to win the industrys top award last year. To win it again, for the second year running, is genuinely something we couldnt possibly have imagined given the strength of our competition all the leading sign making and visual communication companies had entered. Even more satisfying if thats possible is that we entered into three categories and won all three. To come away with three of the eleven awards available is a tremendous achievement and Im delighted for all our staff it is a tribute to their professionalism, dedication and excellence.
Based in Egham in Surrey, Signbox offers high quality, sustainable and fully compliant signs for the built environment for a wide range of market sectors, including corporate, education, healthcare, retail, hotel and leisure. As part of Signbox's continuing drive for innovation, the company has recently launched the Enlighten range of smart posters which enable proximity marketing messages to be read by smart phones using NFC technology.
Signbox provides a comprehensive resource and is one of the very few signage companies that has its own manufacturing facilities as well as full in house design capabilities enabling Signbox to provide a complete service from consultancy to installation.
Find More Graphic Press Releases