NorthEast Laundry Association Celebrates 100 Years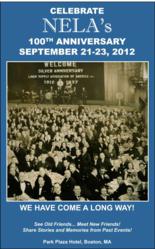 Malden, MA (PRWEB) May 31, 2012
The NorthEast Laundry Association (NELA), which represents the textile supply and service companies in New England, is celebrating its 100th anniversary this year. Most Americans benefit on a regular basis from the cleanliness and safety provided by the industry
NELA members provide, clean, and maintain reusable textile products to businesses in many industries. These products include uniforms, sheets, table linen, floor mats, mops, and other items These industries include light, heavy, and hi-tech manufacturing; healthcare; restaurants; service, retail, construction and transportation industries; and institutions.
The industry has focused on becoming more energy efficient by finding ways to reuse water; and using high capacity, high speed laundry machines to conserve energies. Many of the laundries, as well as their suppliers, are family owned and date back multiple generations.
According to the Textile Rental Services Association, the textile service industry nationwide accounts for more than 200,000 individuals employed at 2,000-plus facilities nationwide. TRSA calculates that 1.8 million U.S. business locations are textile services customers, generating roughly 15 billion pounds of laundry per year -delivered by the third largest fleet of vehicles (behind only FedEx and UPS).
NELA members take pride in providing products and services to businesses which enable the business to have a clean and safe environment and appearance" said NELA Executive Director, Linda J. Guild, CAE.
The year long celebration will culminate at the annual fall conference on September 21-23, 2012 at the Park Plaza Hotel, Boston, MA. The association will recognize the considerable accomplishments and growth of the industry at this time.
NELA President Leo P. Villari, Jr. commented that this location was chosen because many of the early anniversaries were held at the Statler Building, the precursor to the Park Plaza. So in many ways, NELA is going back to where it first began.
More Tech Press Releases