mSecure Password Manager for Android Only 99 Cents (90% off) During "Longest Day Deals" Flash Sale on Google Play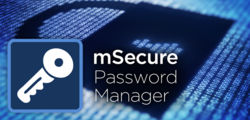 Portland, Oregon (PRWEB) June 19, 2012
mSeven Softwares mSecure password manager app for Android is on sale for 99 cents during the "Longest Day Deals" Flash sale on Google Play. The sale began at noon on June 19, 2012 PST, and ends on June 21. This sale price is a 90% discount from the regular price of $ 9.99.
mSecure for Mac OS and mSecure for Windows will also be heavily discounted during the Flash sale, now only $ 9.99 rather than its normal price of $ 19.95. This is a 50% discount from the regular $ 19.95 price when using the discount coupon provided in the mSecure store description on the Google Play Store.
mSeven is pleased to participate in Google Play Flash sales to promote mSecure for Android, said David Pfeiffer, Marketing Director of mSeven Software. mSecure for Android is the number one password manager in the Paid and Top Grossing Productivity category in the Google Play store. For more information, please see the mSecure for Android website: https://msevensoftware.com/msecure_android
About mSecure

mSecure for iOS is available via the iTunes App Store as a Universal app for iPhone, iPad and iPod Touch. mSecure for Android is available in the Google PlayStore, Amazon App Store, AndroidPIT and Verizon Media Store. The regular price of mSecure for iOS and Android is $ 9.99. mSecure for Mac OS is available in the Mac App Store for $ 19.99 and mSevenSoftware.com, where the Windows version is also available, both for $ 19.99 each.
mSecure continues to be held out as an industry-standard in password and personal information protection for mobile and computing devices. mSecure uses ultra-secure 256-bit Blowfish encryption to protect personal information such as account numbers, usernames, passwords and more. mSecure provides seventeen popular personal information templates with the ability to create custom templates to facilitate easy entry of user information.
A video demonstration of mSecure is available at http://www.youtube.com/v/mmVQb9NIxHE?rel=0.
About mSeven Software

Based in Portland, Oregon, mSeven Software has developed and supports mSecure and several other applications for the iOS, Android, Mac OS and Windows platforms. As a leader in the productivity category, mSeven Software operates on the principle that useful software is made simple for everyday users. For more information, visit http://www.msevensoftware.com.
Media Contact:

Contact: David Pfeiffer

Phone: 262-968-1940

Email: dave(at)msevensoftware(dot)com

Web: http://msevensoftware.com

Video: http://www.youtube.com/v/mmVQb9NIxHE?rel=0
Google, Google Android, Apple, iPhone, iPad, iPod and Windows are either registered trademarks or trademarks of Google, Apple and Microsoft Corp. respectively in the United States and/or other countries. mSecure, mGifts, mSevenSoftware, Security Everywhere are trademarks of mSeven Software.