Excela Creative Announces Launch of New Website for Sydney Summer, Fashionable Jewelry Collection For Girls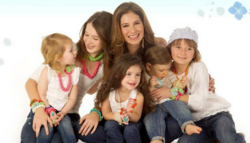 Los Angeles, CA (PRWEB) May 09, 2012
Young jewelry fans can venture into the exciting world of Sydney Summer and the new Spring/Summer 2012 collection, to shop bracelets, necklaces and rings. Sydney Summer, a fun, fresh girls jewelry line by Danielle Stevens, launched their official website (http://www.shopsydneysummer.com) April 6 to reflect its colorful, trendy outlook for girls accessories.
The HTML website, built by leading website design team Excela Creative, features a fun, interactive element called the parallax, a plugin that mimics a three dimensional effect that moves with the cursor. To keep the site playful and entertaining for shoppers, Excela Creative added the parallax to a flower graphic on the right side of the homepage. The homepage also showcases a slideshow reel featuring Stevens daughters modeling the products along with a link to easily shop the featured jewelry pieces.
We wanted to specifically showcase the girls and the jewelry so we designed a site that would allow for maximum space for photos while still leaving a very intuitive navigation, said Michael Henderson, Excela Creative project manager.
Social media integration is enabled through the live Twitter feed on the navigation bar along with Story, Lookbook, and Shop tabs. High-resolution images of each product line are featured in the Shop page; each item can be zoomed in when the cursor hovers over the image. Also, the Pre-Order option adds a great perk to the shipping process as it notifies the shopper when the item will be delivered.
Were very happy with the functionality of the site, said designer Danielle Stevens. It projects the image of the brand, which we hope will become a go-to brand for girls accessories. Everybody at Excela Creative was very helpful and I couldnt have asked for a better team to have worked with.
ABOUT EXCELA CREATIVE:

A division of Excela, For Everything Business, Excela Creative has provided specializes in website design, high-traffic websites, email marketing, branding, Facebook integration, social media marketing, and much more. For more information, please visit http://www.excelacreative.com
ABOUT SYDNEY SUMMER

Launched in spring 2012, Danielle Stevens created Sydney Summer through inspiration from her daughters. Using colors and trends from their world, she brings affordable jewelry to girls of all ages. Currently, the bracelets, necklaces and rings retails for $ 12 to $ 50 at http://www.shopsydneysummer.com
###