Datapath to attend the Red Solutions AV-IP Convergence Tech Event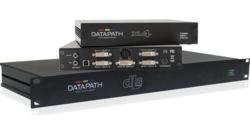 (PRWEB UK) 23 June 2012
Along with other partner vendors of Red Solutions Datapath will be attending, as well as several guest brands including Samsung, Peerless AV and Wolfvision to show how AV and IP technologies combine to enable digital content to be created and shared quickly, easily and affordably.
At the event Datapath will be exhibiting the Datapath x4 and x4-1U, as well as the new dL8 distribution amplifier. The visitors will be able to see 2 different video walls on display being run with the Datapath x4.
Managing Director of Red Solutions Rob Sheriff says: In this its third year, AV-IP Convergence Tech Event has been opened up to enable resellers to bring their customers with them to get hands-on with the technologies and draw on expert advice from product specialists.
Resellers can also book an appointment at one of three AV-IP surgeries to get advice on a range of topics: