Study Verifies Applicability of Linkam High Temperature Stage in Melt Inclusion Study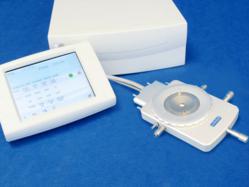 Westmont, IL (PRWEB) March 27, 2012
The Fluids Research Group of the Geosciences Department at Virginia Tech verified Linkams microscope heating stage for analyzing melt inclusions found in magma chambers beneath a volcano, an important component for understanding the magnitude of volcanic eruptions. The results were published in the Central European Journal of Geosciences.
Melt inclusions are microscopic droplets of molten rock that are entrapped in crystals during growth in the magma chamber. Geologists and petrologists assess the volatile content of melt inclusions to determine how explosive future eruptions will be. To learn the true composition of the volatile content, the melt inclusion must first be melted at high temperatures to a homogeneous state then rapidly cooled. Analysis by an instrument such as a microprobe then follows.
Researchers had traditionally used the Vernadsky stage for high temperature studies of melt inclusions. The device consists of a plate and frame base where the sample sits, and is operated by springs that move it in and out of the ceramic furnace for heating and cooling. When this stage stopped being manufactured, Linkam developed the Linkam TS1400XY microscope heating stage to replace it. The Linkam stage design is based on the same mechanical principles as the Vernadsky stage, but has a turn-key digital control system.
McCrone Microscopes & Accessories lent the Linkam TS1400XY system to the Bodnar Group to run tests that verified the applicability of the microscope heating stage to homogenize and quench melt inclusions to produce homogenous glasses.
Not only can the new system match the Vernadsky stage in its technical abilities, Bodnars lab found the TS1400XY saved time, was easier to use and had better optics for observing the heating process.
McCrone Microscopes & Accesories provides Linkam thermal stages to university research labs and oil companies worldwide for fluid and melt inclusion research.
About The McCrone Group

Founded in 1956 and located in Westmont, IL, The McCrone Group, Inc., is a world leader in materials analysis and is internationally recognized as the premier microscopy resource. The Group comprises three business units: McCrone Associates, Inc., provides analytical services to solve challenging materials issues; McCrone Microscopes & Accessories, LLC, provides technical guidance and instrumentation to equip laboratories; and Hooke College of Applied Sciences, LLC, provides microscopy and microanalytical training to industry and government scientists worldwide. For more information about The McCrone Group, visit http://www.mccrone.com.
More Tech Press Releases