Sonica Audio Labs Releases HUSH-RT4 Audio Workstation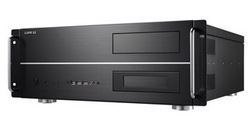 Boston, MA (PRWEB) September 19, 2008
Sonica Audio Labs has announced the HUSH-RT4 digital audio workstation is now available, powered by the Intel Q9550 Quad Core Processor running at 2.83GHz per core, with 12MB of cache memory and with a 1333MHz Front Side Bus (FSB). In addition, the HUSH-RT4 workstation incorporates Extreme XMS II DDR2-800MHz memory, SATA II storage and dual display support. This is one fast and quiet machine running at 22 db (A) and able to run over 250 plug-ins with ease.
The HUSH-RT4 workstation supports all the very latest Intel technologies. The performance boost gained by the HUSH-RT4 digital audio workstation simply translates into more plug-ins to run, more VST instruments to run and more tracks to add, resulting in an overall increase on a user's efficiency to minimize their total production time while maintaining rock-solid stability.
Tested to be compatible with leading DAW applicatios, including, Pro Tools, Nuendo, Cubase, Samplitude, Sequoia, Sonar, Live, Reason and most sampling engines.
Tested to be compatible with leading Pro Audio interfaces, including, Digidesigns M-BOX II, 003, Presonus FP10, FireStudio, RME Fireface 400/800, HDSP MADI, 9652, 9632, Multiface/Digiface with PCI/PCIe card, RayDAT, M-AUDIO 410, 1814, MIX I/O, MOTU, Traveler, 424 PCIe based systems.
With its brushed aluminum case, it is time when words like stylish could be used to describe an audio PC. While being sexier than a standard beige or black PC, the HUSH-RT4 digital audio workstation utilizes heat-pipe technology, 12 db (A) ultra-quiet fans and sound barrier to keep a user's audio production environment quiet.
The HUSH-RT4 audio PC also offers a range of ports to add additional hardware and interface to a studio gear. There are ten USB2.0 ports, dual Texas Instruments FireWire IEEE-1394a ports, along with eSATA and dual display support for up-to dual 30″ MAC Cinema Displays.
Sonica Audio Labs, LLC. configures the HUSH-RT4 audio workstation with audio production in mind, shipping with customized BIOS and optimized Windows XP services.
HARDWARE
Intel Quad Core Q9550 2.83 GHz Processor

12MB Cache memory and 1333 FSB

4GB Corsair DDR-2 800MHz RAM

Seagate 500GB 7200RPM 32MB SATA II system drive

Seagate 500GB 7200RPM 32MB SATA II audio drive

Seagate 500GB 7200RPM 32MB SATA II samples drive

EZ-SWAP mobile drive system

SilentTrack 20x CD / DVD / DVD-RAM burner

ATI HD3470 Dual Link, Dual DVI, Dual VGA video card

2560 x 1600 video resolution

Supports up-to dual 30″ displays

600 Watt 12 db (A) ultra-quiet power supply

5 TI Firewire ports, 2 (800), 3 (400)

8 USB 2.0 ports

1 eSATA port

6 SATA II ports with RAID support

3 open PCI slots

3 open PCI Express slots

1 Gigabit LAN port

2.4 GHz wireless keyboard and mouse

Intel high definition 7.1 CH integrated audio with SPDIF

Coper heat-pipe 12 db (A) CPU cooler

SilentX 12 db (A) exhaust FAN

LightScribe optical drive

Brushed aluminum 4U rack-mount case
SOFTWARE

Windows XP Professional SVP3 or VISTA 64

NERO Suite 8 CD/DVD burning software

Acronis True Image full version
SUPPORT

3 year toll free phone support

3 year e-mail support

3 year hardware / software integration support
WARRANTY

3 year parts and labor

3 year on-site pick-up service
Price of above configured system is $ 2272.95 MSRP
###
Related Ram Press Releases