Sims Recycling Solutions to Host Electronics Recycling Event in Farmers Branch in Celebration of Earth Day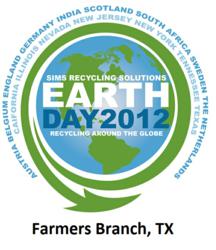 Farmers Branch, TX (PRWEB) April 06, 2012
Sims Recycling Solutions, the global leader in electronics reuse and recycling, and the city of Farmers Branch will host an event offering the community an opportunity to destroy documents, donate clothing and recycle electronics. All electronics brought for recycling will be safely and responsibly recycled by Sims Recycling Solutions. The event will be held on April 14, 2012, at the Farmers Branch Community Recreation Center located at 14050 Heartside Place, Farmers Branch, TX 75234 from 9:00 a.m. to 12:00 p.m.
Sims Recycling Solutions is pleased to provide our electronics collection and recycling services to the residents of Farmers Branch as part of a community event dedicated to furthering the citys green initiatives and protecting the environment. One of the easiest ways to celebrate Earth Day and be a good environmental steward is by dropping off broken or old electronics during this event so they can be properly recycled, stated Steve Skurnac, President, Sims Recycling Solutions, Americas. Electronics represent the fastest growing waste stream in the United States, but just like more common household recyclables, the glass, aluminum and plastic in e-waste can be recovered and used in new products. This helps keeps thousands of pounds of waste out of landfills, saves water and energy, and reduces pollution, which contributes to a healthier planet for everyone.
This e-waste collection event will be set up as a drive-through and drop-off event. Staff will be on hand to conveniently and quickly collect items from community members vehicles. Please visit us.simsrecycling.com/earthday2012 for more information.
Sims Recycling Solutions can accept computers (desktops and laptops), computer monitors, printers, mobile telephones, computer cables, mice, keyboards, fax machines, MP3 players, PDAs, video game consoles, video cassette recorders and players, DVD and CD players, or similar video devices, televisions, zip drives and scanners. Sims cannot accept microwaves, air conditioners, household appliances (e.g., washers, dryers, refrigerators or water heaters), batteries, and smoke or carbon monoxide detectors.
For more information on Sims Recycling Solutions and electronics reuse and recycling, visit us.simsrecycling.com, Facebook or Twitter.
Sims Recycling Solutions

Sims Recycling Solutions (us.simsrecycling.com) is the global leader in electronics reuse and recycling, offering customers in every business sector comprehensive recycling services out of our 50 owned and operated sites across the globe.
Sims Recycling Solutions owned by Sims Metal Management, the worlds largest publicly listed metal and electronics recycler has the global reach, expertise and infrastructure necessary to guarantee our customers that their data is secure, their electronic equipment is processed in an environmentally responsible manner, their reputation is protected and their compliance risks are eliminated.
In North America, Sims Recycling Solutions operates 14 sites in Arizona, California, Florida, Illinois, Nevada, New Jersey, Ontario, South Carolina, Tennessee and Texas.
Find More Computer Press Releases