OttoBody Hidden Gym Offers Unique Solution to Exercise when Space is Limited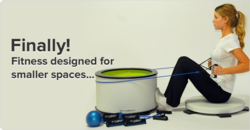 (PRWEB) May 01, 2012
Urban Rite Fitness is pleased to announce the introduction of a brand new way to exercise using The OttoBody Hidden Gym. To mark this occasion they are offering 100 customers a numbered first edition unit that will be made available at a limited price.
The OttoBody Hidden Gym is the ideal solution for those looking to stay fit in a smaller space such as a condo or apartment. It was developed with help from professional engineers, experts in the field of computer generated wood cutting and specialists in aeronautical plastic molding. Urban Rite Fitness went as far as to consult with well known interior designers in the selection of the seven colors they have made available to their customers.
I knew it had to look beautiful to stay in someones living room, but it also had to perform when it came time to exercise said Graham Laird, inventor and CEO of Urban Rite. Every detail was taken into consideration
This new product comes at a perfect time when the need to exercise has never been more important, while at the same time, the challenge to get effective exercise has become more and more difficult as living spaces grow smaller. To put it a simpler way.
To stay in shape in a smaller space you need a home gym designed to fit in a smaller space.
This hidden gem is just that. First and foremost it includes excellent instruction. The OttoBody Hidden Gym has all the tools needed to get effective exercise and it stores all this equipment out of sight. It looks at home in any living room and is available in several colors. Making it easy to match any decor.
It was Leonardo da Vinci who said Small rooms discipline the mind. Large rooms weaken it. With the trend towards living in smaller spaces growing, using these hidden gym means no longer giving up on exercise. Now imagine yourself, like da Vinci, painting a new canvas, with all the benefits a regular daily workout can provide
About Urban Rite Fitness

Urban Rite is a family run business in Toronto Canada. They are the sole manufacturer and distributor of The OttoBody Hidden Gym.

Any questions please contact Graham(at)ottobodyhiddengym(dot)com. Or call 1 888 509 4441

"From the beginning we have strived to build a product that will exceed expectations but has the added protection of a secure ordering and delivery system making your complete satisfaction our only goal Graham Laird.
Find More Computer Press Releases