Oklahoma Guy Creates Best iPhone Audio App That Gives Time Back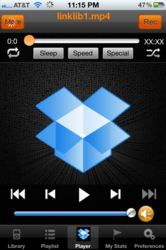 Edmond, OK (PRWEB) April 27, 2012
Cory Boatright and his team of experts have put their heads together to create the ultimate speed listening iPhone audio app . The acclaimed iTalkFast audio enhancing utility application will revolutionize modern day auditory learning. In this fast paced world the best audio application on the market promises to give back more of the worlds most precious commodity, time. Boatright, an expert at time management and educational tools for success, has implemented state of the art listening technology and placed it at the virtual fingertips of every technological device known to man.
The professional research team over at iTalkfast invite users to explore this new and exciting way to make the best use of the valuable gift of time. iTalkFast is an iPhone player that is designed to allow users to listen to favorite Podcasts or Audio books (that are not DRM protected) at 2.5 times the normal speed. In addition to learning benefits, users also get access to these great features; playing audio files using Dropbox, creating custom playlists, recording bookmarks tracked to audio second with edit/save/email notes, setting of sleep timers, quick searches for favorite musical artists, recording capability of personal voice and notes and the convenient ability to share audios on Facebook and Twitter.
The truth is that iTalkfast is simply the best audio player that saves time and energy while training the brains natural ability to process words faster. According to a recently published article entitled The Key To Optimal Learning Capability, Regular Speed Listening produces a much denser synapses network (a neural pathway with much more connection points between cells), capable of higher volume and higher speed of communication between brain cells. Studies have shown that reading and listening programs using advanced computer based technology can stimulate brain cells development and enhance 19 brain functions, improving the basis point of one's IQ by 5% to 25%.
Cory dares to ask the question, what is the inherit value of time in our society? A thought-provoking question to be sure and one that is too easily brushed aside in the rush for lack of time. There is a well-publicized story by an unknown author relatable to many who strive to squeeze the maximum value from the time clock each day. The story is entitled Have You Been To The Bank? Imagine there is a bank that credits your account each morning with 86,400. It carries over no balance from day to day. Every evening deletes whatever part of the balance you failed to use during the day. What would you do? Draw out every cent, of course! Each of us has such a bank. Its name is TIME. Every morning, it credits you with 86,400 seconds. Every night it writes off, as lost, whatever of this you have failed to invest to good purpose. It carries over no balance. It allows no overdraft. Each day it opens a new account for you. Each night it burns the remains of the day. Invest it so as to get from it the utmost in health, happiness, and success!
To learn more about how to get the most out of the iTalkfast mobile app click here http://italkfast.com/. For more information about Cory Boatright contact 888-476-4114 or email cory[at]italkfast.com.
Related Computer Press Releases