Microtech Systems Announces the Xjet, A New High Speed Inkjet Printer For Xpress Disc Publishing Systems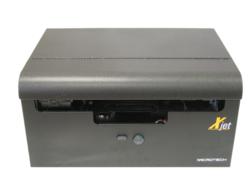 Foster City, CA (PRWEB) February 23, 2012
Microtech Systems announced today they have added the Xjet high speed inkjet printer to their family of system printers that supports the volume production capabilities of the XP family of publishers that have capabilities for unattended operation generating hundreds of discs per day. The new Xjet will complement the Microtech printer family currently consisting of the Xstreamjet, the K2 color thermal and the Xpression monochrome thermal.
The Xjet can print on inkjet ready CD/DVD & Blu Ray media at a draft speed of only 3 seconds per disc and only 22 seconds for a 100% full color best quality image, making it one of the fastest color printing systems in the market. Industry leading 4800 dpi print resolution and 16.7 million colors with the special aqueous inks provides the sharpest text and dazzling graphics with bright, vibrant and photo-quality output. Separate cartridges for each color provide the most cost effective and efficient delivery system for even large volume production runs.
We are delighted to upgrade our production printing capabilities with the first new printer we have announced in several years, said Corwin Nichols, CEO and founder of Microtech Systems. Inkjet offers the best value of speed, cost per disc and quality our production customers in the volume on demand market are looking for.
The Xjet comes complete with Microtech's proprietary DiscPrint , software, the industry leading tool for designing and printing images and text directly onto media for a completely professional presentation. The software allows users to generate dynamic text, and supports both text and graphic files, and is optimized for the production environment. DiscPrint is also compatible with most popular graphics programs when files are saved as PDFs or PRNs.
Microtech is launching the Xjet first on new XP systems and will be offering upgrade paths for existing system customers before April. The product is available this month, please contact your Microtech sales representative or authorized reseller for special kick off promotions that are effective until end of May. http://blog.microtech.com/inkjet-disc-printer/
About Microtech Systems

Established in 1980, Microtech Systems is a pioneer in the development of automated digital content storage. Microtech is a manufacturer and global supplier of robotic CD/DVD/HD & Blu-ray on demand fulfillment systems that have produced millions of discs for the gaming, entertainment and software on demand industries. For more information visit: http://www.microtech.com.
###
Find More Graphic Press Releases