KODAK Shoe Art Film Wins Craft and Hobby Association Innovation Showcase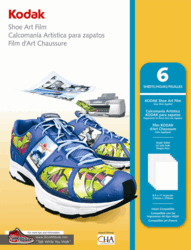 Barrington, IL (PRWEB) February 17, 2012
A panel of craft and hobby experts, journalists and celebrities chose KODAK Shoe Art Film as the winner of the Innovations Showcase at the Craft and Hobby Association (CHA) 2012 Winter Conference & Trade Show in Anaheim, Calif., held Jan. 29 through Feb. 1.
KODAK Shoe Art Film designed and developed by Shoe Attitude of Barrington, Ill., and based on Avatrex Technology by Utopia Digital Technologies allows anyone with a desktop inkjet printer to customize their shoes with any full-color image, whether its a photo, graphic design or pattern.
KODAK Shoe Art Film is a clear material that is printed in reverse on any desktop inkjet printer and then applied to the shoe. KODAK Shoe Art Film conforms to the shoes surface whether its leather, canvas or a synthetic material to create a seamless, personalized and wearable fashion statement.
"At CHA, we're always looking for ways to showcase truly innovative product designs at our trade shows that can help shape the industry and spark new trends," says CHA CEO Andrej Suskavcevic. "The creativity demonstrated by these winning companies in both their products and public displays helps set a standard for excellence at the show, and in the industry."
Shoes can be personalized with KODAK Shoe Art Film in four simple steps: Prepare the artwork or design on a computer, print the image on any desktop inkjet printer, rub the glue stick onto the areas of the shoe to decorate, and apply the image. Once the artwork is sealed it conforms to the shoe and will stay put for weeks until it's ready for a new design.
KODAK Shoe Art Film is easy to remove so that a new design can be worn every day. Show off school spirit, personal designs, a favorite pet, a favorite color, a favorite sports teams, or whatever it is that makes each person unique, says Andrea Atwater brand manager for Shoe Attitude.
Each KODAK Shoe Art Film kit comes with six 8 1/2 x 11 sheets of the material, an instruction sheet and a glue stick compatible with KODAK Shoe Art Film. The glue is non-toxic, will not ruin the surface of the shoes and can be easily removed for the next round of Shoe Attitude.
My kids had a blast using it and they made such fun, great shoes with the KODAK Shoe Art Film. It was very easy to use and adhered to the material very well. One of my kids used it on his leather basketball shoes and the other used Shoe Art Film on her canvas shoes. It didnt look like a sticker; it looked like the shoes were made that way, says Tracy Martino, a mom in Palatine, Ill.
For more information, including a video that shows exactly how KODAK Shoe Art Film works go to http://www.ShoeAttitude.com, and for instructional videos go to http://www.youtube.com/ShoeAttitude. For media inquiries, please contact Andrea Atwater at 847-772-0621 or email andrea.atwater(at)shoeattitude(dot)com.
###
Related Graphic Press Releases