IntoxBox Interactive Breathalyzer to Unveil New Model at Vegas Shows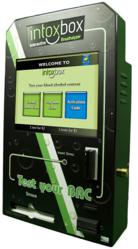 Las Vegas, NV (PRWEB) March 12, 2012
It will call you a cab, invite you to guess your BAC (blood alcohol content), and, if you guess correctly, it will even text an activation code directly to your cell phone for a free BAC test. The IntoxBox, the worlds first smart BAC testing kiosk for bars, will make its national debut at two trade shows at the Las Vegas Convention Center March 12-16.
With its 19-inch touch screen monitor, dynamic graphics, interactive user interface and remote management system, the IntoxBox Interactive Breathalyzer bears little resemblance to the garish, novelty bar breathalyzers of the past.
Its advanced programming, entertaining user experience and state-of-the-art sensor module represent a quantum leap in bar breathalyzer technology. The IntoxBox even cycles ads in high definition on its touch screen monitor when the breathalyzer is not in use.
The IntoxBox will be featured at the Night Club and Bar Owners Convention and Trade Show March 12-14 and the Amusement Expo March 14-16. Both shows are at the Las Vegas Convention Center.
The IntoxBox, which is manufactured by Walden Innovative Resources, LLC (WIR) of Eden Prairie, MN, currently has distributors in 13 states.
The IntoxBox features an interactive program that guides users through the testing process. Once the test is over, they are offered the opportunity to order a cab simply by touching an icon on the touchscreen monitor. It also invites users to guess their score. If they guess correctly they receive an activation code for a free BAC test.
Weve tried to make the IntoxBox experience something that entertains, educates, informs and provides a transportation option for customers who may decide not to drive their own vehicle home from the bar, explains Ryan Walden, WIR president and co-founder. Driving under the influence is a very serious issue, and we want to give customers all the tools they need to make a responsible decision.
Drunk driving accounts for nearly 12,000 deaths, 700,000 injuries and 1.4 million arrests each year in the U.S. Part of the problem, claims Walden, is that bar patrons dont have an opportunity to check their BAC before they leave the bar. You wouldnt drive without a speedometer, says Walden, so why are bar patrons expected to drive home without the opportunity to test their BAC before they leave the bar?
The IntoxBox is equipped with a state-of-the-art fuel cell sensor and a circuit board-controlled sampling system that is specially engineered to stand up to repeated use with no drop-off in accuracy. The IntoxBox quickly clears out residual condensation after each test to assure that BAC readings are as accurate as possible.
Measuring 34 inches high by 20 inches wide by 7 inches deep, the IntoxBox is built to last with a 14-gauge steel case, double-bolt lock and durable touchscreen monitor. It has a credit card swipe, dollar bill acceptor and a built-in straw bin that can hold more than 500 straws.
In its national rollout, the company has been contracting with independent operators who either sell or place the machines in bars in their area and collect revenue from usage fees and advertising.
Ad Sales

Between tests, the IntoxBox can display high definition video ads on its19-inch touchscreen monitor. It can also run direct impression ads during the testing process.
Not only can advertisers align themselves with responsible drinking, they are also able to get their messages displayed in the high traffic areas of these popular bars and nightclubs rather than on restroom displays that are normally associated with indoor advertising. The IntoxBox displays each ad about 12,000 times a month during prime business hours.
Remote Monitoring

The IntoxBox is the first bar breathalyzer with a remote monitoring system that allows operators to troubleshoot equipment functions and track paid transactions from their laptop or desktop computers or smart phones.
From a distributors perspective, the remote monitoring capability may be the most significant advancement of all, says Walden. You can see if the units are working properly and you can see how much each unit is earning each day without ever leaving your home.
After two years of test marketing in the Minneapolis-St Paul area, WIR rolled out national distribution of the IntoxBox in December 2010. The Las Vegas trade shows marks the first time the IntoxBox will be featured at a major public forum.
For more information on the IntoxBox, please go to http://www.intox-box.com or contact Gene Walden at 952-201-9362.