Game Designer Richard Garfield Pledges to Defend Earth against Flying Eyebats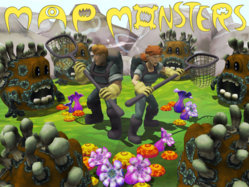 Seattle, WA (PRWEB) April 26, 2012
Game designer Richard Garfield, best known for his award-winning collectible card game Magic: the Gathering, has moved into the realm of location-based mobile gaming with his latest project, Map Monsters. Garfield said that the inspiration for the game came from two main sources: a realization that location-based mobile technology could open new vistas in play experiences, and the fact that Earth is currently beset by hideous monsters stealing our possessions, and that a corps of trained monster-fighters is desperately needed to retrieve them.
The game is being developed by BodSix, a team of artists and developers with experiences at Amazon, Apple, Pixar, and Wizards of the Coast. BodSix recently launched a Kickstarter fundraising campaign for the project, with rewards for backers that include a game night in Seattle with Richard Garfield, and hand-drawn fantasy poster maps of their real-life neighborhoods by Lands of Ice and Fire cartographer Jonathan Roberts.
Map Monsters players take the role of Monsternauts tasked with finding and capturing a variety of monsters from another world who have stolen items from our communities, and who repel attempts to reclaim them with powers such as slime and fire. Using Earth as a game board, the in-game map corresponds with a players actual location: the more that players travel and build networks of friends, the richer their game experiences will be. They may find items or monster spawning grounds hidden in their neighborhood bakery or a local landmark, and can eventually build roads to other cities to explore new areas with different monsters and treasures.
Many location-based games require players to travel to a lot of different places just to enjoy the game, which doesnt match most peoples daily lives, said Garfield during a conversation in a Seattle coffee shop, where slime-coated creatures were busily unbolting the espresso machine and dragging it out the door. Map Monsters is designed with a blend of play that rewards playing from different locations, but also allows players to enjoy the game from just a few locations, whether its home, work or school.
Garfield said that he and BodSix will continually add surprising, quirky new monsters and collectibles to the Map Monsters world. He also revealed plans for special events in which players can search for hidden caches of treasure, build monuments with their friends, and defeat massive invasions of monsters to earn unique badges.
BodSix CEO Jeff Dixon said, Its an honor to work with legendary game designer Richard Garfield as he blazes new trails in mobile gaming. I just wish our work laptops didnt keep disappearing into a Wonderland-like parallel world populated with monsters. That rarely happened when I was at Amazon.
About Richard Garfield

Among the worlds best known game designers, Richard Garfield leads game design at BodSix. For his first professional game, Magic: The Gathering, Richard was granted the patent on trading card gamesnow a multi-billion dollar industry worldwide. Since that time, he has produced many award winning trading card games and board games including Netrunner, Robo Rally, What Were You Thinking, and Filthy Rich. In the realm of computer gaming he has been a game designer and consultant for Electronic Arts and Microsoft. Richard was a professor of mathematics at Whitman College before he left to help start Wizards of the Coast, the original publisher of Magic, now currently owned by Hasbro. He holds a Ph.D. in Mathematics at the University of Pennsylvania.
About BodSix

BodSix is an independent game studio focused on developing location-based social games for mobile devices. The company's game design is under the direction of Richard Garfield, creator of Magic: The Gathering, and is supported by a seasoned team of artists and developers with experiences at Amazon, Apple, Pixar, and Wizards of the Coast.