Film Actor, Christian Website Founder Featured on The 700 Club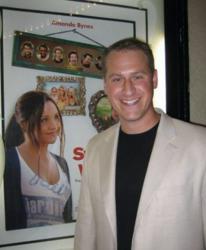 Orlando, FL (PRWEB) March 12, 2012
Former Actor and CEO of the Christian tech startup, Holypop.com will be featured on Pat Robertson's "The 700 Club" on Tuesday, March 13th, 2012 and will be giving his testimony of faith. Chris Carberg was a "pessimistic agnostic" for much of his life, turning to prescription drugs for relief and then spiraling out of control to near death.
"I didn't want to admit it, but I was a drug addict. That's the fact," said Carberg. "Often when we're seeking some kind of love and stability, we turn everywhere but to a higher power, which I didn't even believe in."
The segment on The 700 Club also discusses bullying and how it affects a young man's search for stability and self-confidence. It was that insecurity that led Carberg to drug abuse. Carberg sought help in 2005 and in 2006 became a Christian, turning his life around and founding Holypop.com, a Christian resource website and FaithFlow, Christian faith life software.
In addition to the interview he gave to The 700 Club, Carberg has been open about his battle with drugs, as well as about his struggle with weight gain/loss. He recently launched a blog called WeightWar2, where he posts multiple times daily, describing the Christian battle against gluttony and addictive behavior.
The 700 Club airs on ABC Family at 10am/11pm/3am EST, as well as on TBN at 3 PM EST.
About The 700 Club

The 700 Club is a live television program that airs weekdays before a studio audience from The Christian Broadcasting Network's (CBN) broadcast facilities in Virginia Beach, Virginia.
About Holypop.com
Holypop.com LLC was founded in 2008 in Central Florida, offering a Christian web-based educational community with quality biblical content, absolutely free. Holypop is also is in the process of developing mobile apps, paid web applications, and solutions for churches.