Elf DefensePopular New iOS Tower Defense Game Discounted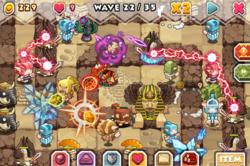 Seoul, South Korea (PRWEB) March 01, 2012
Elf Defense; the new tower defense game for iPhone, iPod Touch and iPad from Jelly Oasis; has been deeply discounted as a way to introduce even more fans to the already popular game. Widely acclaimed as one of the most beautifully designed tower defense games in the iTunes App Store, Elf Defense typically retails for $ 2.99. At its currently discounted price of $ 0.99, the game is a fantastic deal.
The game follows a traditional tower defense set-up, with its own unique adjustments in order to enhance the game play experience. Elf Defense pits the player against human warlords intent on taking advantage of their elven neighbors. By using a variety of elven defense towers, specialized mercenary warriors, and special skills and items, players design their own strategies to survive against the marauding hordes.
While the games overall concept is one which has its counterparts in the App Store, JellyOasis has gone above and beyond in order to make sure that Elf Defense stands out from the crowd. A sleek user interface and beautiful graphics, fully optimized for the Retina Display, are the first things new players will notice. Incredible detail is balanced with economy of design and presented in a bright, fresh palette and accented with charming animation to make Elf Defense a truly appealing experience.
Word-of-mouth is certain to expand the games fan base quickly, and additional momentum is sure to be provided by this generous discount. Elf Defense is available now in the iTunes App Store, but the discount wont last, so download it soon.
iTunes Link: http://itunes.apple.com/app/elf-defense-eng/id489783365?mt=8.
###