Egency Feels Pretty Launching Salon/Beauty Ecommerce Vertical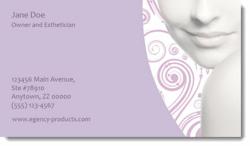 Thousand Oaks, CA (PRWEB) February 09, 2012
Egency an emerging website offering premium business cards, flyers and marketing postcards for specific industries – today announced the addition of Salon and Spa to its growing list of supported professions.
"Stylists, salon owners and beauty professionals are searching for ways to differentiate themselves in a very competitive market," says Jay Fayloga, Egency's Director of Product Management. "We've heard a call from professionals to help them stand out. Now, with Egency's Salon and Spa designs and premium paper this entrepreneurial group can have a unique voice."
According to an estimate by AnythingNow.com, nail salons are the fastest growing niche under the Salon / Beauty umbrella with a 9% year-over-year growth rate; this beauty sub-group credits self-marketing to their industrys growth.
We advertise within the mall here, says Kevin Nguy, manager of Affection Nails in Agoura Hills, CA. Nguy adds that while spot advertising works to bring in walk-ins, its Affection Nails business & appointment cards that bring people back. We always have a big amount of business appointment cards to give out to returning customers, to new ones. We give out at least 10,000 cards a year.
Egencys first set of Salon and Spa designs are available now on the website. Egencys inventory specialist anticipates an even greater variety of designs to arrive soon. Were focused on quality quality design templates, quality of the end product. It takes a bit more time, but our customers truly appreciate our selection and craftsmanship.
Marketing business cards are very important to me, confesses Keefe of Keefe Hair in Los Angeles, CA. Known only as Keefe, the experienced hair designer has turned networking into his own art-form. When I see a potential client, someone whose hair Id like to cut, I just introduce myself and hand out my business card. That approach has worked great for years.
Rated "very important" on his list of marketing tactics, Keefe relied on his business cards when direct mail campaigns stopped delivering clients over the past few years.
Everything just stopped in 2009. Keefe depended on in-person networking, referrals and his business cards – to get through a dry time. Its picked up, adds Keefe, saying he wont give up his own customized business cards for other types of marketing.
Keefes final analysis: I think hair stylists, salon professionals will benefit from having a website, like Egency, to create and customize their own business and appointment cards. Its such an important tool to communicate your services.
Egency, based in Thousand Oaks, Calif., provides high-quality design solutions for businesses. Egency is a member of the AGFA Graphics family, an internationally renowned leader in the publishing and printing industries, with teams based in the U.S., and Belgium.
For more information, contact Egency Marketing @ (805) 277-6971.
###
Related Graphic Press Releases