Decoded Fashion Launches at Lincoln Center; Tumblr Founder is among Keynotes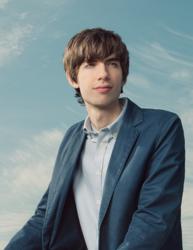 New York, NY (PRWEB) April 03, 2012
Decoded Fashion, a new Fashion and Technology forum series being presented by Fashion Lincoln Center, will bring together established designers, heads of Fashion and Retail to celebrate how startups are innovating the industry. The event will be held on April 30, 2012, at Lincoln Centers Alice Tully Hall, in New York City.
The first announced keynote is Tumblr CEO and Founder, David Karp. The blogging and social sharing platform has grown at an incredible pace, hitting 20 billion posts last week and doubling in size over the past six months. Karp will talk about Tumblrs relationship to the fashion community, how they have embraced the platform and how users have contributed to the companys massive growth.
A fashion keynote – a fashion icon committed to technological innovation – is expected to be announced this week.
Among the events highlights is a CFDA curated panel led by Aliza Licht, DKNY PR Girl and with designers Prabal Gurung, Deborah Lloyd, the President of Kate Spade and Stacey Bendet, founder of Alice+Olivia. Other participating companies and brands confirmed include Rebecca Minkoff, Macy's, Saks Fifth Avenue, Joyus, EditD, Buyosphere, SAP, Bonobos, Lyst and AhaLife.
Its first theme, Winning Over the Empowered Consumer, is about closing the communication gap between fashion brands and consumers whose purchase behaviors are now greatly influenced by their social networks.
Decoded Fashion is the first event where established designers, heads of fashion brands, retailers, investors and tech leaders will join to discuss tech innovation from startups and to discover the rising stars – new companies and ideas that promise to disrupt the industry.
Our agenda is to create a platform that connects fashion and retail to the best startups and to the technology that accelerates innovation and impacts the bottom line, said founder Liz Bacelar.
Decoded Fashion will kick off a platform that provides intelligence, curated conversations, notable collaborations and facilitate partnerships between tech and fashion players. About 50 speakers are expected to attend the event presented by Fashion Lincoln Center. Attendees will include fashion designers, heads of established fashion brands and retailers, investors, startup founders and tech leaders.
"As the worlds of Fashion and Technology become more and more dependent on one another, it is important for the industry to support initiatives such as Decoded Fashion to inform designers and retailers about the new opportunities for our expanding market, said Stephanie Winston Wolkoff, Director of Fashion at Lincoln Center. With the inclusion of the CFDA Panel, which focuses on some of today's top designers and brands most successful social media strategies, the Summit will provide invaluable information for the industry to understand the ever-evolving dynamic between consumer and product."
A limited number of VIP tickets including access to a lunch with speakers can be purchased at http://www.decodedfashion.com. Early-bird pricing for regular and VIP admission is available until April 13.
ABOUT DECODED FASHION:

Decoded Fashion is the first Fashion and Technology Forum Series connecting the worlds best startups and most noteworthy technologies to the Fashion, Beauty and Retail industries to accelerate innovation and increase the bottom line.
More Tech Press Releases