Civil Engineering and Surveying Firm KS Associates Announces New Service Line – 3D Laser Scanning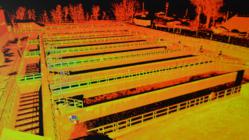 Elyria, Ohio (PRWEB) April 02, 2012
KS Associates, a multi-disciplined civil engineering and surveying firm, has announced that it now offers 3D laser scanning services. This next-generation technology provides architects, engineers, design and construction professionals, real estate professionals, and facility managers a high level of precision and detail at a fraction of the time.
KS Associates has procured a Leica ScanStation C10, which collects up to 50,000 points per second. The ScanStation C10 can scan an entire room in less than two minutes and can generate richly detailed computer models of the scanned environment. The ScanStation C10 generates point clouds, or three-dimensional, photo-realistic datasets representing the external surface of objects. The result is a reliable, robust and extremely detailed basis for design of the built environment.
According to Mark B. Skellenger, P.E., Vice President of KS Associates, 3D laser scanning allows our clients to virtually revisit the project site throughout the entire design process, which can save time and enhance the design process. Clients appreciate the ability to extract datasets at any time. They have access to information that might not have been considered critical at the time of field data capture data that would be time-consuming and costly to re-capture.
For construction professionals, the volumes of information captured by the ScanStation can translate into better managed projects. Just a few advantages include more precise calculations of earthwork quantities and settlement, determining the precise geometry of irregular space and more accurate as-builts.
3D laser scanning offers additional benefits, such as the ability to non-intrusively capture data for areas that were otherwise inaccessible, such as high-level bridges and overpasses; intricate, hard-to-reach piping systems; or historically preserved off-limit areas, which can now be scanned remotely. Applications ideal for laser scanning include building design and construction, interior design, civil/site modeling, transportation engineering, historical renovation, process engineering, as-builts and more.
According to Skellenger, This new high-tech tool is yet one more way KS Associates can offer the best solution for the project at hand. Not only will 3D laser scanning enhance our surveying capabilities, it will allow us to serve clients for new, interesting applications, such as industrial refineries and plants, mining and exploration, architectural preservation and possibly forensics.
About KS Associates

KS Associates is a civil engineering and land surveying firm founded in 1987. The firm provides planning, design, bidding and construction administration services for public infrastructure projects in the areas of transportation, potable water, waste water and storm water; site development engineering services for residential, commercial and institutional projects; and land survey, mapping and laser scanning services. For more information visit: http://www.ksassociates.com.