Children Around The World Use Math to Battle Dragons And Monsters in Hudriks Math for iPhone, iPad and Android.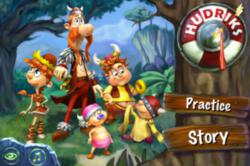 Cupertino, CA (PRWEB) March 01, 2012
Fancygames has announced the release of a new educational game Hudriks Math that helps kids with learning numbers and basic mathematical operations such as addition, subtraction, multiplication and division. The aim of the game is to make learning fun and enjoyable for kids by turning it into a kind of adventure game with different worlds, enemies and bosses.
Hudriks Math is based on a story of a Viking family that was called to help to save the world from red dragons. On the way they must overcome challenges by giving the correct answers to mathematical questions. Tasks are given in ascending order of difficulty illustrating the basic principals of mathematical operations. Colourful graphics, visual effects, cartoon-like 3D animations and short video clips are very engaging, and make children want to spend more time playing the game, and motivate them to learn more.
Traditional educational games are often interesting at first, but with repetitive gameplay children can easily become bored, commented Dmitry Matyukhin, Founder of Fancygames. With Hudriks Math we wanted to produce an adventure games that captivates a child in its own right, and then added mathematical learning as a mechanism that allows children to progress within the game, ensuring they learn whilst they play.
Hudriks Math is now available worldwide on Apple's App Store for iPhone and iPod Touch at: http://itunes.apple.com/app/hudriks-math/id499666434 and for Android devices on Android Market at: https://market.android.com/details?id=com.fancygames.hudriks.math
For more information or media inquiries, contact Mark Johnson of appshout! on behalf of Fancygames Ltd at +1 408 757 0086 or press(at)myappshout(dot)com.
Alternatively contact Dmitry Matyukhin, Founder of Fancygames Ltd, directly at dmitry(at)fancygames(dot)net.
About Fancygames Ltd

Fancygames Ltd, an independent game studio based in London, United Kingdom, was formed in 2006 with the main objective of creating entertaining and creative mobile games.

Learn more: http:/http://www.fancygames.net
###