ATMAE Announces New Certification in Engineering Graphics (CEG)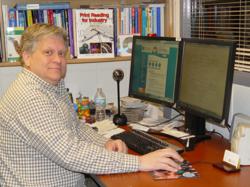 Ann Arbor, MI (PRWEB) February 23, 2012
Engineering Graphics is the language of industry. Specialists in this area must be able to read, interpret and make changes to engineering drawings. Their highly skilled work accurately reading, rendering and revising engineering plans prevents cost overruns, errors and potentially defective products.
The new CEG Exam will quickly ascertain an individuals ability to read and comprehend technical drawings. The exam uses illustrations from engineering drawings and requires examinees to apply their analytical knowledge of drafting. This exam is in-depth and requires an individual to have a solid background in engineering graphics.
Todays design technologist needs a competitive edge. The CEG exam assesses how well individuals understand the language of industry. While there are other certifications for CAD software products, this certification values the understanding of the engineering graphic standards common to communicating with industrial product drawings geometry, projection systems, spatial visualization, annotations, tolerances, symbols… These are the crucial skills that should be important to employers looking to build a solid design team. Ryan Brown, Illinois State University, CEG Commission Chair, ATMAE.
A Professional CEG Certification shows that an individual:
Has achieved a nationally recognized standard of excellence
Goes above and beyond the minimum expectations
Is committed to the profession
Has a skill set that allows them to add value to the organization on day one
Strives to stand out as the best
Is highly motivated and interested in keeping up with the latest technological changes
Acquiring the CEG Certification will show that an individual is ready to hit the ground running. It says that an individual is not just someone that can work with a CAD software program, but a technical professional that understands how products are designed and produced.
The new CEG certification joins ATMAEs other certifications, Certified in Technology Management (CTM), Certified Manufacturing Specialist (CMS) and Certified Technical Professional (CTP).
The Association of Technology, Management, and Applied Engineering (ATMAE) is an international organization that sets standards for academic program accreditation, personal certification, and professional development for educators and industry professionals involved in integrating technology, leadership, and design. For more information, visit our website at http://www.atmae.org.
###