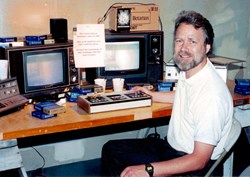 Arlington, VA (PRWEB) October 10, 2013
On the heels of celebrating its 30th anniversary as a leader in technology, innovation and creativity for the video production/post-production industry, Henninger Media Services ("HMS") solidified its commitment to the D.C. media market by signing a long-term lease for a brand new space at 1320 North Courthouse Road in Arlington, VA. The new ground-floor location will feature a customized build-out of over 20,000 square feet, with room to expand and ample parking. Construction will commence later this year, with a targeted move-in date of Spring 2014. HMS will design its facility of the future with an eye toward capitalizing on the rapid technological advancements in the media industry, applying green design and construction principles, and taking full advantage of its 25-foot ceilings. What will not change with this move is the HMS culture—a fun, collaborative environment among its staff and clients. "We owe the success of our first 30 years in business to the thousands of amazing people who have passed through our doors, and we look forward to continuing these relationships through a new doorway for years to come," says Rob Henninger, the company's Founder and CEO.
The new location is within blocks of HMS' current facility—the unassuming building at 2601 Wilson Boulevard—that has been home to the media company for the last 25 years. That space, which is actually five smaller buildings knit together, has seen constant adaptation, change and remodeling as Henninger has led the way through every major industry advance. "We've reached a point where the old infrastructure and installs get in the way of the new workflows and technology," says Sam Crawford, HMS' Vice President of Technology. "Starting with a clean slate is an exciting opportunity. We will not only create an ultramodern facility, incorporating the years of experience and knowledge that has gotten us to this point, but we will also build in the flexibility needed to easily adopt future technologies."
The 30-year legacy of HMS would not be unfolding today without the acumen and fortitude of one person, Rob Henninger. However, if you had asked Rob about his life's ambitions and goals in high school or college, starting a media company would not have been among them. At the time, the visionary behind HMS aspired to be an actor and playwright. After graduating from the College of William and Mary with a degree in theatre and speech, he joined the Washington Theatre Club, only to soon find himself transitioning into the role of film gaffer, soundman, and ultimately editor. Then, in 1983, Henninger realized he was on the ground floor of a rapidly-changing video industry and saw an opportunity: "I found a Sony Beta I editing system that I could use to edit video offline using the techniques and style that I used to edit film. It worked pretty well, but back then the bigger challenge was the costs incurred at the online facilities. I started thinking of ways to improve quality and efficiency while reducing costs, and I realized that the best way to implement those ideas was to start my own place." Thus, in a small sublet space in Rosslyn, VA, Rob launched Henninger Video. Rather than writing plays and acting, Henninger was soon busy helping filmmakers bring their scripts to life on the screen.
As the business grew and moved to successively larger spaces, finally moving into their current space in 1988, HMS' influence on the industry steadily grew as well. HMS was among the first companies to embrace digital video, non-linear editing, digital audio, and many more technologies that have since become commonplace in today's media landscape.
Since its inception as Henninger Video, the media services company has always deemed providing exceptional client service, both creatively and personally, as the company's highest priority. "I feel there is an inherent dignity that grows out of good service," says Henninger. "It's an art in itself and reflects our fundamental commitment to our clients' success." While technology continues to change, it is the human element that is the heart and soul of the company. Eric Hansen, HMS' Chief Operating Officer, identifies with the family-like culture at the company. "I have always been in awe of the talent and expertise that roam the halls of HMS," shares Hansen. "It's not just about a group of individuals having 10, 20, 30 years of experience in the media industry. For most people who work here—staff and clients alike—it's about having 10, 20, 30 years of experience with each other. This level of camaraderie, collaboration, and loyalty is a rare thing these days."
As the company moves into its fourth decade, Rob Henninger looks forward optimistically. "As one of the foundational pillars of HMS—'Best in Innovation'—we will continue to embrace emerging technologies," Henninger shares. "We strongly believe that being at the forefront of change allows us to offer the most comprehensive services to our team and clients; creating the best environment for creativity and success." Most recently, HMS announced its capability to master projects in 4K Ultra HD. With the expansion of technology comes the attraction of new clients. "As we've implemented new strategies, we have been able to draw the attention of media companies outside of the D.C. Market," states Hansen. "We've developed strong relationships with clients in New York and Florida over the past couple years, with high-profile projects ranging from sports programming to reality series and documentaries."
In addition to celebrating a landmark anniversary and building a sleek new facility, HMS has other reasons to celebrate. Earlier this year, long-time HMS client Fine Films won the Oscar for Best Documentary Short Subject with "Inocente," which was post produced at the HMS facility. A number of other client films are doing well on the festival circuit, thanks in part to HMS' quality work. The company is also rapidly growing its business through collaborative "four wall" partnerships with independent producers, production companies, as well as some networks—its current facility of more than 35 post-production suites has been operating at near or full capacity, and the company looks forward to building on this new concept in their new facility. With a growing and diverse roster of clients and projects, Henninger Media Services is building for the future, writing its own script for many more years in D.C.'s media industry.
###
ABOUT HENNINGER MEDIA SERVICES

Celebrating 30 years in the industry, Henninger Media Services (HMS) provides video editing, audio, graphics, Blu-ray and DVD authoring, telecine, QC, duplication and distribution solutions to a diverse client base; including broadcast, corporate, advertising, non-profit, and government. Located in Arlington, Virginia, HMS offers services in 4K Ultra HD, High Definition, surround sound, 3D convergence and finishing, and film transferring. Complete information about Henninger Media Services may be found at http://www.henninger.com.
Find More Graphic Press Releases