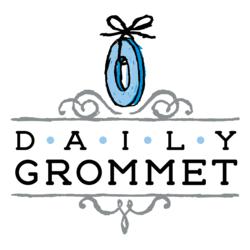 Lexington, MA (PRWEB) April 04, 2013
Daily Grommet, an online shopping site and product launch platform for innovative and undiscovered products, is working with a graphic designer to feature new Whooz? identification labels for technology devices. Daily Grommet is excited to feature this innovative, festive problem solver as it will give broad appeal to both a young and old demographic.
After Sativa Turner and a roommate had trouble telling apart their identical chargers, she thought about labeling hers with tape or permanent marker. The graphic designer in her couldnt bear to spoil the look with random markings, so she created a more aesthetic -- and much more fun -- identification system. Sativas Whooz stickers are removable vinyl labels for chargers, USB cables and earbuds. Fun designs include Rico, Cindy, Charlene and Dexter (the quirky characters Sativa created to jazz up our peripherals) or go for solid color identifiers. Each pack contains 4 sheets of labels, and each sheet has enough labels to cover one charger, USB cable, and set of earbuds.
Its not uncommon for a single household to have multiple iPhones, iPads and iPods -- which means multiple white power cords plugged into every available outlet. Shared charging stations at airports, libraries and coffee shops are a sea of identical cords, too. When youre seeing iOS accessories here, there and everywhere, Whooz makes yours different.
About Daily Grommet

Daily Grommet is a highly curated online marketplace and launch platform for products of great utility, style or invention that havent hit the big-time yet. Daily Grommet seeks out these unique products, carefully tests them, and produces a video review of each one telling the story behind its creation. Daily Grommet is rooted in the philosophy of Citizen Commerce whereby regular people form the commerce experience by suggesting products that reflect their values and interests. Citizen Commerce turns the typical top down retailer approach sideways, encourages global product innovation from small producers, and satisfies the consumers need to know the stories behind and origins of favorite products. The company was also just named one of the hottest sites of 2013 by Internet Retailer. For more information, visit http://www.DailyGrommet.com.
San Jose, CA (PRWEB) October 20, 2008
DeviceVM, a San Jose, CA-based company, and the maker of the award-winning Splashtop instant-on environment, announced that Splashtop is available for Intel
speakTECH works with Cadence Design Systems, Inc., to Migrate Popular Industry Web Portal to Microsoft SharePoint Server 2007












Santa Clara, CA (PRWEB) January 29, 2009
speakTECH, an interactive design and technology consulting services company, today announced at the Microsoft Global High-Tech Summit the successful implementation and launch of Cadence Design Systems' popular high-tech electronics industry Web portal - http://www.cadence.com. The implementation is also detailed in a new Case Study published this week by Microsoft.
The "re-platforming" of the site also involved integrating CDNUsers.org, a previously standalone user group site for technical discussions on Cadence technologies, into the enhanced portal.
"When we initiated this project, there was plenty of Web 2.0 and social networking hype in the marketplace," said Adolph Hunter, vice president of Corporate Marketing at Cadence. "But our RoI goals for this investment were clearly identified from the beginning: We set out to create an enhanced environment where users can communicate and share best practices while also learning about what's new at Cadence. We also wanted to show prospective customers what a vibrant community of users they would join by choosing to purchase the products that they came to our Web site to learn about." The result, said Hunter, "Exceeded our expectations and clearly showcases Cadence's commitment to its core brand values of inventiveness and customer focus."
Cadence teamed with speakTECH, a Microsoft Gold Certified Partner, to build the new Cadence.com site by using Microsoft Office SharePoint Server 2007 as the underlying platform, while integrating Telligent Community Server to provide support for user discussion forums, blogs and more. "We sought to help Cadence maximize their packaged software investments by using off-the-shelf capabilities wherever possible and developing only what was necessary to achieve the goals of the project," said Aaron Sloman, president and CEO of speakTECH. "Our efforts focused on enabling a seamless and meticulously-branded experience for casual visitors and registered users across the Cadence Web properties, while establishing processes that would allow the Web team at Cadence to evolve and operate the site on their own moving forward."
speakTECH developed a user-registration and authentication process that is fully integrated with the company's global single sign-on and CRM systems. "It's very significant that we have built our social media, marketing communications, and user profiling functions in one platform," said Jim Price, group director of Web operations at Cadence. "Office SharePoint Server 2007 has given us content management, search, presentation, application functionality, and security and authentication capabilities on a single platform so that we can operate the Web site more effectively."
More than 36,000 people have registered at Cadence.com since the new site was launched, a process that continues with over 200 new registrations each day. Overall site traffic is up more than 10 percent, forum postings have increased 100 percent, and the average length of stay on the site has increased 20 percent.
The new Cadence.com demonstrates brand credibility through a commitment to innovation and customer focus. By providing customers the opportunity to engage with each other as well as Cadence employees via forums, blogs and other community building technology, Cadence is meeting its brand promise of being an indispensible partner to drive customer success.
"The new Cadence site exemplifies how Microsoft's technology and our partners can help establish a Web presence that strengthens a company's brand by delivering a superior experience and building a more vibrant, two-way conversation with customers," said Drew Gude, U.S. high-tech and electronics industry solutions director, Microsoft Corp.
To read the full case study on the implementation, visit http://Microsoft.com/casestudies/ and search for "Cadence".
Founded in 2005, speakTECH is an interactive design and technology firm that specializes in uniting technology, riveting design and interactive experience into powerful, world-class business solutions. speakTECH competencies span consultancy, design and development services aimed at improving operational efficiencies, transferring skills to client personnel, and enhancing customer experience. speakTECH solutions are often built on technology that customers already own, such as Microsoft Office and components of the Windows Platform. speakTECH is a Microsoft Gold Certified partner and National Systems Integrator. Learn more at http://speakTECH.com/.
###
©Copyright 1997-
, Vocus PRW Holdings, LLC.
Vocus, PRWeb, and Publicity Wire are trademarks or registered trademarks of Vocus, Inc. or Vocus PRW Holdings, LLC.
Computer Works of Toledo Relocates Offices - Combined Operations Will Enhance Customer Service











TOLEDO, OH (PRWEB) June 8, 2005
Computer Works offers new and remanufactured printer toner cartridges, ribbons, printers, copiers and fax machines. Its' services include printer repair, computer support, network solutions and network cable installation. Computer Works is a leading technology provider to a wide range of business customers in Northwest Ohio and Southeastern Michigan.
"Our company now has much more to offer our client base", said Mike Bentz of Computer Works, "With BizTech's strength of information technology consulting coupled with Computer Works' printer repair and toner cartridge products, our customers have benefited from our collective knowledge and quality service."
BizTech, an information technology consulting firm specializing in network, thin client and ERP solutions, acquired Computer Works of Toledo in December 2004.
"I am excited about combining the operations of Computer Works and BizTech to further increase our level of service to our combined client base, " said Joe Zalewski, Managing Partner and Chief Operating Officer of BizTech. "Since the acquisition, our joint efforts have produced very successful results."
About Computer Works
Founded in 2002, Computer Works of Toledo is located in Toledo, Ohio. Computer Works offers printer and network solutions for a variety of vertical markets including healthcare, manufacturing, non-profit, retail, education, government and financial. Computer Works offers products from industry leading manufacturers such as Microsoft, HP, Epson, Xerox, Lexmark, Okidata and POS International. Computer Works serves over 250 customers throughout Northwest Ohio and Southeastern Michigan.
About BizTech
Founded in 1999, Business Technical Consulting, LLC is headquartered in Toledo, Ohio. BizTech offers information technology solutions for a variety of vertical markets including healthcare, manufacturing, education, government and financial. BizTech is a Microsoft Certified Partner, Comptia A+ Certified and a Citrix Authorized Solution Advisor. BizTech offers products from industry leading manufacturers such as Microsoft, Dell, HP, Citrix, Cisco, Symantec, Sonicwall and Wyse. BizTech's other subsidiaries include BizTech Web Design, BizTech VISUAL Solutions, BizTech Network Solutions and thinclientpricing.com. BizTech serves over 800 customers throughout the United States and has representatives in Ohio, Colorado, Illinois, Indiana, North Carolina, Pennsylvania and Wisconsin.
Contact Info
Joe Zalewski
Managing Partner, COO
Business Technical Consulting, LLC
3306 Executive Pkwy. Suite 201
Toledo, OH 43606
PH: 419.539.6922 X203
Email: jzalewski@gobiztech.com
###
©Copyright 1997-
, Vocus PRW Holdings, LLC.
Vocus, PRWeb, and Publicity Wire are trademarks or registered trademarks of Vocus, Inc. or Vocus PRW Holdings, LLC.
(PRWEB) July 13, 2002
Wisdom Works announces the release of INSPIRATIONS, a personal motivational computer program
which includes empowering messages from the Bible combined with over 150 stunning photographs and 5 meditational videos.
INSPIRATIONS is designed as a guide to insightful contemplation and to promote inner peace and spiritual fulfillment.
INSPIRATIONS presents a unique experience designed to foster personal motivation, inner reflection and individual inspiration. Carefully selected quotes displayed on a PC in a classic setting in English, Spanish, French, Italian or German provide a deeper understanding of Christian values. Reflecting on these messages reaffirms one's faith in the wisdom and glory of God. Opening heart and mind to the beliefs represented will help shape personal success in life.
For more information visit Wisdom Works on the Internet at www.wisdomworks.us or call 708-707-7433
INSPIRATIONS is available in Intel PC version only. Windows 98/ME/2000/XP/NT
Minimum hardware requirements: Pentium 166, 32 mb RAM, 8 mb hard disk storage, VGA card, 4X CD-ROM. Recommended hardware: Pentium 350+, 64 mb RAM, 400 mb hard disk storage, 16X CD-ROM, Video Accelerator Card
Find More Ram Press Releases
Ocala, Florida (PRWEB) May 18, 2008
Professional Software Partners, Inc. of Ocala, Florida announces a Partnership with My Computer Works, Inc. of Scottsdale, Arizona to provide on-line computer support to seniors and retirees in Central Florida.
Professional Software Partners will be offering the support through its web site MySunCountry.com (www.MySunCountry.com), a web-site designed by and for the Central Florida Retirement Community. The purpose of the web site is to provide content and links to information of interest to area seniors, retirees and those interested in retiring in Central Florida.
Ocala, Marion County, Florida, and surrounding counties have the highest concentration of retirees in the nation. Over 70% of these retirees own computers but most only use them primarily for email and the Internet on a limited basis. Most had very little exposure to computers in their past careers and are somewhat intimidated by today's computers. The prime deterrent, for retirees, to more extensive computer use are the day to day computer problems they encounter due to their lack of experience.
This where My Computer Works comes in. Whenever the retiree has a computer problem, or even just a question, they can contact a U.S. based My Computer Works tech, allow them to securely connect to their computer via the internet, and fix the problem or answer their question. Founded in 2004, My Computer Works, Inc. is a leading provider of help desk and personal computer support services for thousands of small businesses and home consumers nationwide and has a staff experienced in providing computer support to older adults.
# # #
Related Computer Press Releases