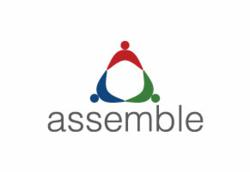 Houston, Texas (PRWEB) November 06, 2012
Just weeks away from Autodesk University 2012, the nations leading conference on BIM best practices, Assemble Systems, a leading SaaS (Software as a Service)BIM software developer and AU Silver Sponsor, announces a unique promotion. Assemble Systems is offering a one-time-only opportunity for AU attendees to win their own environmental BIM visualization hardware.
Called a BIM C.A.V.E. (computer-aided virtual environment, a phrase coined by the Texas A&M University school of construction management), the technology consists of a high-powered graphic workstation and multiple, large-format screens. This suite of hardware can be mounted in a board room, construction trailer, or design pin-up space. The BIM C.A.V.E. provides design and construction teams a direct way to visualize building information. During coordination meetings, teams are able to view details at a scale far greater than on a typical monitor, gaining insight to optimize the delivery process.
We are excited to have this opportunity to connect with more experts in the BIM space, says Assemble Systems VP of Development Trent Miskelly. Our clients who are immersed in a full-scale virtual BIM environment are able to collaborate more effectively. Ultimately, they deliver a better building project.
The BIM C.A.V.E. will be on display in exhibit space 528 for the entire duration of the AU exhibit hall schedule. Entrants must register to participate and must be present to win. A random drawing will be held on the final day of Autodesk University to determine the winner. For more details, email info(at)assemblesystems(dot)com.
About Assemble Systems

Assemble Systems is a SaaS (Software as a Service) BIM software developer transforming information management for the architecture, engineering, and construction (AEC) industry. The team is made up of professionals from both the technology industry and the design and construction industry who are passionate about helping firms streamline their BIM processes to deliver more successful projects. Visit http://www.assemblesystems.com for more information.
Guildford, UK (PRWEB UK) 5 June 2012
June 5, 2012 Adaptive Computing, managers of the worlds largest supercomputing systems and experts in HPC workload management and Cloud management solutions and NICE Software, a visualization software and services company, today announced their joint solution to deliver a Technical Visualization Private Cloud with Adaptives Moab HPC Suite and NICE Desktop Cloud Visualization (NICE DCV) and EnginFrame products. This solution makes it possible to view and manipulate complex 3D simulations remotely on PCs and mobile devices by centralizing physical or virtual visualization workstations to the data center and transferring pixels instead of data allowing a reduction in capital and management costs, an improvement in data processing, security, workforce collaboration and productivity and a reduction in network congestion. This complete solution will be demonstrated at ISC 12 in Hamburg, Germany, June 18-20, 2012 in booth # 147.
Moab HPC Suite works in concert with NICE DCV and EnginFrame to centralize access to visualization servers with OpenGL 3D applications, together transferring pixels instead of data and intelligently placing and managing graphics workloads as well as regular HPC cluster workloads. The intelligent placement and management capabilities of Moab help maximize resource utilization and ensure the success of 3D visualization applications, through intelligent policies. It also manages multiple user sessions on a single machine and enables dynamic re-provisioning of the OS and applications, improving availability and the ability to respond to workload demands.
Cloud computing is transforming business, allowing greater productivity nearly anywhere to an increasingly mobile workforce. But as technical computing workforce gets more diverse and distributed, traditional workstations quickly show bottlenecks and constraints, says Andrea Rodolico, CTO of NICE. 3D applications are in demand inside and outside of the office for employees and partners who need to process and visualize large datasets, often in geographically distributed collaborative settings. In a situation like that, computing can be a real concern. By tightly integrating DCV and EnginFrame with Moab HPC Suite, intelligent placement and management maximizes resource utilization and performance by placing and packing visualization workloads on the optimal resources using policies and ensures 3D application success.
A Technical Visualization Private Cloud moves the seat of power in 3D simulation from Linux and Windows workstations distributed throughout the enterprise to a highly efficient, secure, centralized location: a private cloud in the corporate data center. Its a natural outgrowth of Software as a Service (SaaS) and Cloud adoption. In fact, what SaaS did for 2D applications, sending business productivity applications down the wire to thin clients, is now accomplished with complex 3D technical visualization applications in the Cloud. By deploying visualization applications in the data center instead of on distributed workstations, and transferring pixels back to users systems instead of large data models, it is now possible to view and manipulate complex 3D simulations remotely on PCs and mobile devices with the NICE solution. Users can collaborate easilyanytime, anywhereon the same session, Michael Jackson, President and Co-Founder of Adaptive Computing. And compute resources, including GPUs, can be used more efficiently than ever before. Its all possible thanks to the collaborative efforts with NICE.
About NICE

NICE delivers comprehensive Grid & Technical Computing Cloud Products and Solutions. NICE product portfolio boosts productivity of Private and Public Clouds by increasing usability and user-friendliness of HPC and 3D applications, without sacrificing flexibility and control. NICE global customers include leading companies in Automotive, Aerospace, Industry Manufacturing, Oil and Gas, Life Science, Universities and Scientific Research.
For more information, call +39 0141 90.15.16 or visit http://www.nice-software.com .
About Adaptive Computing

Adaptive Computing, manages the worlds largest supercomputing environments with its self-optimizing dynamic cloud management solutions and HPC workload management systems driven by Moab
Tungsten Graphics Announces Phase I STTR Contract Award by Department of Energy, Chromium RenderServer: Remote and Collaborative Rendering and Visualization with Distributed Memory Parallel Clusters











Cedar Park, TX (PRWEB) July 16, 2004
Tungsten Graphics, inc., premiere provider of Graphics infrastructure software and services announced today, Phase I STTR Contract Award by Department of Energy, Chromium RenderServer: Remote and Collaborative Rendering and Visualization with Distributed Memory Parallel Clusters.
Through funding provided by Department of Energy (DOE) Tungsten Graphics is developing the Chromium RenderServer. The project team for this Phase I project is: Brian Paul, Tungsten Graphics, Inc. (Principal Investigator), Randall Frank and Sean Ahern, Lawrence Livermore National Laboratory, E. Wes Bethel, R3vis Corporation, Greg Humphreys, Ahpah Software, and the University of Virginia
Our work, called the Chromium RenderServer aims to provide remote users with network-based access to interactive visual data analysis capabilities located at central computing facilities; 3D scientific visualization is performed in parallel on interactive resources located at central facilities ?close to? the data, and the resulting imagery is transmitted over the network to one or more remote users. By design, the Chromium RenderServer allows any existing visualization application that meet a minimum set of technical criteria to be deployed in a remote fashion, and enables rapid deployment of a new generation of high performance remote visualization applications.
An important part of this development effort is Chromium. Chromium is a flexible framework for scalable real time rendering on clusters of workstations, derived from the Stanford WireGL project. A Chromium system allows clusters of low cost, high performance, commodity computer hardware and graphics accelerators to be linked together over high speed networks in a scalable architecture. Although many OpenGL applications will run unmodified as distributed applications in a Chromium system, it?s often the case that customizations are needed to fully take advantage of Chromium.
About Tungsten Graphics
Tungsten Graphics Inc. (TG) is a graphics software consulting company that develops state of the art graphics and open infrastructure solutions running on Linux, FreeBSD, and other operating systems. TG was founded by Brian Paul (owner and principal author of Mesa), Frank LaMonica (former CEO of Precision Insight), Jens Owen (founding partner and former engineering manager of Precision Insight), and Keith Whitwell (senior engineer and major contributor to Mesa.)
TG has established itself as a premier consulting organization, providing vendor neutral development and world renowned software architectural leadership. Major clients include corporations such as Intel, General Dynamics, Lawrence Livermore National Labs, Red Hat, and The Weather Channel. Our team members have consistently demonstrated the commitment and ability to do whatever is required to bring projects to successful completion.
As a recognized contributor to many open source projects, TG has a proven track record of developing technology that has become standard in the industry. TG is an active participant in many graphics initiatives, including XFree86, Mesa, DRI, Chromium, and VNC. As a result, we can assure our clients that software we develop will integrate seamlessly into our client's open or proprietary systems, and all existing open source technologies.
Technical excellence, highly refined management skills, and unfaltering commitment, combined with the highest ethical and business standards make Tungsten Graphics a trusted partner for any serious project.
For more information please see http://www.tungstengraphics.com
©Copyright 1997-
, Vocus PRW Holdings, LLC.
Vocus, PRWeb, and Publicity Wire are trademarks or registered trademarks of Vocus, Inc. or Vocus PRW Holdings, LLC.
Related Graphic Press Releases
Zenoss Announces Enterprise Datacenter Visualization Capability, HP-UX Monitoring












Austin, TX (PRWEB) March 2, 2010
Zenoss Inc., a leading commercial open source provider of Unlegacy enterprise IT management products for virtualized and cloud-based datacenters, today announced the general availability of version 2.5.2 of Zenoss Enterprise featuring a new datacenter visualization capability, Datacenter View, and the ability to model and manage servers running the HP-UX operating system. Zenoss Datacenter View reduces the time IT managers need to identify and physically locate failed devices on the network with a rich mapping feature that drills down to the specific rack and slot location of even the most complex, virtual and cloud-based datacenter environments. As a result, IT managers have greater visibility into their network infrastructure and can minimize the risk of downtime by more quickly and precisely responding to issues.
Driven by a large, international media company customer who struggled to add location visualization to their management infrastructure using legacy tools, Zenoss Datacenter View allows users to integrate dynamic maps of datacenter floor plans, rack diagrams and device locations into their Zenoss monitoring interface, so they can quickly identify problem devices when systems issues occur and drill down to determine where the device is physically located in the datacenter. The Datacenter Views are integrated into the Zenoss model and are dynamically built, so as device locations are updated, modified Datacenter Views are immediately generated.
Additionally with this release, Zenoss Enterprise now models and monitors servers running HP-UX, the mission-critical UNIX(R) operating system powering HP Integrity and HP 9000 servers. The Zenoss model provides extended coverage for critical operating system resources including CPU, memory, interfaces, processes, and installed software. Zenoss uses the model to collect and display statistics on resource utilization - including CPU, IO, memory, swap, and disk space - and alert users to exceptional conditions with performance thresholds. Data collection is performed using SSH, so no new management agent is required.
"As our customers have increased the complexity and size of their datacenters by adding virtualization and cloud-based technologies, being able to physically locate devices as they fail can become problematic. The new Datacenter View capability was driven by the specific needs of our larger clients and is helping them better manage their constantly changing IT environments with Zenoss Enterprise," said Kent Erickson, vice president product management at Zenoss. "Additionally, by expanding our support to include HP-UX, Zenoss continues to broaden its support for Enterprise customers"
Version 2.5.2 of Zenoss Enterprise with Datacenter View and HP-UX support is available now.
About Zenoss Inc.

Zenoss is a leading commercial open source provider of Unlegacy enterprise IT management products. Zenoss Enterprise is a single model-based product that enables organizations to seamlessly manage physical, virtual and cloud based infrastructure with unprecedented power, agility and value. Leveraging a commercial open source model, Zenoss products monitor over one million network and server devices daily and have been used in over 25,000 organizations in 180 countries around the world. Commercial customers include leading companies such as Rackspace, VMware, WebMD, LinkedIn, Carlson, Motorola and Deutsche Bank. To learn more about Zenoss' award-winning IT operations management software, visit http://www.zenoss.com.
###
©Copyright 1997-
, Vocus PRW Holdings, LLC.
Vocus, PRWeb, and Publicity Wire are trademarks or registered trademarks of Vocus, Inc. or Vocus PRW Holdings, LLC.
New WireFusion Version from Demicron Facilitates 3D Visualization for Design and Manufacturing Industry













Stockholm, Sweden (PRWEB) October 23, 2007
Demicron® today announced the latest version of its acclaimed 3D visualization tool WireFusion™. Demicron is now shipping WireFusion 5, which represents a leap forward in productivity and performance for industrial designers, architects and CAD engineers engaged in interactive 3D visualization development.
The new version is focused on improved performance, memory management and workflow. It is also loaded with a lot of new features, such as OpenGL hardware support, SDK, CPU and memory profiling tools, 3D measurement tool and bump mapping.
"We have made great enhancements to WireFusion 5," commented Stefano de Carolis, Demicron CEO. "This new version was designed to make the development in WireFusion even easier than before and at the same time more powerful and effective. Many of our customers consider WireFusion to be a very easy and fun tool to work with, and I'm confident that they will love WireFusion even more with this release."
WireFusion 5 is a powerful and affordable solution targeted to small and mid-sized industrial design, architecture and manufacturing companies wanting to speed up and improve the decision processes during a product lifecycle. WireFusion is typically used for creating interactive concept design visualizations, digital prototypes, interactive training, and sales and marketing presentations.
More information on WireFusion 5: http://www.demicron.com/wirefusion/
Pricing and availability

WireFusion 5 is available as boxed version for the Windows platform in three different editions; Enterprise ($ 2995), Professional ($ 1495) and Educational ($ 495). There are also network versions with floating licenses. Downloadable trials are available from the Demicron web site.    
About Demicron

Demicron is a privately held Swedish company, dedicated to developing state of the art 3D visualization tools. The company was founded in 1996 and has ever since focused on rich media. Demicron is a global leader of interactive rich media, and is known for its expertise, high quality standards and leading edge technology development. The company distributes its products and technology to more than 40 countries around the world, and with customers including Sony, Motorola, Sony Ericsson, Philips, Siemens, Canon, Epson, Casio, Whirlpool, Mitsubishi, Fiat, Corvette, OMEGA, Swatch, NEC, AT&T, Bang & Olufsen, Vodafone, T-Mobile, NASA, US Army, US Coast Guard, Lockheed Martin, Raytheon, and many more. The company is headquartered in Stockholm, Sweden.
Contact Information:

Stefano de Carolis

Phone: +46 8 564 869 52 (Sweden, Central European Time)

Fax: +46 8 564 869 51 (Sweden)

E-mail: stefano.decarolis (at) demicron.com or news (at) demicron.com

Web: http://www.demicron.com
Demicron AB

Svetsarvagen 15

171 41 Solna

SWEDEN
###








Attachments


















©Copyright 1997-
, Vocus PRW Holdings, LLC.
Vocus, PRWeb, and Publicity Wire are trademarks or registered trademarks of Vocus, Inc. or Vocus PRW Holdings, LLC.
Find More Cpu Press Releases
Leading-Edge Data Analytics and Visualization Enable Breakthrough Science on the ALCF's Blue Gene/P












Bellingham, WA (Vocus) April 10, 2009
Most science research programs that run on high-performance computers like the IBM Blue Gene/P Intrepid at the Argonne Leadership Computing Facility (ALCF) generate enormous quantities of data that represent the results of the calculations. But scientists can also use the ALCF to visualize, explore and communicate their findings as highly accurate simulations and often beautiful images.
The ability of the ALCF to visualize such enormous quantities of data is made possible by of the world's largest graphics processing units (GPU). Nicknamed Eureka, this installation of NVIDIA Quadro Plex S4 external GPUs allows researchers to better understand the data they produce with Intrepid at the ALCF. The powerful installation provides more than 111 teraflops and more than 3.2 terabytes of RAM.
"Eureka provides a vital link between simulation and analysis by allowing scientists to probe and interrogate their data in an interactive manner," said Argonne computational scientist Paul Fischer. Since Eureka and Intrepid share a disk, there is no need to move data between machines. "Eureka dramatically reduces the amount of time needed to create these hugely complex visualizations while greatly boosting their quality."
The ALCF's Intrepid provides resources for the U.S. Department of Energy's (DOE) Innovative and Novel Computational Impact on Theory and Experiment (INCITE) program, which supports computationally intensive projects from industry, scientific researchers and research organizations.
Using software developed both at Argonne and externally, computer scientists have visualized data with Eureka for DOE INCITE projects focusing on turbulent thermal transport in sodium-cooled nuclear reactor cores, cardiac rhythm disorders and Type Ia supernovae, which are among the brightest and most powerful exploding stars in the universe.
"Eureka delivers a quantum leap in visual compute density, enabling breakthrough levels of productivity and capability in visualization and data analysis," said Craig Dunwoody, CEO of GraphStream, Inc. (Belmont, Calif.), the supplier of scalable computer systems that provided Eureka.
Eureka incorporates four high-end graphics cards and places them in a configuration known as a "pizza box." Because the cards are packed so closely together, this configuration helps to reduce the complicated power and cooling issues associated with the graphics cards. Eureka needs only four racks to hold the same number of cards that previous configurations required more than 10 racks to accommodate.
The heart of Eureka's data-management system contains a nine-switch complex that supports up to 2,048 connections, each of which simultaneously exchanges data at roughly 1 billion bytes per second. The storage system consists of a bank of more than 10,000 disk drives that will send and receive data from the Blue Gene/P's more than 100,000 processors. Altogether, this system can deliver nearly 80 billion bytes per second to and from the disk--the equivalent of transferring the content of 100 full CDs every second.
Argonne operates the ALCF for the DOE Office of Science as part of the larger DOE Leadership Computing Facility strategy. DOE leads the world in providing the most capable civilian supercomputers for science.
Argonne National Laboratory seeks solutions to pressing national problems in science and technology. The nation's first national laboratory, Argonne conducts leading-edge basic and applied scientific research in virtually every scientific discipline. Argonne researchers work closely with researchers from hundreds of companies, universities, and federal, state and municipal agencies to help them solve their specific problems, advance America 's scientific leadership and prepare the nation for a better future. With employees from more than 60 nations, Argonne is managed by UChicago Argonne, LLC for the U.S. Department of Energy's Office of Science.
For more information, please contact Eleanor Taylor 630-252-5510 at Argonne.
# # #








Attachments

















©Copyright 1997-
, Vocus PRW Holdings, LLC.
Vocus, PRWeb, and Publicity Wire are trademarks or registered trademarks of Vocus, Inc. or Vocus PRW Holdings, LLC.
LLNL Selects Appro HyperPower™, Hybrid Blade Clusters to Support Data Analysis and Visualization Projects














Milpitas, CA (Vocus) November 2, 2010
Appro (http://www.appro.com), a leading provider of supercomputing solutions, today announces the deployment of Appro HyperPower™ Clusters, based on the Appro CPU/GPU GreenBlade System to provide Lawrence Livermore National Laboratory (LLNL) Computing Center with a new visualization cluster called "Edge" geared to support data analysis and visualization projects. The clusters will also be used by code developers who are porting simulation codes to run on GPUs. Appro will showcase the HyperPower™ Cluster Technology at the SC 2010 Conference and Exposition in New Orleans, LA November 15-18, 2010 at booth # 1939.
LLNL is a National Nuclear Security Administration (NNSA) laboratory with a mission to advance and apply science and technology to ensure the safety, security, and reliability of the U.S. nuclear deterrent; reduce or counter threats to national and global security; enhance the energy and environmental security of the nation and strengthen the nation's economic competitiveness.
"LLNL scientists required a platform with the latest GPU technology in order to take advantage of the performance increases available to visualization tools and other application codes. Visualization specialists are dealing with multi-terabyte data sets with tens of billions of zones, thousands of files per time step, and hundreds of time steps," said Becky Springmeyer, Computational Systems and Software Environment Lead of the Advanced Simulation and Computing program at LLNL. "Post-processing tasks are heavily I/O bound, so specialized visualization servers that optimize I/O rather than CPU speed are better suited for this work, which will be now enabled through the "Edge" cluster."
"The inclusion of GPU boards provides a critical technology for the increasingly complicated visualization and data analysis applications needed to support petascale simulations and beyond," said Bert Still, Exascale Computing Research Project Leader for LLNL. "They also provide a test bed for our code developers to assess the path forward to exascale computing."
The Appro HyperPower clusters, based on the Appro GreenBlade System, CPU/GPU nodes consist of 6 racks, total of 216 CPU nodes based on Six-Core Intel® Xeon® processors combined with 208 NVIDIA Tesla GPUs nodes. It offers a total size of 29 Teraflops of computing power and up to 20Terabytes of memory to support the increased level of I/O operations inherent in the use of interactive data analysis tools. Compute and graphic nodes in the system are interconnected using QDR Infiniband fabric managed by TOSS, Cluster Operating System.
"Providing access to a machine with CUDA (compute unified device architecture) support is important to the laboratory's research programs," said Trent D'Hooge, Cluster Integration Lead. "This system will be the first data analysis cluster that has GPUs with ECC support and increased double-precision floating point performance."
"Appro is proud to be able to provide Lawrence Livermore National Laboratory with a powerful GPU cluster for its visualization and exascale software development computing projects," said John Lee, VP of Advanced Technology Solutions for Appro. "This cluster solution demonstrates Appro's continued growth for hybrid computing deployments requiring higher memory for I/O bandwidth needed for efficient data analysis and complex visualization tasks."
About Appro

Appro is a leading developer of supercomputing solutions. Appro is uniquely positioned to support High Performance Computing markets. Appro accelerates technical applications and business results unlocking the value of IT through outstanding price/performance, balanced architecture, open standards and engineering expertise. Appro headquarters is in Milpitas, CA with offices in Korea and Houston, TX. To learn more go to http://www.appro.com
###








Attachments
















©Copyright 1997-2010, Vocus PRW Holdings, LLC.
Vocus, PRWeb and Publicity Wire are trademarks or registered trademarks of Vocus, Inc. or Vocus PRW Holdings, LLC.
More Cpu Press Releases