London (PRWEB) November 26, 2013
Overview:
The Machine-to-Machine (M2M) market is seen as the future for wireless revenue growth with various reports touting market size to reach 50 billion connections by 2020. However, the current market is still under 100 million connections.
Since M2M is not the only service for telecom carriers, rather it is not their core service; strategies adopted for M2M cannot be studied on stand-alone basis. The strategies have to be evaluated in context with other strategic initiatives taken by the companies. Hence, over-all strategies have also been discussed in this write-up.
This research provides analysis of the business case for M2M from the industry vertical or market segment perspective including specific cases within Healthcare, Vending, Petroleum (Oil & Gas and Propane), and Fleet Management. The report includes business model analysis, technical solution evaluation, and ROI assessment.
The expansion of M2M beyond its roots in utilities and manufacturing industries into many different enterprise operations has opened a host of new opportunities across the entire ecosystem. Furthermore, various enterprise companies in new industries are making plans to leverage M2M in processes that represent a major shift beyond previous implementations.
The information in this report is very valuable to industries/segments address as they assess the M2M business case as well as the M2M service providers as they seek to optimize their respective M2M offerings.
Target Audience:
Mobile network operators

Systems integration companies

Enterprise companies of all types

Investment and M&A companies of all types

M2M equipment and service providers of all types
Table of Contents:
1.0 EXECUTIVE SUMMARY 5
2.0 M2M MARKET OVERVIEW 6

1.1 THE BUSINESS OF M2M 7

1.2 OPERATORS BUSINESS MODELS FOR SELLING M2M 8

1.3 M2M STANDARDS 9

1.3.1 OPEN GEOSPATIAL COMMUNICATIONS 11

1.3.2 INTERNET ENGINEERING TASK FORCE (IETF) 11

1.3.3 THIRD GENERATION PARTNERSHIP (3GPP) 11

1.3.4 TIA 11

1.3.5 OASIS MQTT (MESSAGE QUEUING TELEMETRY TRANSPORT) 11

1.3.6 TR50 12

1.3.7 CONSTRAINED DEVICE APPLICATION LAYER PROTOCOL (COAP) 12
2.0 THE M2M ECOSYSTEM 12

2.1 MOBILE OPERATORS & MOBILE VIRTUAL NETWORK OPERATORS 12

2.2 DISTRIBUTOR 12

2.3 DESIGN LABS 13

2.4 APPLICATION ENABLEMENT PLATFORM (AEP) VENDORS 13

2.4.1 2KEY BENEFITS OF AEP 14

2.5 DEVICE VENDORS 15

2.5.1 CHIPSET VENDOR 16

2.5.2 DECLINING CHIPSET COSTS 16

2.6 SYSTEM INTEGRATORS 16

2.7 DEVICE MANAGEMENT 18

2.7.1 DEVICE MANAGEMENT VENDORS 18
3.0 VERTICAL SEGMENTS OVERVIEW 20

3.1 HEALTHCARE 20

3.2 AUTOMOTIVE 20

3.3 RETAIL 21

3.3.1 PAYMENTS 21

3.3.2 VENDING 22

3.4 TRANSPORTATION 22

3.5 GOVERNMENT 22

3.6 ASSET MANAGEMENT 23

3.6.1 FLEET MANAGEMENT 23

3.6.2 ASSET TRACKING 23
4.0 BUSINESS CASE 24

4.1 PRODUCE USE CASE 24

4.1.1 SOLUTIONS OVERVIEW 25

4.1.2 BUSINESS MODEL 25

4.1.3 ARCHITECTURE 26

4.1.4 ROI 27

4.1.5 SUMMARY 27

4.2 HEALTH CARE USE CASE 28

4.2.1 SOLUTION OVERVIEW 28

4.2.2 ECOSYSTEM 29

4.2.3 BUSINESS MODEL 29

4.2.4 ROI 29

4.2.5 SUMMARY 29

4.3 VENDING USE CASE 30

4.3.1 SOLUTION OVERVIEW 30

4.3.2 ECOSYSTEM 31

4.3.3 BUSINESS MODEL 32

4.3.4 VENDING REVENUE MODEL (VENDING COMPANY) 33

4.3.5 ROI 35

4.3.6 SUMMARY 35

4.4 OIL AND GAS INDUSTRY 36

4.4.1 SOLUTION OVERVIEW 36

4.4.2 ECOSYSTEM 36

4.4.3 BUSINESS MODEL 36

4.4.4 ROI 38

4.4.5 SUMMARY 39

4.5 PROPANE MONITORING 39

4.5.1 SOLUTION ECOSYSTEM 40

4.5.2 BUSINESS MODEL 40

4.5.3 ARCHITECTURE 41

4.5.4 ROI 41

4.5.5 SUMMARY 42
5.0 FLEET MANAGEMENT 43

5.1.1 OVERVIEW 43

5.1.2 SOLUTION ECOSYSTEM 43

5.1.3 BUSINESS MODEL 43

5.1.4 ARCHITECTURE 44

5.1.5 ROI 45

5.1.6 SUMMARY 46
List of Graphs
Figure 1: M2M Architecture 9

Figure 2: Text Message Notification 14

Figure 3: Sample Revenue Distribution between Operator and partner 16

Figure 4: Photo of Pepsico's Social Vending Machine 30

Figure 5: Diagram of UHF Architecture 40
List of Tables
Table 1: Mobile Operators using Jasper's M2M Platform 17

Table 2: Oil and Gas Use Case Financial Model 36

Table 3: Propane ROI 41
Read the full report:
Machine-to-Machine (M2M) Business Case: Solutions, Business Models, and ROI by Industry Vertical
http://www.reportbuyer.com/computing_electronics/manufacturing/machine_to_machine_m2m_business_case_solutions_business_models_roi_industry_vertical.html#utm_source=prnewswire&utm_medium=pr&utm_campaign=Electronic_Component_and_Semiconductor
For more information:

Sarah Smith

Research Advisor at Reportbuyer.com

Email: query@reportbuyer.com

Tel: +44 208 816 85 48

Website: http://www.reportbuyer.com/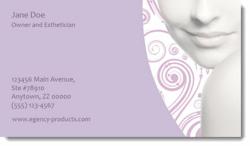 Thousand Oaks, CA (PRWEB) February 09, 2012
Egency an emerging website offering premium business cards, flyers and marketing postcards for specific industries - today announced the addition of Salon and Spa to its growing list of supported professions.
"Stylists, salon owners and beauty professionals are searching for ways to differentiate themselves in a very competitive market," says Jay Fayloga, Egency's Director of Product Management. "We've heard a call from professionals to help them stand out. Now, with Egency's Salon and Spa designs and premium paper this entrepreneurial group can have a unique voice."
According to an estimate by AnythingNow.com, nail salons are the fastest growing niche under the Salon / Beauty umbrella with a 9% year-over-year growth rate; this beauty sub-group credits self-marketing to their industrys growth.
We advertise within the mall here, says Kevin Nguy, manager of Affection Nails in Agoura Hills, CA. Nguy adds that while spot advertising works to bring in walk-ins, its Affection Nails business & appointment cards that bring people back. We always have a big amount of business appointment cards to give out to returning customers, to new ones. We give out at least 10,000 cards a year.
Egencys first set of Salon and Spa designs are available now on the website. Egencys inventory specialist anticipates an even greater variety of designs to arrive soon. Were focused on quality quality design templates, quality of the end product. It takes a bit more time, but our customers truly appreciate our selection and craftsmanship.
Marketing business cards are very important to me, confesses Keefe of Keefe Hair in Los Angeles, CA. Known only as Keefe, the experienced hair designer has turned networking into his own art-form. When I see a potential client, someone whose hair Id like to cut, I just introduce myself and hand out my business card. That approach has worked great for years.
Rated "very important" on his list of marketing tactics, Keefe relied on his business cards when direct mail campaigns stopped delivering clients over the past few years.
Everything just stopped in 2009. Keefe depended on in-person networking, referrals and his business cards - to get through a dry time. Its picked up, adds Keefe, saying he wont give up his own customized business cards for other types of marketing.
Keefes final analysis: I think hair stylists, salon professionals will benefit from having a website, like Egency, to create and customize their own business and appointment cards. Its such an important tool to communicate your services.
Egency, based in Thousand Oaks, Calif., provides high-quality design solutions for businesses. Egency is a member of the AGFA Graphics family, an internationally renowned leader in the publishing and printing industries, with teams based in the U.S., and Belgium.
For more information, contact Egency Marketing @ (805) 277-6971.
###
Related Graphic Press Releases