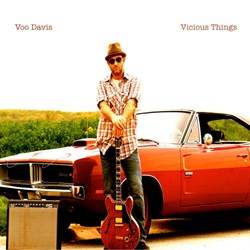 Chicago, IL (PRWEB) September 10, 2013
"Vicious Things" is the highly anticipated sophomore album by blues guitarist, Voo Davis, that will leave you enveloped in emotion, is scheduled for release today, September 10th, 2013. Voos previous basement-recorded release, A Place For Secrets, spent seven months running through the AMA & Roots Music Report charts respectively, while surprising the Blues/Americana music scene with an overdriven acoustic mix of slide based guitar songs. After taking up the guitar at age 19, Voo began playing solo gigs at only 21 years old; he has since performed with Chicago Blues legends Eddie "The Chief" Clearwater and Chico Chism, among others. A former member of the band Loose Change, Voo is known for his aggressive and dynamic stage presence and classical technical abilities. Nicknamed Voo due to his vast knowledge and ability to play Jimi Hendrix on command, Voo lists his namesake along with Buddy Guy, Martin Sexton, and R.L. Burnside as vital influences.
Vicious Things is a fresh, new collection of songs arriving just a year after the release of Voos highly acclaimed debut. Lyricism is of equal importance to the music on Davis new album, presenting a true artistic talent as he seamlessly combines both. The songs are able to speak for themselves in an organic way, and the result is a reflection of numerous styles, personalities, and instruments. With Vicious Things, the award winning, former blues circuit guitarist has moved from the basement to two of Louisianas top recording studios--Studio in the Country and Dockside Studio--and added four other Chicago based musicians: Stephen Bores (Bass/Ukelele/Vocals), Calvin Conway (Harmonica/Fiddle/Vocals), Jon Wade (Keys), and Mike Gock (Percussion).
Vicious Things, produced by Voo, himself, was recorded on analog Neve boards. No autotune, no big computer fixes, just humans making sounds-- a trait that Voo learned on the road with WC Handy award winner Eddie King. With a passion for lyrics and a gift for creating emotion with a guitar, Voo Davis encompasses all that is right about an independent musician in todays field of millions. Vicious Things brings genres together instead of separating them into a neat package of similarity. Its a real album in a time of one song releases.
To learn more about Voo Davis and his latest release, "Vicious Things," visit http://www.voodavis.com
To pick up the new album visit itunes: https://itunes.apple.com/us/album/vicious-things/id666983480
For more information, images, or to arrange for an interview with Voo Davis, please contact Melissa Zeigler at Powderfinger Promotions: melissa(at)powderfingerpromo(dot)com.
Powderfinger PromotionsIndependent Radio Promotion and Publicity. Since being founded in October 1994, Powdernger has come to be regarded as a top indie radio promotion and publicity rm with ties across North America.
Related Computer Press Releases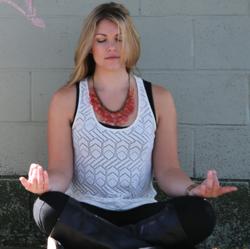 Portland, OR (PRWEB) July 09, 2013
First lets discuss the definition of Beautiful: According to Merriam-Webster: 1- Pleasing the senses or mind aesthetically 2- Of a very high standard; excellent. So based on this definition, obviously beauty is in the eyes or senses of the beholder as it come in various forms for every individual, but this can gives you a foot in the right direction.
1-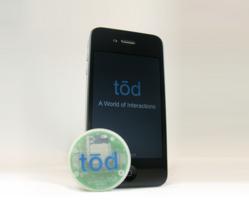 Lehi, Utah (PRWEB) May 14, 2012
The Internet of Things is getting closer to being an everyday reality, thanks to the team at Rowdy Robot.
Soon, consumers will be able to use the companys small rounded disksknown as a td Smart Beacon (pronounced toad)to connect real-world objects and events to the Internet and even offline using their smartphones and other mobile devices.
Using td Smart Beacons and their smartphones, consumers will be able to find their car in a crowded parking lot, know the exact whereabouts of their children or pets, create triggers and customized alerts when they are in range of their home, office or favorite storeand dozens of other practical applications.
Were bringing the power of the Internet of Things to consumers pockets and into the real world, even in places where there is no Internet access, said CEO Jonathan Prevo.
Td is asking tech enthusiasts to help the company accelerate its launch with a funding campaign on the popular crowd funding website Kickstarter. They have already reached 80% of their $ 50,000 funding goal, but expect to raise much more. The team at Rowdy Robot plans to ship the first devices in October 2012. Developers will have early beta access to the hardware in July.
The td Smart Beacons have already made popular technology news, with coverage on Mashable, Endgadget and Geeky Gadgets.
H.A.F.'s Things Presents High Tech and Lingerie; High Tech Toys and Lingerie Mostly Plus Sizes











Riverside, Ca (PRWEB) February 26, 2006
High Tech and Lingerie is a brand new website starting this week. We are featuring the very popular XBox 360 and select iPod hand helds.
Also we have very sexy lingerie for those captivating full figured women. This mix is unique in that we only provide selected lingerie most of which is geared towards full figured women sizes up to 5X, and selected high tech toys for men and women. We maintain a catalog of less than 100 items logicaly organized. Think of it guys you can get your toys and get your lady somthing fun to ware at the same time. Ladies you can spend a bundle on lingerie and get your man a toy at the same time.(no problems) If there is something you want and don't see it let us know.
High Tech and Lingerie
Remember the mix of toys and lingerie will change as I ferret out what's hot in toys and lingerie week to week and day to day.
Hal Foster
H.A.F.'s Things
Riverside Ca.
951-488-5465
http://www.hafsthings.com
###
©Copyright 1997-
, Vocus PRW Holdings, LLC.
Vocus, PRWeb, and Publicity Wire are trademarks or registered trademarks of Vocus, Inc. or Vocus PRW Holdings, LLC.
O'Fallon, MO (PRWEB) March 7, 2005
"The availability of wireless components, resources and growing demand, emphasizes the need for both aggressive education and security services. This provides the opportunity to assist our residential and business customers by eliminating vulnerabilities that otherwise allow potential intruders to easily penetrate. Many security analysts estimate upwards to 70% of existing installed wireless networks are wide-open and unsecured. This is an incredible statistic and illustrates the lack of awareness in the market," states Steve Douglas, President and Chief Executive Officer of Net-Net Tech, LLC.
"The media is successfully educating the public of on-line security and identity theft. However, unsecured wireless networks are often overlooked. Compromising a wireless network is tremendously easy. Anyone with a small amount of knowledge, notebook computer, and easily obtain software can compromise an unsecured wireless network within less than two minutes inside a car parked in an adjacent lot. Information stored on computers attached to these networks typically contain mission critical data."
Net-Net Tech, LLC's security services integrate a number of measurements ensuring a complete identification. Customer facilities, with existing wireless networks, are surveyed, audited and documented. Net-Net Tech provides additional resources which include anti-virus software, firewall, and other packaged solutions. A solution entails a complete tightening of the existing infrastructure and a complimentary layer of additional services as needed. Net-Net Tech, LLC services are a value-added solution for business and residential customers.
Net-Net Tech, LLC is a service technology leader headquartered in O'Fallon, MO that provides data, voice, telecom. Net-Net Tech offers a complete IP based private-label NuvioVoice and NuvioCentrex replacing existing telephony infrastructure. For additional information about Net-Net Tech, LLC, visit http://www.netnettech.com or call 636-533-0150. Net-Net Tech, LLC and the Net-Net Tech logo are trademarks of Net-Net Tech, LLC. Nuvio, NuvioVoice, NuvioCentrex and the Nuvio logo are trademarks of Nuvio Corporation.
# # #
More Tech Press Releases