San Francisco, CA (PRWEB) September 20, 2012
Gild, which brings meritocracy to HR through innovative recruiting technologies, today announced the formation of a new Advisory Board featuring a provocative mix of perspectives and expertise with which to guide the company.
From hacking to human resources, talent acquisition to design and open source programming, the new board includes luminaries from inside and outside of Silicon Valley. Armed with this diverse mix of innovation, insight and expertise, their mission is to challenge the status quo of recruiting and reinvent the hiring process for developers, technologists and beyond.
Gilds new Advisory Board brings together minds and backgrounds not commonly seen sitting at the HR table," said Sheeroy Desai, CEO and co-founder, Gild. "We purposely sought out expertise that would offer us and the industry a transformative perspective, and accelerate our growth through real differentiation."
The initial five-member board includes:
Amelia Merrill - VP, Talent Acquisition at RMS. Currently the head of talent acquisition at RMS, Amelia Merrill is developing a new employment branding strategy based on brand triangulation that will include a strong focus on social media and out-of-the-box ways to engage the RMS employee base and candidates. Prior to RMS, she was at Juniper Networks, WebMethods, and VeriSign. Her HR career has varied greatly from creation, development, and implementation of M&A and workforce reduction programs to HR business partner to talent acquisition leader.
Zach Holman - Developer Advocate at GitHub. In addition to his role as an evangelist and developer at GitHub, Zach Holman is a blogger, open source hacker, and nontraditional screencast filmer. Mr. Holman achieved national media fame when he introduced Facelette, a three-hour app experiment that married Chatroutlette with FaceTime. He continues to be a sought-after speaker within the developer community, where he has presented at Airbnb, the Ruby Conference, and most recently keynoted the 2012 BACON Conference.
Clement Mok Acclaimed Brand and Design Guru. Clement Mok is an award winning designer, digital pioneer, software publisher, app developer, author, and design patent holder. A former creative director at Apple, Clement founded multiple successful design-related businesses, including: Studio Archetype, CMCD, and NetObjects. He was the Chief Creative Officer of Sapient, a Trustee of Art Center College of Design and the national president of AIGA. Currently, hes a founding partner of SUGARFISH and SameSurf as well as start-ups on a variety of design planning and user experience related projects. He is a 2008 AIGA Medalist, has been published internationally and has received hundreds of awards from professional organizations and publications including I.D. magazines 40 Most Influential Designers, and Chief Executive Magazine, which named him among 1998s Tech 100 CEOs.
Austin Cooke - VP, Human Resources & Talent Acquisition at Vistaprint. As Vice President of Human Resources & Talent Acquisition, Austin Cooke is responsible for all aspects of Vistaprints efforts to attract, grow and retain the best talent in the e-commerce industry. Prior to Vistaprint, Austin was VP, Global Recruiting at Sapient, overseeing the company's growth from 85 to over 4,500 people from 1994 to 2006. He currently serves on the advisory boards of the Human Capital Institute and Monster.com.
Eric Lane - HR & Staffing Leader. Eric Lane is the founder of Retirement v1.0, a consulting firm for HR and talent acquisition. Before launching Retirement v1.0, Eric served as VP of Human Resources at Intuit (2001-2011) and was a Vice President with Icarian (1997-2001) a Kleiner Perkins funded Workforce Planning service. Additionally, Mr. Lane served as CEO and Co-founder of CONCENTRICS Management, Inc. and has held senior HR roles at Silicon Graphics, Advanced Micro Devices and National Semiconductor.
The advisory board will be important to Gild as the company continues to develop more tools and services for recruiters and organizations seeking exceptional talent, such as the recently announced Gild Source talent recruitment platform.
I, along with my colleagues, am excited to bring our varied experiences within the HR, tech and design communities to Gild and look forward to rolling out new offerings that hiring teams and managers rely on, said Amelia Merrill, VP, Talent Acquisition at RMS. Technology like that which Gild provides is driving the identification, engagement and recruitment of todays best candidates for the most influential companies.
Weve worked hard to assemble a non-traditional advisory board, added Desai. We prize de facto HR experience, so we gathered together the leading voices in talent acquisition. But we also sought out the most creative minds in design and development. What weve built is an eclectic team of expert advisors who share Gilds belief: That emphasizing meritocracy is the key to successful recruiting.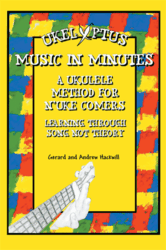 AUSTRALIA (PRWEB) October 05, 2012
Music is a doing word, and authors Gerard and Andrew Hackwill are on a mission to connect people through its magic. Their main tool to meet their objects is the ukulele. It is without a doubt the coolest and most sociable of all the combined 20 or so instruments that they currently play. They started the company Ukelyptus as a means to present their vision to the world Changing Lives One Strum At A Time
Music In Minutes is a method book designed to both learn and teach the ukulele through song. It has been developed with even the most novice musician in mind and is suitable for ages 10-110. The Hackwills approach to achieving fantastic results is based on many years of experience in composition and performance.
Readers and music lovers will be literally playing and singing (plinging) along in just minutes to the accompanying musical tracks of the books progressively ordered tunes. There are even heaps of songs that exclusively utilise chord shapes that requires just one finger. To make things even easier, the first 30 songs presented in this book are based on simple repeated chord patterns.
A great ukulele guide for classroom music teachers,Students will enjoy the near instant results and the gratification that comes from using this specially designed music book. The progressively ordered songs are not only fun and catchy, but a great deal of time and effort has gone into making them easily learned from memory.
Not just for all ages, but for all learning types, as everyone is wired and therefore learns differently. Music In Minutes does not harp on any of the sound musical theory that has gone into its creation: it simply presents the material in a number of useful formats (notated standard musical notation, lyrics sheets, chord tablature and recordings) to cater for a variety of levels and interests. The songs are catchy and easily learned from memory: just place the fingers as indicated, strum like crazy and have some fun.
For more information on this book, interested parties can log on to http://www.Xlibris.com.au.
About the Author

Although a long time multi-instrumentalist with skills in keyboards, guitars and woodwinds, Gerard Hackwills transition into the Ukulele world comes off the back of a highly successful career in IT. He studied Music at The Canberra School of Music prior to moving into computers, and has now come full-circle to run Ukelyptus with his infectious enthusiasm, and to concentrate on what he see as his most important role to date: positively changing lives one strum at a time.
Andrew Hackwill worked as an accomplished musician and orchestrator with the Australian Army prior to taking a position with the ACT Department of Education, as a band director and arranger. He has performed extensively throughout Australia and overseas, and has amassed an enormous catalogue of compositions, including those from several of his own highly acclaimed musicals. He sees music as a doing word and his astonishing ability to create outstanding results is based on sound educational theory, psychology, experience, and most of all fun.
UKELYPTUS - MUSIC IN MINUTES * by Gerard and Andrew Hackwill

A UKULELE METHOD FOR NUKE COMERS

Publication Date: September 22, 2012

Trade Paperback; $ 29.99; 123 pages; 978-1-4797-0302-9

Trade Hardback; $ 49.99; 123 pages; 978-1-4797-0303-6
Members of the media who wish to review this book may request a complimentary paperback copy by contacting the publisher at 1-800-618-969. To purchase copies of the book for resale, please fax Xlibris at (02) 8282-5055 or call 1-800-618-969.
Xlibris books can be purchased at Xlibris bookstore. For more information, contact Xlibris at 1-800-618-969 or on the web at http://www.Xlibris.com.au.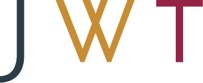 New York, NY (PRWEB) June 18, 2012
Today, at the 2012 Cannes Lions International Festival of Creativity, JWT will host Junior Worldmakers, a seminar that will highlight the imagination and freethinking of fearless and creative kids who are already making their mark on the world and the lessons adults can take away from them.
Jordan Casey, age 12, is among the youngest app designers in Europe. Adora Svitak, age 14, started writing stories at age 4. And a third, Caine Monroy, age 9, has garnered worldwide attention with the creation of his handcrafted cardboard game arcade. Monroy will be the youngest person to speak at Cannes in the history of the festival.
We all were born creative. But through the process of growing up, we lose our unfiltered imagination and the fearlessness that make us kids, said Jeff Benjamin, JWT's chief creative officer for North America and the host of the seminar. Caine, Jordan and Adora have made their mark on the world. And theres a lot we can learn from them about creativity and business. I cant wait to be upstaged by a group of kids.
JWT Presents: Junior Worldmakers

Location: Theatre Debussy

Date: Monday 18, June 2012

Time: 11:30 am 12:15 pm

About the Speakers
Jordan Casey

Programmer, App Developer

@caseygames
This 12-year-old from Ireland began his tech career at just nine years old when he started blogging and developing websites in HTML, CSS and JavaScript; now hes one of the worlds youngest programmers and iOS app developers. At 10, Jordans music went on iTunes, Amazon, Spotify and other leading music services, while becoming one of the most subscribed to vloggers in Ireland for his short films.
Most recently, Jordan founded his indie games company, Casey Games, with the debut of his app Alien Ball vs. Humans. He is donating 10% of the games revenues to a cancer respite center near his hometown in Ireland, and is also creating the Kids Technology Awards.
Caine Monroy

Creator Caine's Arcade

@cainesarcade
A young entrepreneur in the making, 9-year-old Caine Monroy spent his summer vacation building an elaborate cardboard arcade inside his dads used auto parts store in East LA and invited the world to play.
It was not until Nirvan Mullick, an LA filmmaker who happened to stumble upon Caine's cardboard arcade when he tried to buy a car handle for his '96 Corolla from Caine's dad's store, that Caine got his first customer. Touched by the experience, Nirvan created the documentary Caines Arcade, illustrating Caines journey and the passion Caine had on making his dream a reality. Since its launch in April 2012, the film has had more than 3.3 million views, has led to the creation of the Caines Arcade scholarship fund, and has inspired a DIY movement of creativity for kids around the world.
Adora Svitak

Author, Teacher, Activist

@adorasv
Adora Svitak is the author of three books, a teacher, speaker and activist. Since the age of four, she has been exploring what she can do with the written word: everything from championing literacy and youth voice to blogging for Mashable, Edutopia and The Huffington Post. At 12, Adora delivered the speech What Adults Can Learn from Kids at a TED conference. The speech has gone viral around the world. In the speech, she talked about the audacity and creativity of kids.
The kids will be joined onstage by filmmaker Nirvan Mullick, the director of Caines Arcade, and Bryant Ison, senior brand manager for Johnson & Johnsons Band-Aid brand, who pioneered an inventive app with JWT: Band-Aid Magic Vision featuring the Muppets.
JWT will also announce the creation of a Junior Worldmakers fund to support entrepreneurial and creative projects developed by kids. The fund will also include a Junior Internship program for kids ages 10-14.
About JWT

JWT is the worlds best-known marketing communications brand. Headquartered in New York, JWT is a true global network with more than 200 offices in over 90 countries employing nearly 10,000 marketing professionals. JWT consistently ranks among the top agency networks in the world and continues a dominant presence in the industry by staying on the leading edgefrom producing the first-ever TV commercial in 1939 to today, developing award-winning branded content for brands such as Johnson & Johnson, Diageos Smirnoff, Macys, Ford and HSBC and has forged deep relationships with clients including Bayer, Bloomberg, Brand USA, Cadbury, DTC, Kelloggs, Kimberly-Clark, Kraft, Nestl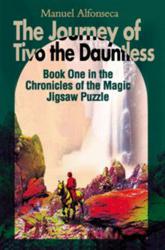 MADRID (PRWEB) March 31, 2012
In The Journey of Tivo the Dauntless: Book One in the Chronicles of the Magic Jigsaw Puzzle (published by iUniverse), the first of author Manuel Alfonsecas newly-translated adventure novels, several companions quest in the mode made famous by C.S. Lewis Chronicles of Narnia series.
A magic object which belonged to the kings of Tiva was broken in ancient times. The seven pieces, which together make the magic jigsaw puzzle, have been lost. In this, the first book in the series, Tivo, king of Tiva, starts a perilous journey to find one of the lost pieces. The journey takes him to the other end of the continent, through perilous places and alien countries. He will meet unexpected friends and helpers, as well as dangerous enemies. Finally he will discover that the only way to win a piece of the magic jigsaw puzzle is by being ready to lose it.
An excerpt from The Journey of Tivo the Dauntless:

Elavel reddened in anger and tried to answer the man as he deserved, but could not find the appropriate words. Suddenly, Valaz lost patience. Stepping forward, he took the girls arm and pushed her towards the horses.

Fortunately for him, he trampled on a dry branch that snapped with a sudden noise, awakening Tivo, who noticed that something strange was afoot. Without the kings interference, the kl
New iPad/iPhone App Takes Kids on a Joy Train Ride to Teach Them ABCD












(PRWEB) May 21, 2011
Internet Design Zone, an iOS application developer company, has launched a new fun educational iPad/iPhone app: The Alphabet Train. Kids in age group 2-6 or in pre-school, 1st, 2nd grade would enjoy playing with this app and learn alphabets ABC and their first words in no time.
Once, you start the app, the cute Teddy Bear train driver gets the steam engine chugging in with puffs of smoke coming out of the chimney. The sounds of the train hooting and running on the railway track will appeal to little children. Two railroad cars are attached to the engine for every alphabet. The letter dances on the first railroad car and an object whose name starts with that letter dances on the second railroad car. Example: for C, the letter C dances on the first railroad car and a Clown does a juggling act on the second railroad car. Similarly the train moves on for all the letters.
Why kids will love the Alphabet Train?

Real train sounds.
Colorful attractive graphics with funny animations.
Very simple and easy to use. Child-friendly design.
Background voice-over speaks aloud every alphabet and word.
Why parents will love the Alphabet Train?

Kids will learn alphabets ABC quickly along with first words.
Kids will learn to speak the alphabets and words after hearing the voice-over.
Kids will learn to recognize the pictures both from their spoken and written names.
Kids will be able to use the app alone and spend hours learning and having fun at the same time.
Parents can sit with their child and enjoy the app together and thus increase parent-child bonding.
The Alphabet Train app is now available for free download on the iTunes App store as a universal app for all three devices: iPhone, iPad and iPod Touch. Alphabets A to E are free. F to Z are available with an in-app purchase.
Founded in 2004, Internet Design Zone, India has been developing websites and mobile applications. It has developed more than 45 iPhone/iPod Touch and iPad apps. These days, the company is developing educational apps for kids on the iOS platform.
# # #








Attachments




©Copyright 1997-
, Vocus PRW Holdings, LLC.
Vocus, PRWeb, and Publicity Wire are trademarks or registered trademarks of Vocus, Inc. or Vocus PRW Holdings, LLC.
Find More Graphic Press Releases
Cry Wolf Graphic Novel Will Teach University Students











Tiverton, ON (PRWEB) October 26, 2005
Doug Crill & Daniel J. Frey, the author and illustrator of the graphic novel Cry Wolf, as well as their publisher Open Book Press are proud to announce that the academic quality of the Cry Wolf graphic novel has been recognized in a big way.
This 70 page cult hit graphic novel revolves around a young private investigator who must leave his new bride and risk his life to find an old friend in the jungles of Borneo. In the process the private eye is confronted with the legend of the werewolf, and returns home with more than when he left. The story is set in Chicago in the 1920's in the midst of the prohibition and gangster era.
The story has now been approved as a teaching text by the University of New Mexico, to be used in their English 220 class. The class will revolve around the role of the werewolf in historical and modern literature, the symbolism associated with the werewolf from different times and cultures. The symbolism of different types of werewolves and their roles will also be examined.
Other popular works of werewolf horror fiction will be examined as well. These will include books such as Guy Endore's "The Werewolf of Paris", Robert Louis Stevenson's "Dr. Jekyll & Mister Hyde', as well as popular modern and historical films. Biblical stories and ancient mythology involving the werewolf will also be studied.
The focus of the course is to examine Lycanthropy as a device in literature and teach the proper use of it in writing and how the symbolisms of the wolf trigger responses in the conscious and subconscious mind.
More details can be found at: http://www.openbookpress.com, course info will be posted at http://www.unm.edu
###
©Copyright 1997-
, Vocus PRW Holdings, LLC.
Vocus, PRWeb, and Publicity Wire are trademarks or registered trademarks of Vocus, Inc. or Vocus PRW Holdings, LLC.
Greenbelt, Md. (PRWEB) January 5, 2010
With the recent news that ComputerTraining.edu has shut its doors, "America's Largest IT Academy" may have left hundreds of MCITP students on the hook for classes they will never complete and dozens of instructors out of work. This announcement is the second such closure in less than a week, after Intense School unexpectedly closed down early last week.
This second computer training school closure has led the Academy of Computer Education® (ACE) to gear up for the participation in any "Teach Outs" that might become available through the Maryland Higher Education Commission in the wake of the ComputerTraining.edu closure. Academy of Computer Education participated in teach outs when similar events occurred during the abrupt closing of a major training school in the early 2000's.
"We will do our part to support affected students and the computer training community as a whole," said Ralph P. Sita, Jr., CPA School Director for ACE. "We will facilitate the efforts of the MHEC to the best of our abilities. We did the same during the last major training school closure and we will have no problem helping out with this one."
In order to be eligible for a teach out, students must immediately make contact with the Maryland Higher Education Commission.
About ACE

The Academy of Computer Education® (ACE) is the leading computer training school in Maryland, DC and Northern Virginia. The school offers classes from trusted vendors such as EC-Council, CompTIA, Microsoft and VMWare. ACE has locations in Ashburn, VA and Greenbelt, MD. For more information on MCITP Server Administrator classes visit http://www.trainace.com/courses/mcitpsa/ or call (301) 220-2802 in Maryland or (571) 209-9234 in Northern Virginia.
###
Related Computer Press Releases