Cupertino, CA (PRWEB) October 17, 2004
Today, Vocomo® Corporation, the pioneer in next-generation Interactive Voice Response (IVR) systems, announced immediate availability of its new open standards Voice-over-IP (VoIP) IVR platform: VocomoVoice® Response for VoIP. This network-attached IVR platform allows businesses to efficiently deploy their customer service applications in a single IP-centric network.
Intended for customer self-service and call centers with less that 30 agents, Vocomo has launched a new generation of IVR products that enable a significantly lower total cost of ownership. This advanced VoIP IVR software, with support for VoiceXML, SIP, H.323, and RTP, enables developers to build flexible, scalable, and cost-effective IVR applications. With VocomoVoice Response for VoIP, enterprises and service providers can realize the multitude of business benefits IP Telephony has to offer. Organizations can reduce costs, enhance productivity, improve customer service, and simplify management as they move toward an IP-centric communications model. Vocomo Voice Response for VoIP is the next step in telephony software innovation and IP Telephony for IVR systems.
"A network-attached IVR platform offers clear and compelling benefits for enterprise communications," said Danny Lange, CEO of Vocomo. "Allowing all communications to flow over a single infrastructure – the network – lowers installation and maintenance costs, makes it easier and more affordable to deploy IVR systems for phone automation, and provides a flexible application environment that enables voice and data to more easily work together."
VocomoVoice Response for VoIP is designed for a server platform based on Intel architecture, and integrates with Intel® NetStructure™ Host Media Processing software in place of specialized digital signal processor (DSP) boards for call handling and control. The media processing functions are handled on the host CPU, increasing performance while lowering overall system costs.
"By designing standards-based building blocks from Intel into their platform, Vocomo is able to deliver a flexible, scalable solution to the marketplace," said Sandra Rivera, director of marketing, Modular Communications Platform Division, Intel. "This high performance solution will reduce the deployment time and total cost ownership of new converged communications applications."
VocomoVoice Response for VoIP offers integrated WebSphere Speech Technologies from IBM. These automatic speech recognition and text-to-speech technologies enable enterprises to incorporate speech easily into their customer-facing telephony applications.
"IBM is delighted to be selected as provider of top quality speech technology incorporated by Vocomo into solutions for small and mid-sized enterprises and service providers," said Alistair Rennie, IBM Vice President Marketing and Sales, Pervasive Computing. "In an increasingly competitive business environment, those businesses are seeking advanced contact center technologies to differentiate themselves through superior customer service. The combined Vocomo - IBM offering is helping businesses achieve that goal."
Benefits of VocomoVoice Response for VoIP
Vocomo's software moves IVR solutions from the domain of custom software and specially designed telephony boards to an open software model for standard high-volume computing platforms. Vocomo's move offers significant advantages.

Lower cost of inventory and startup – initial capital investment is smaller

Lower development costs – development systems do not require specialized hardware

Lower deployment costs – software is less expensive to install and configure than hardware

Lower sparing costs – hardware can be used for multiple functions

Lower maintenance costs – maintenance is easier and less training is needed when system configurations are standardized

Integrated speech technologies – increased levels of automation in customer facing-applications
About Vocomo® Corporation
Vocomo is a leader in next-generation Interactive Voice Response (IVR) products for the enterprise market. Vocomo is making IVR systems more affordable and accessible to customers through standards-based technology. Vocomo's next-generation IVR product line — VocomoVoice® — enables companies to easily and quickly deploy automated phone services that can improve employee productivity, reduce costs, increase customer satisfaction, and create new revenue opportunities. VocomoVoice allows companies to extend existing or new Web applications to be accessible by any phone at the lowest total cost of ownership. Vocomo's technology fellow travelers include leading organizations, such as Intel, Dell, IBM, Brooktrout, and ScanSoft. Vocomo is a privately held company based in Cupertino, California. For more information please visit http://www.vocomosoft.com or call toll free 1.800.780.8626.
CONTACT:
Vocomo Corporation
info@vocomosoft.com
Toll free: 1.800.780.8626
Phone: 1.408.253.8626
Intel and Intel NetStructure are trademarks or registered trademarks of Intel Corporation or its subsidiaries in the United States and other countries.
# # #
Find More Cpu Press Releases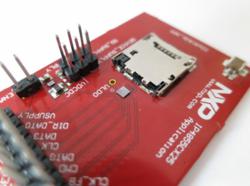 Eindhoven, Netherlands and Hamburg, Germany (PRWEB) May 30, 2013
NXP Semiconductors N.V. (NASDAQ: NXPI) today announced the I P4855CX25 a unique voltage level shifter for SD 3.0-compliant memory cards with integrated ESD/EMI protection. The device is designed to operate at clock frequencies of up to 100 MHz and data rates of up to 50 MHz. The IP4855CX25 is the industrys first SD 3.0 card level shifter supporting the ultra-high-speed SDR50 mode, helping consumers to safely experience the faster data rates offered by SD 3.0 memory card solutions.
With 8 kV of integrated ESD protection according to IEC6100-4-2 (Level 4), as well as an integrated EMI filter, the IP4855CX25 offers a robust solution for the communication interface between the system chip and the memory card. It is an optimized plug-and-play solution for system chips with input and output voltage level limitations. As consumers demand both greater data storage and faster data rates from memory cards, OEMs are starting to make their devices compatible with SD 3.0 compliant cards. Building on NXPs proven track record in level shifting, ESD protection and interface solutions, the IP4855CX25 is the industrys first SD 3.0 solution supporting SDR50 the most challenging high-speed data mode.
The IP4855CX25 is housed in a very small wafer-level chip-scale package, which saves PCB space. The design architecture minimizes the external component count to zero. This simplifies designs and reduces the total costs for consumer electronic devices such as mobile phones, tablets, cameras, set-top boxes and game pads.
The IP4855CX25 helps consumers enjoy the improved speeds and higher data rates associated with SD 3.0, while ensuring the safe and reliable operation of their devices, said Malte Struck, product marketing manager, NXP Semiconductors. As the industrys first SD 3.0 level shifter to support the ultra-high speed SDR50 mode, the IP4855CX25 builds on our unparalleled expertise in level shifting, ESD protection and interface solutions, and takes us into new and exciting areas. It also shows our dedication to improving consumer experience through continuous innovation.
Volume production of the IP4855CX25 is ramping up with immediate effect.
Features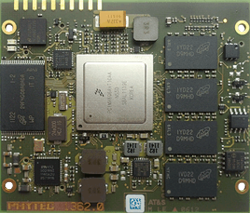 Munich, Germany (PRWEB) November 12, 2012
PHYTEC launches the phyFLEX i.MX 6 System on Module (SOM), a feature packed SOM supporting the i.MX 6 series of application processors from Freescale. The i.MX 6 series is a highly scalable family of embedded processors based on the ARM
(PRWEB) November 22, 2001
Chicago, IL --(November 26, 2001)-- SOFTWARE ENGINEERING CORPORATION - SENCOR has announced their medical storage software - SENCOR Medical Archive (SMA) supports JVC's full line of DVD-RAM automated libraries.
SMA enables medical facilities to concurrently manage DICOM data on any number of local or distributed RAIDs (Redundant Array of Disks) and automated libraries from multiple vendors utilizing multiple media types. With SMA, medical facilities can store, query and retrieve an unlimited number of digitally stored radiology images (e.g., MRIs, CTs, Ultrasounds, X-Rays, etc.,).
Hospitals, radiology centers and other medical facilities benefit from using SMA for a number of reasons.
    a.    Scalability- The ability to store data on any number of RAIDs and automated libraries allows users to store an unlimited amount of data.
    b.    Redundancy- Users can easily keep redundant copies of data at remote locations (automatic media failure rollover and/or disaster recovery).
    c.    Flexibility- Support for multiple manufacturers and media types enables users to add JVC DVD-RAM libraries to existing systems.
    d.    Efficiency- SENCOR's volume spanning support ensures nearly 100 percent of each volume is used.
    e.    Cost- SMA outperforms other radiology storage systems and is extremely competitively priced. In addition, digital storage is less expensive than traditional film and reduces human error (e.g., loosing files or folders containing film).
SENCOR is currently demonstrating SMA with JVC libraries at booth #2176 at the Radiological Society of North America's 86th Scientific Assembly and Annual Meeting (RSNA) in McCormick Place, Chicago, Illinois.
SOFTWARE ENGINEERING CORPORATION - SENCOR, headquartered in Bloomington, Minnesota is a software development firm producing storage software products for medical, video, document management and other digital storage-related industries. To learn more about Software Engineering Corporation, visit their web site at www.SENCORSOFT.com.
JVC PROFESSIONAL PRODUCTS COMPANY, headquartered in Wayne, New Jersey, distributes a complete line of DVD-RAM digital storage equipment. For more information about JVC's professional line of automated DVD libraries, visit their web site at www.JVC.com/pro/.
# # #
Montreal, Canada (PRWEB) January 27, 2005
Matrox Graphics Inc. launches the new Parhelia(TM) DL256 PCI graphics card supporting very high-resolution, dual-link monitors under Microsoft(R) Windows(R) 2000 and Windows XP. Combined with the 30-inch Apple Cinema HD Display(R), the card provides stunning, ultra-sharp output at resolutions up to 2560 x 1600. The Parhelia DL256 supports the dual-link DVI industry standard for compatibility with next-generation, high-resolution, digital monitors.
"The Parhelia DL256 graphics card paired with a high-resolution monitor like the 30-inch Apple Cinema HD Display is an excellent solution for professionals that need to see more and do more," says Sam Recine, manager, workstation graphics, Matrox Graphics Inc. "For example, in CAD, GIS, dispatch, security monitoring, and process control, it's critical to have large amounts of information presented as clearly as possible. This solution can help improve productivity and reduce errors."
The Matrox Parhelia DL256 PCI is a 64-bit, 66 MHz, PCI graphics card that is compatible with all PCI and PCI-X slots. In addition, this card includes: 256 MB of graphics memory, support for a second (analog) monitor at resolutions up to 2048 x 1536, multi-card 2D/3D OpenGL(R) and Microsoft DirectX(R) acceleration, hardware quad-buffered stereo 3D, and TV output (composite video and S video, NTSC or PAL). Display drivers for the Linux(R) and Sun Solaris(TM) x86 operating systems are available as upgrades.
Pricing and availability -- The Matrox Parhelia DL256 PCI graphics card is available at a list price of $ 699 (USD) from authorized resellers and directly from Matrox at http://shopmatrox.com. For more information, please contact Matrox sales at 1-800-361-1408 or technicalsales@matrox.com.
About Matrox Graphics Inc.
Matrox Graphics Inc., the leading manufacturer of professional graphics hardware, has been delivering high-quality, innovative products for more than a quarter century. Pioneer of the trend-setting DualHead(R) technology, Matrox is a graphics chip designer and card manufacturer whose products have been awarded over 1,000 times worldwide for their superior image quality, practical ingenuity, and unwavering stability. A privately held company headquartered in Montreal, Canada, Matrox has international offices in the United States, the United Kingdom, Ireland, France, Germany, Italy, and Hong Kong. For more information, see http://www.matrox.com/mga.
###