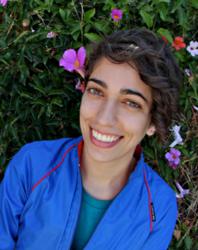 San Francisco, California (PRWEB) May 20, 2013
Heather Tomkins, a Web Design and New Media graduate student at Academy of Art University, will be spending the summer working at Klout, the San Francisco tech company that measures the influence of social media users, thanks to the Kleiner Perkins Design Fellows Program. Tomkins is one of twelve design students from around the country to receive a fellowship from Kleiner Perkins Caufield and Byers, the venture capital firm that launched the Design Fellows Program to provide the most promising design students with mentorship, leadership and community and to nurture the interconnection of design and technology in developing innovative products and services. The program connects design students from the top universities in the country with some of the most design-influenced companies in the firm's portfolio.
As part of the application process, Tomkins submitted her Academy thesis project, an interactive childrens book for the iPad called The Bear and the Picture Camera. She designed the book in a way that allows the reader and the main character to explore and draw together a type of combination she felt was missing in the iPad childrens book market.
Not only did this project allow me to develop new skills in user experience and user interface design, it allowed me to further develop my skills as an illustrator, visual designer and storyteller, she said. Im honored and excited to be a 2013 KPCB Design Fellow. I look forward to my summer with Klout and this invaluable opportunity to grow as a designer.
Academy President Elisa Stephens explains how the universitys teaching strategy helps make accomplishments like Tompkins possible: One thing every Academy student must do in order to graduate is complete a portfolio of work that shows potential employers that the student has not only studied design, but has hands-on experience and can contribute to a company. Heather clearly knocked the ball out of the park with her thesis project, and we are excited that she will be able to further develop her skills this summer at Klout.
The Design Fellows Program is part of KPCBs strategy for supporting innovative companies. In establishing it, says Juliet de Baubigny, a partner at KPCB who helped build the program, What we wanted to do was to really support the field; we wanted to make sure that we helped our companies gain access to the best designers, and we wanted to continue, ourselves, to learn as the field of design innovation unfolds. I feel that design is going to be the key differentiator with many entrepreneurial ventures going forward.
Since its founding in 1972, KPCB has backed entrepreneurs in more than 500 ventures including AOL, Amazon, Citrix, Compaq, Electronic Arts, Genentech, Google, Intuit, Juniper Networks, Netscape, Sun, Symantec, Verisign and Zynga. The program aims to help bright students gain the experience and relationships they need to create meaningful careers at technology companies after graduation, and KPCBs portfolio companies benefit by tapping into the next generation of design thinking and talent.
About the Academy of Art University

With more than 18,000 students, Academy of Art University is the nation's largest private art and design university. Established in 1929, the school offers accredited AA, BA, BFA, B.Arch*, MA, M.Arch and MFA programs in 21 different majors, as well as continuing art education, with classes in Acting, Advertising, Animation & Visual Effects, Architecture, Art Education, Art History(BFA), Fashion, Fine Art, Game Design, Graphic Design, Illustration, Industrial Design, Interior Architecture & Design, Jewelry and Metal Arts, Landscape Architecture, Motion Pictures & Television, Multimedia Communications, Music Production & Sound Design for Visual Media, Photography, Visual Development and Web Design & New Media. Students can also enroll in flexible online degree programs in most majors. Academy of Art University is an accredited member of WASC (Western Association of Schools and Colleges), NASAD (National Association of Schools of Art and Design), Council for Interior Design Accreditation (BFA and MFA-IAD) and NAAB (M-Arch, B.Arch*). For more information, visit http://www.academyart.edu or call 1-800-544-2787.
*B.Arch program in candidacy status with NAAB
##
Find More Graphic Press Releases