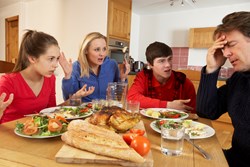 (PRWEB) November 13, 2013
Holiday time can be stressful for all relationships, and when family dinners meet family dynamics, things can spiral out of control. Holidays are supposed to be a time of fun, togetherness and love, but creating those lasting memories with Uncle Bob and Aunt Janet can be almost as challenging as bringing world peace to our planet.
Introducing the Family First Aid Kit for Holiday Stress by two-time Emmy Award Winning On-Air News Journalist and Licensed Marriage and Family therapist, Linda Nusbaum, LMFT. Linda is the founder of The Relationship Counseling Center and creator of Couple Mapping™, a process that instantly illuminates relationship problems and changes the way a person thinks and feel about another person in a 'couple' of minutes.
The Family First Aid Kit for Holiday Stress includes a small whiteboard and guidebook, as well as personalized Couple Mapping videos which are a series of stick figure drawings and symbols, narrated by Nusbaum. These images provide immediate clarity and understanding about oneself and the other person, along with steps to take to improve the relationship.
"All family problems start with two people trying to connect, so a 'couple' of people are at the core of every issue," says Linda Nusbaum, LMFT. "Therapy can take a long time and lots of effort. Couple Mapping can provide instant relief."
As an on-air news reporter, Linda condensed hours of footage into stories that lasted less than a couple of minutes. She now uses that same skill to distill what is happening in people's relationships by giving them a visual snapshot that can provide immediate relief. As a psychotherapist, Linda has helped thousands of people in her private practice by using her Couple Mapping technique. She has had so much success that she is now offering this life altering process to the public.
Couple Mapping Inc. develops and markets products and services worldwide to provide people instant relief with personal and business relationship challenges. Founded by Linda Nusbaum, LMFT -- two-time Emmy Award winning on-air news journalist, licensed marriage and family therapist, and founder of The Relationship Counseling Center, Couple Mapping's premise is that relationship problems always start with a couple of people and can now be addressed in a couple of minutes. Couple Mapping™ has offices in Beverly Hills and Long Beach, California and is available to people worldwide from the privacy of their computer.
New York, NY (PRWEB) December 13, 2012
Stress and its impact on health is too often ignored. However, today there are many ways in which new technologies can help the older population alleviate stress to live a healthier life. This couldnt happen soon enough. The senior age group is now, for the first time, the largest in terms of size and percent of the population in the U.S. By 2015, those aged 50 and older will represent 45% of the U.S. population (AARP).
Its been shown that stress can exacerbate any number of conditions leading to poor health, but what if technology, which is often thought to cause stress, could be turned around and shown to alleviate and help manage stress? said Jill Gilbert, co-producer of Silvers Summit. We felt it was important to offer a session that would highlight the companies, stress reducing practices and technologies that are already stepping up.
"Tech for the Soul #behappy," a special session moderated by Arianna Huffington, president and editor-in-chief, Huffington Post, with special guest Deepak Chopra, MD, co-author of Super Brain and Founder of The Chopra Foundation and Chopra Center, has been added to the powerhouse lineup at Silvers Summit during the 2013 International CES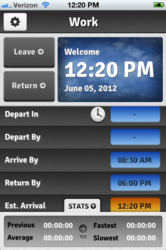 Greenville, SC (PRWEB) August 31, 2012
With the latest release of the commute iPhone app, Daily Commute, users now have new features and functionality to assist them in their travels. One key feature in this update is a new Tips feed. This feed is regularly updated with commute related tips and tricks from the original creators of the app.
Providing users with helpful information, co-creator Dr. Benton Cofer posted, Few situations invoke panic and anxiety quite so quickly as oversleeping! I was reminded of this just this morning. A minor malfunction in my snooze function resulted in my over sleeping by about 30 minutes. What a way to start the day! What to do? After springing from my bed, I immediately opened Daily Commute on my iPhone, and pulled up my countdown timer. To my immediate relief, I found that I had ~ 50 minutes before I needed to leave the house. Whew! No problem.
Giving commuters the tools and tips needed to be more productive, the user gets more out of life. The average American spends 25 minutes on their daily commute to work (one way), and there is an epidemic of stress related illness. If you are commuting, you are not spending quality time with your loved ones. You are not exercising, doing challenging work, having sex, petting your dog, or playing with your kids (or your Wii). You are not doing any of the things that make human beings happy. Instead, you are getting nauseous on a bus, jostled on a train, or cut off in traffic, says Annie Lowrey writing in Slate.com.
The commute iPhone app, Daily Commute has an easy to use interface allowing the technology to work for you. The app starts by prompting the user to input a name for the commute destination and desired arrival time. The user then starts the app upon leaving for work and stops it upon arrival. The app logs this data and the following day, uses this travel time to calculate a target time to leave for work. The touch of a button will bring up a full screen countdown timer. The background of the timer changes from green to orange and then from orange to red as the target time approaches.The user then repeats the process daily. As the app compiles data, it will then average this data to give a more accurate prediction. The app bases the user's predicted commute time on the best available data, so the more it is used the more accurate it becomes.The end result is a more consistent arrival time at work.
The commute iPhone app, Daily Commute also allows the user to input notes for each individual commute for later review. Trends in commute time can be analyzed in graphical readout as well as in tabulated form. Never before has the average commuter had the ability to easily generate usable data regarding commute time. Never before has there been an app that will use such data to make commuting more predictable and less stressful.
The app is currently available to download from the apple app store. The free version contains ads and limits the number of unique commute destinations to one. The commute iPhone app, Daily Commute may be upgraded by the user to the Pro version for 99 cents. The Pro version of the Commute eliminates ads and allows unlimited entry of unique commute destinations.
About ValleyRocket.com
Valley Rocket was founded in 2011 as a tech startup in Greenville, SC. The companys focus is on mobile application development for the iPhone, iPad and Android Platforms. ValleyRocket.com provides a custom app idea portal for individuals or businesses to submit ideas they have dreamed up.
Other applications in the portfolio consists of:
Alpha Calc iPhone / iPad App - The Alpha Calc iPhone and iPad Calculator App offers a new user interface for calculators that have been around for decades.
Bob Levy Radio iPhone / Android App - The Bob Levy Radio App provides access to a beautifully designed interface featuring The After Breakfast Show audio feed, links, stories and comments being discussed on air.
WAPT 4.0: Web Site Load, Stress and Performance Testing












(PRWEB) January 5, 2006 -
SoftLogica LLC announces WAPT 4.0, the new version of its load, stress and performance testing tool for web sites, web servers and applications with web interfaces.
In contrast to "800-pound gorilla" load testing tools, WAPT is designed to minimize the learning curve and give the user an ability to create a heavy load from a single regular workstation. You can create a basic test scenario and get meaningful information about your performance landscape in a matter of minutes. WAPT is able to generate up to 2000 simultaneously acting virtual users for an "average" test scenario using standard hardware configuration (Pentium 4 2GHz, 512MB RAM, Gigabit Ethernet).
WAPT creates a test workload which is virtually the same as the load experienced by a web site in the real world. For example, for retail sites, some users may be surfing the catalog, others searching for a specific product and submitting an order, while an administrator may be updating the catalog. Taking into account that various users perform different actions while browsing your site, the program lets you define as many different profiles of virtual user, as types of real web application users.
Virtual users in each profile are fully customizable. They can have individual IP address (IP spoofing), user name and password, and persistent cookies, to name a few. Basic and Integrated Windows (NTLM) authentication methods are supported. The program handles user-specific dynamic hidden values and session variables assigned by a server.
Graphs and reports are shown in real-time, thus helping to manage the web site performance testing process. You don't need to wait for the completion of the test to get results, so if you have already identified a problem, you can stop the test, fix the problem and start the test again to check for performance changes. WAPT provides graphs and reports at different levels of detail to facilitate detection of possible bottlenecks. At first you can take a look at summary reports to see if there are any problems, then depending on the type of problem you can go to graphs and reports showing performance for specific pages and user profiles.
The command line interface allows you to integrate WAPT into the existing development environment. Standard XML files are used to store test scenarios and can be modified by third party software. WAPT supports different language encodings, so you can test web sites in virtually any language, including forms and dynamic content.
Web Site: http://www.loadtestingtool.com.
Program Interface: http://www.loadtestingtool.com/wapt.gif.
Pricing and Availability:
WAPT is designed for Microsoft Windows 98/ME/NT/2000/XP/2003.
The 30-day trial version with full set of features limited to 20 concurrent virtual users can be downloaded at http://www.loadtestingtool.com/wapt.exe.
The program is priced at $ 250 (USD) per license. Volume discounts are available.
Free technical support is provided by phone (+7.383.3306149).
Publisher & Editorial Information:
IT reviewers are encouraged to use this press release and any other related materials. We will be pleased to grant you a free registration key. If you do not consider electronically distributed software, please e-mail us with the details of your postal address and we will send you a jewel case. Cover media editors are authorized to include the 30-day trial version of WAPT 4.0 in their CD/DVD-ROMs.
This press release is available online at http://www.loadtestingtool.com/press-release-wapt40-en.html
Interface Screenshot, Jewel Case and Company Logo images in printable quality (TIFF, CMYK, 300 dpi):
http://www.loadtestingtool.com/wapt-artwork.zip (1.53Mb)
http://www.softlogica.com/softlogica-logo.zip (52kb)
Editorial Contacts:
Sergey Petrov, SoftLogica LLC
Lavrentjeva Ave, 6 – 201
Novosibirsk
630090
Russia
Tel: +7 (383) 3306149
Toll free (US): 1-888-364-6797
Web: http://www.softlogica.com
# # #








Attachments




©Copyright 1997-
, Vocus PRW Holdings, LLC.
Vocus, PRWeb, and Publicity Wire are trademarks or registered trademarks of Vocus, Inc. or Vocus PRW Holdings, LLC.
More Ram Press Releases
Airbus Signs a New 3-Year Transnational Contract with Sogeti High Tech Covering the Support of its Design Office Stress Activities(1)













Dayton, OH (Vocus) February 9, 2010 –-
This signature between Airbus and Sogeti High Tech, wholly owned subsidiary of Cap Gemini S.A, reinforces a mutual trust relationship initiated more than ten years ago in the field of engineering design structural analysis(2) (composites and methods & tools) raising Sogeti High Tech as a first rank services partner of the European aircraft company.
This decision is a strategic choice for Airbus which needs to rely on a reference partner able to take an active part in its supply chain rationalization and able to contribute to a new engineering framework for structural analysis.
Amit Midha, Vice President of Sogeti USA's Engineering Services, concurs: "The high level specificity of this project requires strong proximity between teams of Sogeti High Tech and Airbus to achieve the highest standard in terms of service efficiency and reliability. We are proud that AIRBUS trusted us again to accompany it in this new contract which confirms Sogeti High Tech capacity to provide complete offers to its customers."
This contract represents a brand new perimeter for Sogeti High Tech which is now in charge of supporting and training all the Airbus Extended Enterprise(3) regarding simulation tools and processes for structural analysis. It highlights Sogeti High Tech teams' experience and state-of-the-art expertise based on:

    its strategic offerings in simulation, composites and testing,
    its know-how in processes : training, service desk, transition management,
    its international presence and skills,
    its Rightshore® approach(4).
These activities are in the straightforward continuation of Sogeti High Tech's strategy to become a leading service provider for Airbus Computer Aided Engineering(5) community.
With its international footprint from USA to China, this contract will be also a cornerstone for Sogeti High Tech development to become a strong partner of Airbus aero-structure domain along functional design. Sogeti High Tech will have to work with roughly 1,300 users in AIRBUS, 700 users in Risk Sharing Partners and will have to interact with many organizations located from the US to East Asia.
(1) SAST: Structure Analysis SupporT

(2) The structural analysis is a domain of research, development and industrial applications. Its aim is to create a model and to digitally simulate the behaviour of structures in their environment. The term of structure is general, it can deal with a part of an aircraft or an aircraft itself.

(3) Airbus Extended Enterprise : Airbus sites, Tiers 1, Airbus offshore centers, Risk Sharing Partners

(4) Rightshore® : Capgemini Group's global delivery model, which offers clients – depending on their needs – the best balance between services delivered from centers in close geographical proximity and / or with close cultural ties with their sites (onshore or nearshore) and services delivered from more remote centers (offshore)

(5) Computer Aided Engineering (CAE): use of information technology to support engineers in tasks such as analysis, simulation, design, manufacture, planning, diagnosis and repair.
About Sogeti USA

Sogeti USA is a premier provider of information technology services to businesses and public-sector organizations. Operating in 23 U.S. locations, Sogeti's business model is built on providing customers with local accountability and vast delivery expertise. Sogeti is a leader in helping clients develop, implement and manage practical IT and engineering solutions to help run their business better. With over 40 years of experience, Sogeti offers a comprehensive portfolio of services including Engineering Services, Enterprise Microsoft Solutions, Enterprise Solutions Consulting, IBM and Open Solutions and Testing/Quality Assurance.

For more, visit http://www.us.sogeti.com.
About Sogeti HIGH TECH

Sogeti High Tech is a leading company in Engineering and Technology Consulting Services. With over than 20 years of expertise, we undertake major technical and engineering innovation projects for the R&D departments of global industrial firms:

Research & Development with the maintenance in operational conditions
Outsourcing Research and Development and Innovation Advice.
Scientific and technical research and developments, mechanical design, development of complex systems.
Control and industrial data processing.http://www.sogeti.com/HighTech
About Sogeti Group

Sogeti is a leading provider of professional technology services, specializing in Application Management, Infrastructure Management, High-Tech Engineering and Testing. Working closely with its clients, Sogeti enables them to leverage technological innovation and achieve maximum results. Sogeti brings together more than 20,000 professionals in 14 countries and is present in over 200 locations in Europe, the US and India. Sogeti is a wholly-owned subsidiary of Cap Gemini S.A., listed on the Paris Stock Exchange.

For more information please visit http://www.sogeti.com.
###








Attachments

















©Copyright 1997-
, Vocus PRW Holdings, LLC.
Vocus, PRWeb, and Publicity Wire are trademarks or registered trademarks of Vocus, Inc. or Vocus PRW Holdings, LLC.
Santa Clara, CA (PRWEB) May 19, 2006
Ultra-X, Inc.- hardware and software diagnostic developer and technology pioneer, announced the release of the worlds FIRST PCI Express memory diagnostic solution, RAM Stress Test Pro PCI Express (R.S.T. Pro PCIe).
R.S.T. Pro PCI Express is a memory testing hardware/firmware solution designed for the rigorous testing needs of mobile pc memory and system manufacturers, design engineers, and service professionals. RST Pro PCI Express is a Self Booting, Operating System Independent memory diagnostic card for exercising and validating RAM in Desktop, Server, and other PCIe based systems that contain x1, x8 or x16 PCI Express slots. R.S.T. Pro PCI Express supports all Desktop, Workstation and Server PC's incorporating an Intel or AMD x86 compatible 32/64-bit single/multi-core processor and a x1,x8 or x16 PCIe bus.
R.S.T. Pro PCI Express identifies memory defects that may have passed every usual manufacturing test, but which can still fail in normal use. A major advantage of RST Pro PCI Express, compared to stand alone testers, is the capability of testing and validating RAM within the system environment. With on-board memory, RST Pro PCI Express is able to test memory starting at memory address 2k. The on-board RAM allows the RST Pro PCI Express to test the maximum amount of memory. With over 30+ proprietary memory test algorithms, R.S.T. Pro PCI Express supports all FB-DIMMs, SIMMs, DIMMs, RIMMs, SODIMMs, MiniDIMMs, MicroDIMMs, SDRAM 66-133, DDR, DDR/2, RDRAM(RAMBus), ECC, Parity and Non-Parity) and others.
About Ultra-X
Ultra-X is a leader and innovator of hardware and software diagnostic test products. Ultra-X provides hardware and software diagnostic solutions for Manufacturers, Engineers, IT Administrators, and Service Technicians. Ultra-X products are based on its patented Self-Boot Technology(SBT)®. Ultra-X's products include the P.H.D.®, R.S.T.®, QuickTech®, QuickPOST® and WinStress® (WST™) product families.
To receive more information contact us at Ultra-X Inc. at, 1765 Scott Blvd., Suite #101 , Santa Clara , CA 95050 USA . 1-909-946-8321 CA., 1-888-722-3734, Fax 1-909-946-7639.
Notice: All information contained in Ultra-X press releases is accurate and valid as of the date of issue. All content is subject to change. For the latest information about Ultra-X, Inc. and Ultra-X products, please contact the appropriate PR contact.
*** R.S.T. Pro PCIe, R.S.T. Pro PCI Express is a trademark of Ultra-X, Inc. © Copyright 1998-2006. All rights reserved. All other trademarks belong to their respective owners. ***
###