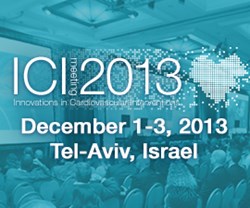 (PRWEB) August 26, 2013
Whether you are a cardiologist, an innovative scientist specializing in Cardiovascular Intervention, Neurovascular Innovations or Valvular Therapeutics, a Mobile Health solutions developer, an entrepreneur from the medical industry, or an investor looking for the next financial opportunity do not miss this meeting.
As in previous meetings, the upcoming ICI meeting will focus on Innovative Technology and Therapies and will cover all stages of the innovation process from the bench to the patient bedside.
The ICI Program will include presentations from international and Israeli experts focusing on new therapies and research, alongside thematic live case presentations to present the impact of these technologies on current and future therapy.
Since ICI focused on new technologies, some of its most interesting sessions are the emerging technology sessions, industry-academia discussions and a review of the regulatory, ethical and financial aspects of new devices.
There are many meetings on cardiology and cardiovascular interventions, but ICI has become known as the leading meeting for Interventional Cardiologists, Innovators, Entrepreneurs and the Industry. This meeting can be a jumping board for new companies with brilliant and creative new ideas that have the potential to change lives. This meeting can really help your business move "from idea to reality."
ICI Innovation Awards 2013 -

The Worlds Largest and Most Prestigious Award for Medical Interventions Startups
This Competition provides a platform for clinicians and entrepreneurial Startup companies to present novel innovations that have the potential to significantly impact the future of Heart Brain and Peripheral Vessels intervention medicine.
If you have a brilliant new idea, and believe you are able to persuade a panel of experts including front line clinicians and active investors enter the competition today and have the unique opportunity to obtain personal critical peer review and feedback.
Bernard Ross, CEO of Sky Medical Technology Limited, which won the award for 2012, said that We are honored to have won this prestigious Award, judged by some of the worlds foremost experts in the field. This will help increase our visibility to the clinical world and speed up adoption of this important technology to improve patient care.
Start-Up companies are always in need of financial support but some things money just can't buy. The professional exposure and validation by the field's biggest experts is priceless. Winning the ICI Innovation Award offers unparalleled clinical and commercial exposure and validation, helping you progress your innovation towards benefiting patients.
Benefits of Winning the ICI Best StartUp Innovation Award:

Prestige of an International Award
Opportunity to present to ICI Meeting in Israel
Opportunity to present to PCR Meeting in Paris in May 2013
Critical endorsement and recognition by peer review
Exposure to industry and the investment community
Apply now to present at the 2013 ICI Innovation Awards.
The Academy of Innovation:

The ICI Academy of Innovation is a practical and experiential 1-Day "Hands-On" workshop which provides tools on how to transform a genius idea in the medical field from theory to reality.
ICI's participants are doctors and innovators who understand the medical rationale but wish to learn the processes of investigating the market's needs, copyrights, patent licensing, regulation, authorization, funding etc.
This program, sponsored by Medtronic, consists of half a day of lectures by the biggest experts in the field and half a day of a practical, "hands on" and FUN workshop.
ICI also provides a wonderful opportunity to expand upon the unique skills needed in order to develop new biomedical technologies and take the critical first steps in invention, patenting, early prototyping and development of new concepts.
The Academy of Innovation day will include The Incubator concept, Assessing the need and the market, How to excel in applied research, Steps in securing intellectual properties, Patent applications and more.
Take this opportunity and join us for the Academy of Innovation day.
Explore Tel-Aviv

ICI 2013 will be held at the luxurious David Intercontinental hotel in Tel Aviv, the largest city and biggest commercial center in Israel. Being a busy metropolis, this city inspires visitors with a unique energetic atmosphere of excitement and fun.
Tel Avivs seafront skyscrapers and exclusive hotels are visible from a distance, presenting a lively combination of entertainment venues, shopping malls, exotic markets, a nonstop active nightlife, beautiful golden beaches and all kinds of wonderful restaurants.

When your day at the conference ends, Tel Aviv's Night-life only begins.
Read here for more information about ICI 2013.
Related Tech Press Releases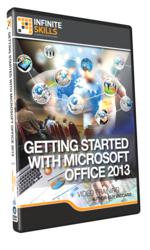 (PRWEB) October 20, 2012
Software training firm InfiniteSkills Inc. this week released "Getting Started with Microsoft Office 2013," an introductory tutorial designed as a quick update to the latest features and upgraded tools of Microsoft's latest version of its staple productivity suite of applications.
Office 2013 is the first update to the productivity suite since Office 2010. In addition to extended file support and numerous user interface updates, the new version offers increased integration with the Skycloud "cloud-based" database, important social media integration, as well as improved interaction between the various programs within the suite.
InfiniteSkills' "Getting Started With Microsoft Office 2013 Tutorial DVD - Video" covers all these important changes, placing all the power of the new version's features at the user's fingertips in a matter of hours.
Getting Started With Microsoft Office 2013 Video Training
Students will learn how key applications like Word, Excel, and Powerpoint, interact with Skydrive and Office365. Users will also get familiar with enhanced functionality within applications including the Flash Fill and new chart recommendations features of Excel, and threaded comments and PDF compatibility in Word.
Course author Guy Vaccaro is a certified professional in the Microsoft Office Suite. He has more than 15 years experience in various training capacities, including classroom and computer-based training, as well as manual writing. Additionally, Vaccaro has professional experience in database design, Crystal Reports, and SQL Server.
"If there's one thing that stands out about Microsoft Office 2013, it is without a doubt the cloud," Vacarro says. "The entire suite interacts with data held in the cloud and there is also data within each application that needs to be saved in the cloud. We'll cover all the key tools so you can start using this feature securely and effectively."
In addition to interacting with Skydrive and Office 365, "Getting Started With Microsoft Office 2013 Video Training - DVD" covers the integration with social media as well. Now in Microsoft Office, Powerpoint presentations, Word documents, Excel spreadsheets, have increased web sharing capability. Bloggers, for instance, can post blog entries as well as Facebook and Twitter updates, directly from a Word document.
Other important topics include using enhanced tools in Publisher 2013, increased compatibility with Hotmail and Livemail accounts in Outlook 2013, and the new interface and enhanced features of Powerpoint 2013.
http://www.infiniteskills.com/training/getting-started-with-microsoft-office-2013.html
InfiniteSkills offers its Getting Started With Microsoft Office 2013 Tutorial DVD - Video either as a DVD or a direct download from the company website at a retail price of $ 99.95. All InfiniteSkills titles and formats are compatible with Mac and Windows operating systems, and shipping is available around the globe. Additionally, InfiniteSkills tutorials are supported by project files which correspond to examples in the videos, allowing users to work alongside their instructors right on their computer or iPad.
About InfiniteSkills Inc.

A leader in the field of software training, InfiniteSkills strives to offer the highest quality training available at an affordable cost. InfiniteSkills tutorials are task-oriented instructional videos, teaching complex skills by providing hands-on examples and guiding users as they carry out critical objectives. InfiniteSkills offers a comprehensive range of software titles available as DVDs, digital downloads, as well as iPad editionskeeping with company aim of delivering professional training to customers anywhere they want to learn.
lynda.com Announces Release of Getting Started with Expression Design Over Six Hours of Hands-On Tutorials for Vector-Based Graphics Application











Ojai, California (PRWEB) May 11, 2007
lynda.com, the leader in self-paced digital media and design training, today introduced Getting Started with Expression Design.
From basic vector-based drawings to professional three-dimensional graphics built with Live Effects, Ted LoCascio covers the full range of possibilities in Getting Started with Expression Design. He starts by explaining the Expression Design interface and how to work with documents, then moves on to cover working with objects and applying fills, strokes, and effects for best results. Exercise files accompany this training.
"Microsoft Expression Design is the first graphics authoring tool that writes XAML, a graphical markup language for WPF and Silverlight content. Boasting great integration with Expression Blend and Visual Studio, this new graphics tool is geared toward creating rich media for use in interactive and web design," says Lynda Weinman, CEO of lynda.com.
Anyone with an internet connection can access Getting Started with Expression Design by subscribing to lynda.com's Online Training Library™. Getting Started with Expression Design is an online exclusive.
Subscriptions to the lynda.com Online Training Library™ start at $ 25 per month, and provide access to over 20,000 movie tutorials covering more than 290 technology career tools, software applications, and techniques. Subscribers can access any of the computer-based training titles at their convenience. Multi-user subscriptions are also available for companies and institutions seeking to provide education and training to groups.
For free online samples of Getting Started with Expression Design and more detailed product information, please visit http://movielibrary.lynda.com/html/modPage.asp?ID=339.
To arrange to view the full training title, please contact megan(at)lynda.com.
For more information on lynda.com products, please visit http://www.lynda.com or call 1-888-335-9632.
About lynda.com

Since 1997, lynda.com has provided education and technical training solutions for designers, computer graphics specialists, digital media users, and computer owners. lynda.com products include web-based training, instructional books, CD- and DVD-based video training, self-paced online learning, and events for creative designers, instructors, students, and hobbyists. lynda.com specializes in teaching fundamental design and graphics principles along with the latest computer software, digital media technologies, and techniques.
About Ted LoCascio

Ted LoCascio has been a professional graphic designer for more than ten years, and is an expert in Photoshop, Elements, InDesign, Illustrator, and QuarkXPress. He served as senior designer at KW Media and the National Association of Photoshop Professionals (NAPP) for several years, and has created layouts and designs for many successful software training books, videos, and magazines, as well as for advertising and marketing materials.
###
©Copyright 1997-
, Vocus PRW Holdings, LLC.
Vocus, PRWeb, and Publicity Wire are trademarks or registered trademarks of Vocus, Inc. or Vocus PRW Holdings, LLC.
Find More Graphic Press Releases