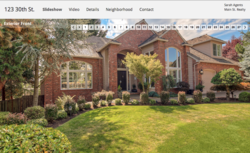 Portland, OR (PRWEB) October 22, 2012
My Single Property Websites, a leading provider of real estate marketing software, has just launched the next generation of their single property site. This new version was built from the ground up with mobile in mind and works across smart phones, tablets, iPhones, iPads and nearly all other mobile devices. While many providers offer a stripped down mobile version of their property site, this new design uses a fluid and responsive layout, so that users see the same property site content regardless of whether theyre browsing from a computer, tablet, or phone.
In addition to a mobile-first design, another major focus was on photos. When it comes to real estate, studies have shown that photos are the number one thing consumers are interested in seeing. The new property site automatically loads a slideshow with browser-sized photos, which resizes depending on a users screen size. The photos themselves become a design element, while conveying much more information than smaller sized photos traditionally found on single property websites.
The site is designed to let real estate agents tell a story about the home and neighborhood. Photos may say 1,000 words, but sometimes a description is needed on a per photo basis. On the details page, an agent can add a short or lengthy description to each photo, allowing them to guide a buyer through the home. They can describe the brands of the kitchen appliances, or the finish materials, or just their favorite thing about each room.
If real estate is all about location, then it makes sense to talk about the neighborhood on a single property website. The new neighborhood page does just that. Real estate agents can upload photos of the neighborhood along with descriptions. They can point out the great restaurants and shops, or talk about the parks, or anything else that makes the neighborhood special.
The new version is included free for all current and new users. To learn more, read the blog post here: New Mobile Property Site or start a 10 day free trial at My Single Property Websites.