(PRWEB) August 23, 2013
Global seed accelerator SunBridge Global Ventures Inc. (head office: Shibuya-ku, Tokyo, Japan; President & CEO: Ikuo Hiraishi; henceforth SunBridge GV), via SunBridge Startups LLP (head office: Shibuya-ku, Tokyo, Japan; Partner: Ikuo Hiraishi; henceforth SunBridge Startups) run by SunBridge GV affiliates, has invested in WHILL Inc. (head office: California, USA; CEO: Satoshi Sugie, henceforth WHILL) which is undertaking the development and sales of a next generation electrical personal mobility WHILL.
WHILL is a personal mobility which can be used on the sidewalk with both pleasing functionality and style. Not only can any ordinary people use it, people with mild disabliities or elderly people with difficulty walking can also ride it with ease and style allowing them to be mobile.
WHILL team members consist of young designers and engineers originating from major Japanese manufacturers which have supported the Japanese manufacturing industry such as Nissan/Sony/Olympus and they make use of the knowledge and the experinece gained there as well as attempting to realize new product development and manufacturing style which were hard to realize in the major manufacturers.
Amidst the "maker movement" in which anyone with an idea and a PC is able to make and sell products, by the move toward such as open source software, the changes in the parts production environment using 3D printers, and fabless manufacturing to outsource production to external cooperative companies, WHILL is quickly and effectively propelling development and production.
With this financing not only has the capital been achieved for propelling the operation further, but by receiving investments from high added value investors, we have been able to utilize their advice and network. The next generation personal mobility WHILL which can be used on the sidewalk is aimed at a world in which healthy people, of course, but also mildly disabled or elderly people for whom walking may be difficult can go outside in a pleasant and smart fashion (CEO: Satoshi Sugie).
WHILL is attempting to succeed in the electric wheelchair/senior car market which is estimated to become just short of 10 bilioon dollars in the world by 2020, and with this financing it will propel the development/production/sales of the mass production model of this first product. With mid-2014 as a target, they plan to sell 50 of them directly to the US market and after that they plan to expand into other countries including Japan sequentially. In this round, Itochu Technology Ventures, Inc., 500 Startups as well as WIngle Co., Ltd. have invested.
SunBridge Startups is a Limited Liability Partnership (LLP) established through investment from SunBridge GV affiliates in June 2011. With three themes - Go Global, Global Cloud Platfom and Innovation Weekend Winner as its pillars, it discovers and develops global ventures originating in Japan.
[ About WHILL ]

Name of Company: WHILL, Inc . http://whill.jp/

Location: 120 Independence Dr., Suite 101, Menlo Park, CA 94025, USA

Established: May 2012 (establishment of WHILL group)

Representative: CEO: Satoshi Sugie
[ About SunBridge Global Ventures ]

SunBridge Global Ventures supports young entrepreneurs following the three major trends of smartphones, social media and cloud computing by providing them know-how cultivated in the past 10 years under the name of SunBridge Global Venture Habitat. Startups invested in so far include salesforce.com, Macromill, OKWave, ITMedia and istyle.
Name of Company: SunBridge Global Ventures Inc. http://en.sunbridge-gv.jp/

Location: 1-5-5, Ebisu-Minami, Tokyo, Japan

Established: January 5th 2012

Capital: 52,640,000 YenPaid-in capital 52,640,000 Yen)

Representative:
CJJ, Inc., Maker of Auto Body Frame Machines, Now Manufactures and Sells the Signature











Detroit Lakes, MN (PRWEB) July 20, 2006
CJJ, Inc. (http://www.staraliner.com) now manufactures and sells the Signature auto body frame machine. The Signature has a look that many will recognize. This automotive frame machine has a familiar design that allows an auto body repair specialist to get to work quickly, as many have been trained on similar pieces of frame equipment. The design includes its optional pulling tower configurations of three-, four- or five-round-shaped towers.
"We at CJJ, Inc. are proud to offer the Signature to those in the auto body industry," CJJ, Inc. president Charley Beaton said. "This machine will enable auto repair specialists to perform quickly and efficiently in their tasks, ensuring the satisfaction of their customers."
Made in Detroit Lakes, Minnesota, the Signature frame rack will be marketed in the United States and worldwide through a distributor network. Distributors that currently sell to the auto body repair area and are interested in handling this piece of collision repair equipment are welcome to inquire about having their company distribute the Signature frame machine.
The Signature's 10,000-pound lift capacity is supported by both the frame's steel construction and the lifting power of dual hydraulic rams. A hand-held unit on 25 feet of cord controls the Signature's high-pressure centralized hydraulic system.
Twenty-foot-long treadways and a 7-foot-4-inch total bed width allow auto repair specialists the ability to work on vehicles of many sizes. The Signature's weight varies, depending on the tower configuration. The three-tower Signature weighs 7,050 pounds, the four-tower weighs 7,650 pounds, and the five-tower weighs 8,100 pounds.
CJJ, Inc. also manufactures the Star-A-Liner Cheetah line of frame machines. More information about the Cheetah line, including machine specifications, is available online at http://www.staraliner.com .
About CJJ, Inc.

CJJ, Inc. has been manufacturing automotive collision repair equipment since 1986. In addition to manufacturing the Signature, CJJ, Inc. manufactures the Star-A-Liner Cheetah line of auto body frame machines, which are available for lease and ownership. Talk with CJJ, Inc. about getting the right auto body collision repair tools and pulling equipment.
For additional information about the Signature frame machine, contact CJJ, Inc. President Charley Beaton.
CJJ, Inc.

218-847-2608

http://www.staraliner.com
###






Attachments




©Copyright 1997-
, Vocus PRW Holdings, LLC.
Vocus, PRWeb, and Publicity Wire are trademarks or registered trademarks of Vocus, Inc. or Vocus PRW Holdings, LLC.
Find More Ram Press Releases
Tulsa, OK (PRWEB) April 1, 2006
PennWell Corporation, a diversified global media and information company, announced today that it has sold Computer Graphics World magazine to California Offset Printers, Inc.
Computer Graphics World, published monthly since 1977, is the premier authority on innovative graphics technology and applications, serving over 40,000 professionals involved in advanced computing applications. The Computer Graphics World franchise also includes a web site and bi-monthly e-newsletter. Financial terms of the sale were not disclosed.
With the sale of Computer Graphics World, PennWell continues to focus on its many publications, conference & exhibitions and digital media ventures in various technology and industrial sectors. "Computer Graphics World is a great fit for COP Communications which is an innovative group of graphics communication companies in traditional printing and publishing," according to Mark Finkelstein, Senior Vice President of PennWell's Advanced Technology Division. COP also publishes Post magazine, which serves the television, film, and video production and post production market."
About PennWell
PennWell Corporation is a diversified business-to-business media and information company that provides quality content and integrated marketing solutions for strategic global industries including oil and gas, electric power, water, electronics, semiconductor, contamination control, optoelectronics, fiber optics, enterprise storage, fire, and dental. Founded in 1910, PennWell publishes 75 print and online magazines and newsletters, conducts 60 conferences and exhibitions on six continents, and has an extensive offering of books, maps, web sites, research and database services. In addition to PennWell's headquarters in Tulsa, Oklahoma, the Company has major offices in Nashua, New Hampshire, Houston, Texas, Campbell, California, Fairlawn, New Jersey, London, England, Moscow, Russia, Schwabisch Gmund, Germany and Hong Kong, China.
# # #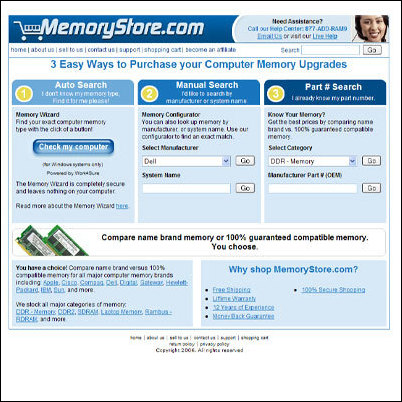 MONTGOMERYVILLE, PA (PRWEB) April 4, 2006
MemoryStore (memorystore.com), a leading provider of computer memory upgrades for virtually every computer model and brand, old or new, announced today the launch of it's new online store at www.memorystore.com.
MemoryStore.com now offers consumers even more choices. This is the only online store on the web where customers can instantly view side-by-side comparisons between brand-name, factory original, and 100% guaranteed compatible computer memory upgrades, allowing them to decide what memory solution is best for them. Memory upgrades for Dell, IBM, Apple, DEC, HP, Sun and hundreds of others are all available for purchase online at MemoryStore.com or by calling 877-ADD-RAM9.
For the first time, customers do not need to know their exact model number. The Memory Wizard tells the customer exactly what computer memory they have and exactly what memory is needed. What separates MemoryStore.com from the competition is the Memory Wizard tool; a proprietary feature that enables the site visitor to find their exact memory type with the click of a button.
"Our Memory Wizard and side-by-side comparisons take the guesswork out of buying memory upgrades. Our customers can quickly and easily choose a memory option that is 100% guaranteed to work for them," said Bob Kanoff, Vice President of Memorystore.com's new online store. "We invite you to visit MemoryStore.com today to test our Memory Wizard tool for free and take advantage of our limited time 10% discount and free shipping. Just enter discount code MEMORYSALE at checkout."
Whichever option they choose, customers can be assured their order is backed by the MemoryStore 12-year tradition of exceeding their customers' highest expectations and delivering the highest-quality product available. Every memory module MemoryStore.com sells is fully tested and includes a lifetime warranty. Products are usually shipped the same day the order is received.
About Memorystore.com
MemoryStore.com was incorporated in 1994. The business strategy was and still is to offer the widest variety of computer memory to our customers. By 1996, MemoryStore.com evolved into a full surface-mount module manufacturing process, building SIMMs, and DIMMs. In 2001, the Company moved into its new 18,000 square foot facility housing three process lines. It is now one of the premier memory module manufacturers and distributors in the United States.
The company is headquartered in Montgomeryville, Pennsylvania. For more information on MemoryStore and its online store, please visit: www.memorystore.com.
Memorystore.com Press Contact:
Bob Kanoff
(877) ADD-RAM9 (877-233-7269)
215-643-6020
# # #
Related Ram Press Releases

Ann Arbor, MI (PRWEB) July 22, 2009
Online Tech, Michigan's largest data center operator, announced that it sold its shared web hosting business to IGD Solutions, a full service website design, development, and hosting company for small and mid-sized businesses.
Online Tech sold its 15 year old web hosting business to focus on its rapidly expanding colocation and managed server business. Over the last 5 years, Online Tech's business has shifted from shared website and e-mail hosting to managing multi-server environments for IT departments, hosting, and Software-as-a-Service companies.
With the rapid growth, Online Tech has become Michigan's largest managed data center operator. The shared hosting business represented only a small portion of its total revenue. "We've come to the point where we feel that our website and e-mail hosting clients can be best served by a partner that focuses specifically on those services" said Mike Klein, President of Online Tech. "We don't want to be competing with our rapidly growing customer base of web hosting companies."
As IGD Solutions looked to Online Tech as their technology infrastructure provider, the companies found they shared the same customer-centric values in their business approach. IGD Solutions found the high availability managed server partner they were looking for and Online Tech found a trusted partner to service their shared hosting clients and take over the website business.
"We are extremely impressed with Online Tech's managed server solutions. Their customer-centric approach, attention to details, and the uptime delivered through their SAS 70 certified data centers is exactly what we were looking for" said Steve Hyer, President of IGD Solutions. "This deal came together as a true partnership as we learned how well Online Tech's web hosting customers were matched to our existing customer base."
Online Tech's former web hosting clients will gain access to additional services from IGD Solutions, including website application design, development and search engine optimization. IGD Solutions' clients will gain the reliability and uptime that come with having IGD Solutions' managed servers at Online Tech's SAS 70 Tier 3 data center.
About Online Tech

Online Tech (http://www.onlinetech.com) is Michigan's premier managed data center operator. Online Tech helps companies manage their growing demand for data and computing capacity through its SAS-70 secure and reliable multi-tenant data centers. With a full range of colocation, and managed server hosting, industry leaders trust Online Tech to insure their servers are always on, always online, and always safe.
About IGD Solutions:

IGD Solutions is a full service website application design, development, search engine optimization company headquartered in Clarkston, Michigan and founded in 1999. IGD Solutions focuses on small and mid-size businesses through a strategic approach helping their customers achieve their online strategic goals by developing applications and systems that match the client's corporate and strategic goals of growing their business and becoming more efficient.
###