San Francisco, CA (PRWEB) December 11, 2013
Bluenose Analytics today announced it has secured $ 10 million in venture funding from The Social+Capital Partnership and Norwest Venture Partners (NVP). The funding includes a two million dollar seed investment led by The Social+Capital Partnership and an eight million dollar Series A led by NVP.
With a successful beta launch earlier this year, Bluenose will leverage the investment to continue expanding the capabilities of its platform, including deepening its predictive analytics. Bluenose is also deepening its executive team with thought leaders to drive content focused on customer retention best practices.
"For companies with recurring revenue models, customer churn is the number one threat to success and sustainability," said Jeffrey M. Kaplan, managing director of THINKstrategies, Inc. and founder of the Cloud Computing Showplace. "Businesses need a powerful analytics platform to make the most of the growing amount of data they can collect about their customer base and turn it into additional revenue-generating outcomes."
Built from the ground up by software-as-a-service experts, the Bluenose Analytics platform helps companies identify customer issues early, including the drivers of churn. By combining business intelligence and automated customer engagement, Bluenose pinpoints at-risk customers and opportunities to up-sell at every stage in the lifecycle.
"We invested in Bluenose early on – when it was Don, Todd, and a value proposition that resonated with us," said Mamoon Hamid, general partner at The Social+Capital Partnership. "One of the biggest challenges that businesses face is identifying at-risk customers who are likely to churn versus happy customers who are likely to buy more. Bluenose is addressing this opportunity by providing actionable insights to businesses so they can further delight their customers with the right products and features."
"With an impressive team and deep analytics expertise, Bluenose is the company to help businesses finally realize the power of big data for improving and retaining customer relationships," said Matthew Howard, managing partner, NVP. "This investment reinforces our continued focus on cloud-based technologies that drive better business practices and more opportunities for growth."
"Bluenose is in a very unique position, thanks to the support of two of the most successful and forward-thinking SaaS investors in the industry," said Don MacLennan, founder and CEO of Bluenose Analytics. "NVP and Social+Capital have a record of working with innovators who have changed an industry landscape - which is exactly what Bluenose intends to do for customer analytics."
With this investment, Mamoon Hamid and Matthew Howard have joined the Bluenose Analytics board of directors.
About The Social+Capital Partnership

The Social+Capital Partnership ("Social Capital") is a partnership of philanthropists, technologists and capitalists utilizing venture capital as a force to create value and change on a global scale. The Partnership is based in Palo Alto, California and is on the web at s23p.com.
About Norwest Venture Partners

Norwest Venture Partners (NVP) is a multi-stage venture capital and growth equity investment firm that has partnered with entrepreneurs to build great businesses for more than 50 years. The firm manages over $ 3.7 billion in capital and has funded more than 500 companies since inception. Headquartered in Palo Alto, Calif., NVP has subsidiaries in Mumbai and Bengaluru, India and Herzelia, Israel. NVP makes early to late-stage venture and growth equity investments across a wide range of sectors including: technology, information services, business services, financial services, consumer products/services and healthcare. For more information, please visit http://www.nvp.com. Follow NVP on Twitter @NorwestVP
About Bluenose Analytics

Bluenose provides a customer success platform for software-as-a-service businesses to increase revenue, using predictive analytics to engage at-risk customers and identify drivers of churn. For more information, visit http://www.bluenose.com.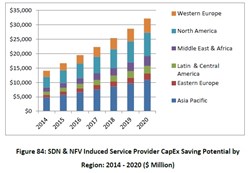 Lewes, Delaware (PRWEB) October 21, 2013
Driven by the thriving ecosystem Software Defined Networking (SDN), Network Functions Virtualization (NFV) and network virtualization market is expected to account for nearly $ 4 Billion in revenue 2014, reveals The SDN, NFV & Network Virtualization Bible: 2014 - 2020 report. A further growth at a CAGR of nearly 60% over the next 6 years is expected despite barriers relating to standardization and co-existence with legacy networks. This report also estimates that by 2020, SDN and NFV can enable service providers (both wireline and wireless) to save up to $ 32 Billion in annual CapEx investments.
While the benefits of Software Defined Networking (SDN) and network virtualization are well known in the enterprise IT and data center world, both technologies also bring a hosts of benefits to the telecommunications service provider/carrier community. Not only can SDN and network virtualization help address the explosive capacity demand of mobile traffic, but they can also reduce the CapEx and OpEx burden faced by service providers to handle this demand by diminishing reliance on expensive proprietary hardware platforms.
Although network virtualization in the enterprise IT and data center domain has received significant attention in the past years, service provider network virtualization is still at a nascent stage. SDN and NFV empower a multitude of network functions to be implemented cost effectively in software, ranging from standard mobile IP Multimedia System (IMS) services to features such as Deep Packet Inspection (DPI).
By 2017 we expect to see significant price and gross margin erosion for traditional hardware-based network switching equipment driven by alternative software based solutions.
Spanning over 263 pages and 84 figures, "The SDN, NFV & Network Virtualization Bible: 2014 - 2020" report presents an in-depth assessment of the global SDN, NFV and network virtualization market.
In addition to covering underlying technology, key market drivers, challenges, future roadmap, value chain analysis, use cases, deployment case studies, expert interviews, company profiles, product strategies and strategic recommendations, the report also presents comprehensive forecasts for the market from 2013 till 2020. Historical revenue figures for 2010 – 2012 are also presented. The forecasts and historical revenue figures are individually segmented for 3 individual submarkets, 2 user base categories, 7 use case categories, 6 geographical regions and 34 countries.
The report covers 387 major industry players including Advantech, Alcatel-Lucent, Alibaba, Amazon, Apple, ARM Limited, AT&T, Canonical, China Mobile, Cisco, Citrix, Comcast, Dell, EMC, Ericsson, Facebook, Fujitsu, GE Intelligent Platforms (GE Energy), Google, Hewlett-Packard (HP), Hitachi, HTC, Huawei, IBM, Intel, Juniper Networks, Kyocera, L3 Communication Systems – East, Marvell, Microsoft, NEC, NetApp, Nokia Solutions & Networks (NSN), Oracle, Orange, Qualcomm, Samsung, Tata Consultancy Services, Tech Mahindra, Texas Instruments (TI), Thales, Verizon, Vmware, Vodafone, Yahoo and ZTE Corporation.
To purchase and get more information about this report please visit:

http://www.marketresearchreports.com/signals-and-systems-telecom/sdn-nfv-network-virtualization-bible-2014-2020
To browse more Computing and Electronics Market Research Reports visit: http://www.marketresearchreports.com/computing-electronics.
Other related reports in are:

Software-defined Networking (SDN): Market Opportunities and Challenges - http://www.marketresearchreports.com/mind-commerce/software-defined-networking-sdn-market-opportunities-and-challenges
About Market Research Reports, Inc.

Market Research Reports, Inc. is the world's leading source for market research reports and market data. We provide you with the latest market research reports on global markets, key industries, leading companies, new products and latest industry analysis & trends.
Contact Us:

Mr. Amitava Sen

General Manager - Sales & Marketing

Market Research Reports, Inc.

Tel USA: +1-302-703-7787

Tel India: +91-80-26860858

Follow us on LinkedIn: http://www.linkedin.com/company/market-research-reports-inc-

Follow us on YouTube: http://www.youtube.com/MarketResearchReport
More Tech Press Releases
Dallas, TX (PRWEB) July 08, 2013
Lone Star, internationally recognized in business and technology decision support, modeling, and simulation, and a provider of advisory services addressing highly complex client issues announces continued strong performance for the second quarter and first half of 2013.
Continuing its strong track record of growth, Lone Star delivered more than a 65% year-over-year revenue increase during the 2nd quarter and first half of 2013. These increases can be directly attributed to demand for Lone Stars powerful decision analysis solutions. These software enabled solutions are driven by TruNavigator, Lone Stars decision analysis engine, plus other unique tools like TruPredict, a best-in-class competitive Price to Win analysis platform.
TruNavigator and TruPredict have been significant contributors to this quarters results. TruNav is a 4th generation Decision Analysis modeling environment that generates simulations providing a true understanding of the range of potential outcomes for any decision, regardless of size or complexity, said Mathew Bowers, Vice President of Corporate Development. And TruPredict, Lone Stars unique Price to Win suite, has captured the eye of many new clients who recognize the strategic value of utilizing a price to win solution with a proven track record of success, Bowers noted.
The strength of TruNav and TruPredict is they can quickly generate accurate answers and insight when dealing with issues that have significant uncertainty. Clients can easily visualize and understand potential outcomes due to the intuitive graphical outputs and they can run real-time what if scenarios to generate a level of understanding not previously capable with other tools.
Our commitment to delivering improved operational performance, cost savings and risk reduction for our clients is the core of our success, added Steve Roemerman, CEO of Lone Star. Because clients trust us and have found that we address some of their most complex and difficult issues, we are seeing many opportunities for growth with our existing clients, and new clients who see the substantial improvements others have made.
About Lone Star

Lone Star has built a strong reputation with its clients for delivering insightful analysis, advice and support that leads to improved operational performance, monetary savings and risk reduction. Headquartered in Dallas, Texas, Lone Star has gained international recognition for its decision analysis and business modeling, by providing advisory services that address a clients most complex, mission critical challenges. Lone Stars roots lie in the development, fielding and support of complex technologies and programs for the Department of Defense and commercial enterprises in the telecommunications and technology markets.
Dublin, Ireland (PRWEB) May 24, 2013
Luxembourgs number one alternative Communications Service Provider, Tango, today announced its decision to implement Irish company XINTECs latest Revenue Assurance software suite RAevolution 3.0.
Tango is the first operator in Luxembourg to launch a full 4G mobile broadband service. With the recent addition of digital television services to the residential market, the company is now positioned as the first true quadruple-play operator (mobile, fixed-line, broadband and television) service provider in the country, under the brand name tango generation.
The XINTEC Revenue Assurance solution is designed to protect Communication Service Providers from unwanted financial losses which can amount to 2% or 3% of gross annual revenues according to industry sources. By ensuring that all call event data records phone calls, text messages and mobile internet sessions are fully accounted for as they transit through the various network elements at the touch of a button, the software ensures that every call event is converted to billable revenue.
XINTEC has fulfilled its promise of delivering measurable value to our organization commented Tango CFO Vikrant Mehta. Identifying potential losses early in the product development cycle, or indeed between interconnection partners, allows us to optimize our revenue generation capabilities and ensure full customer satisfaction with our services through accurate billing.
With the growing number of complex data streams that result from an increasingly sophisticated communications environment including 4G mobile broadband, applications, IPTV and now machine-to-machine and mobile money transactions over a users mobile device, the need to control and assure revenues is greater than ever says Sean Killeen, CEO of XINTEC. Being the trusted partner of a market-leading communications service provider like Tango is a true endorsement of our capabilities, and we are very proud of this appointment.
After releasing an impressive set of 2012 results, with annual revenues up by 6.5 per cent to EUR114million in 2012, Tango now boasts a customer base of 273,000 in the Grand Duchy. It owes this success in particular to a diversification of its customer offerings, and an increase in its subscriber numbers in both the residential and corporate segments.
About Tango
Tango is Luxembourgs leading alternative operator offering both fixed and mobile telephony and also Internet services.
With a wide portfolio of products effectively tailored to meet the needs of all of the companys general public and business customers, Tango is now the first choice for more than 273,000 customers.
Since starting out in 1998, Tango has engaged in a policy of innovation which has helped to find the right responses to the companys customers needs in terms of quality of service at the best possible price.
Drawing on a high-quality distribution network with twelve Tango points of sale and eight partner points of sale, Tango has also undertaken to provide all of its customers with technical support by opening a technical department.
Tango has been a member of the Belgacom Group since 2008, thus giving the company even more of an international dimension.
The partnership concluded with Vodafone allows Tango to offer highly competitive tariffs for calls made from abroad along with a huge range of cutting edge high-tech offers and services.
Tango is now developing brand-new ranges of products and services at the heart of which, in addition to the best telecommunication technologies available, entertainment is now becoming increasingly important. Whether it is with sports, games or music (exclusive partnership with Deezer), Tango is now striding into the Entertainment era, with the recent launch of tango generation, offering a hundred TV channels and much more.
For further press information please contact:

Tango Contact

Violette Montagnese

Head of Communication

177, rue de Luxembourg L-8077 Bertrange

T: +352 27 77 71 01 M: +352 691 777 244

Violette.Montagnese(at)TangoServices(dot)lu
About XINTEC

XINTEC provides Fraud Management and Revenue Assurance software solutions to Communications Service Providers around the world. These solutions help operators maximise their revenues by eliminating revenue leakage and fraud-related losses.
XINTECs minimally invasive light-touch technology is designed for rapid deployment, scalability and cost leadership. XINTEC target the small and emerging, and mid-size operator segment globally, and has customers in EMEA, APAC and the Americas. XINTEC is a preferred supplier to the Vodafone Group.
The company is an active member of the GSM Association, the TeleManagement Forum (TM Forum), and the Pacific Islands Telecommunications Association (PITA). The company is headquartered in Dublin, Ireland.
For more information please visit http://www.xintec.com

To contact our helpdesk: info(at)xintec(dot)com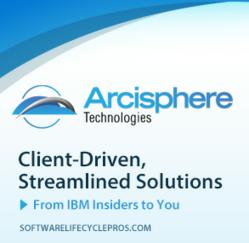 New York, NY (PRWEB) August 09, 2012
Prompted by 2012 IBM Cloud performance, International Business Machine recently announced a target of $ 7 billion in revenue from IBM Cloud computing by 2015. Second-quarter 2012 IBM Cloud revenue, doubling that of 2011, buoyed International Business Machines total 2012 profit to a 6% increase.
The multinational technology leader is launching a data center in Australia to respond to the international spate of interest in cloud computing services. Cloud computing decreases capital expenditures and increases productivity through greater collaboration capabilities, attracting a diverse client base, including an increasing number of co-operative banks and engineering colleges worldwide.
The success of IBM Cloud computing is a direct result of IBMs recent focus on creating cloud-based solutions to enable companies to be more agile and implement more cost-effective development, testing, and delivery. The very latest of these solutions are the new IBM SmartCloud Desktop Infrastructure solutions, designed to help organizations better manage the rising trend that enables employees to use their own electronic devices at work. The technology also allows companies to manage desktops centrally while users access desktop applications from any location or device, including PCs, tablets, and smart phones. Other new offerings from IBMs recent releases include a cloud-based development and testing infrastructure (IBM SmartCloud Enterprise) and a pilot program for pay-as-you-go cloud-based design, development, build, testing, and deployment services (IBM SmartCloud Application Services). The cloud technology, however, does not come without challenges. In a survey conducted by the International Data Corporation, 21 per cent of respondents identified data security as a major concern; 11 per cent of the respondents had a fear of getting locked-in with a single cloud services provider; and nine per cent of the respondents found stringent regulatory requirements as a hassle.
Despite these concerns, increasing numbers of organizations are signing up for a piece of the Cloud. Dwayne Bolton, senior consultant at Mid-Atlantic-based IBM consulting company, Arcisphere Technologies, has seen a parallel increase in IBM Rational Software Development Consulting services. Clients want a piece of the Cloud, but they have concerns, so they are calling [Cloud-One Rational Consultants] to implement a seamless transition. These concerns are a natural response to a fresh piece of technology, and the mirror increase in consulting services is explicit both at the quantitative and qualitative levels, said Bolton.
If IBMs 2015 Cloud revenue target is any indication, companies offering Cloud-One Rational Consulting may have to gear up for an even higher increase in consulting demand to balance out the Cloud boom.
About Arcisphere Technologies
Arcisphere Technologies helps clients navigate the end-to-end software development process using the IBM Rational product line. Founded by former IBM employees, Arcispheres team has unmatched expertise in the best practice techniques and strategies for simplifying the software development process to maximize the efficiency and productivity of clients. Arcisphere Tech builds collaborative relationships with clients in order to understand their changing needs and deliver results, and offers Consulting, Training, Staffing and Staff Augmentation services to deliver business solutions that are fully customizable to both the immediate and long-term goals of each client.
Learn more about Arcisphere at http://www.softwarelifecyclepros.com or by calling (888) 553-6563
Alpharetta, GA (PRWEB) August 23, 2012
simplifyMD, an ONC-ATCB Certified Electronic Health Records (EHR) software company and Healthpac, a medical billing technology company, announced a strategic partnership today. Under the terms of the agreement, Healthpac will offer simplifyMD products and services to its customers.
The combined products of Healthpac and simpifyMD will allow customers to leverage a world class medical billing platform with simple to use EHR software designed to integrate with existing practice management and billing systems without disruption to revenue and cash flow. With integration that will create seamless and efficient workflow from patient scheduling through the point of care and billing, physicians can reap the benefits of improved medical records management and accessibility while maintaining their existing workflow. By providing solutions focused on the physicians and administrators needs, Healthpac and simplifyMD improve profitability and office efficiency. Additionally, the combined HealthpacsimplifyMD product will allow Healthpacs Revenue Cycle Management (RCM) customers to offer a complete technology platform to their practices.
Michael Brozino, CEO of simplifyMD, said, The growth of RCM and EHR adoption are happening simultaneously. This partnership allows Healthpac End Users to achieve Meaningful Use through simplifyMDs EHR solution, while preserving the investment in their proven practice management system. simplifyMD also helps the RCM companies using the Healthpac platform to gain competitive advantage in the RCM market with a complete, end to end solution. Our Your charts, Your forms, Your workflow philosophy and product architecture makes it simple for doctors to learn and utilize our EHR and Healthpac is one of the most robust and popular practice management systems in the country.
This decision was made carefully and thoughtfully, said Buddy Claborn, CEO of Healthpac. Weve all seen many poor experiences with other EHR vendors and continue our drive to provide Healthpac customers with world class solutions. The relationship with simplifyMD gives our physician customers the technology infrastructure they need to manage their practices more efficiently and our RCM customers a competitive advantage in the marketplace."
About simplifyMD

Atlanta-based simplifyMD understands the stress and complexity physicians can encounter when buying and deploying traditional EHR systems. simplifyMD provides a simple experience to Electronic Health Records management for primary care and many other specialties through an EHR that mirrors the physicians chart, uses the physicians forms, and preserves the physicians workflow. simplifyMDs cloud-hosted EHR streamlines operational workflow, lowers operating costs and increases revenue without disruption to the medical practice. To learn more, please visit http://www.simplifymd.com.
About Healthpac Computer Systems, Inc.

Savannah, Georgia-based Healthpac Computer Systems, Inc. has been a software pioneer in the medical community since 1981. Healthpac provides advanced medical billing and management software for a range of customers that includes physicians, radiology imaging centers, healthcare providers, laboratories and medical billing companies. To learn more, visit http://www.healthpac.net.
About ONCATCB

simplifyMDs solution is ONCATCB certified, having been inspected and certified by an Office of the National CoordinatorAuthorized Testing and Certification Body in accordance with the criteria adopted by the Secretary of Health and Human Services. Use of ONCATCB certified EHR technology is a required first step in qualifying eligible healthcare providers for incentive funding available under the American Recovery and Reinvestment Act.
Redwood Shores, CA (PRWEB) March 06, 2012
Model N, Inc., the leader in Revenue Management solutions, today announced the general availability of Release 8.2.2 of its industry-leading High Tech Revenue Management Suite at the RAINMAKER 2012 Revenue Management conference in San Diego. Release 8.2.2 new features include Approvals by Email and Reverse Price Protection, as well as Price Books that allow users to generate price lists applicable to a specific distributor in different currencies.
8.2 Highlights

Released last year, 8.2 delivers powerful functionality and significant enhancements to help High Tech manufacturers better control and manage key pricing and quoting processes in an increasingly complex and globalized marketplace, including:


Regional Pricing: Set and manage prices by region and across different currencies to improve price execution across geographic areas
Segment-Based Pricing: Set and manage prices by customer segments and execute on value-based pricing strategies
Date-Effective Pricing: Specify effective dates on prices that are stored in price tables
User Roles: Support more effective user capability management, improve Sarbanes-Oxley reporting, and ease user access control maintenance
Access Controls by Region: Gain more granular control over user visibility into transactions and tighten information access
Quote Workflow: Increase quote approval routing flexibility and improve workflow history auditing
Print Templates: Print final quote documents for customer review
Model N RosettaNet: Integrate easier with business partners using RosettaNet standards
Release 8.2 also delivers significant enhancements to the Model N Application Developer Kit; Deal Analytics, Quoting and Pricing, and Opportunities and Registrations applications; and admin and security.
High Tech manufacturers are facing numerous operational challenges due to rapid globalization, increasingly complex channel relationships, and intense competition, said Lawrence Whittle, Chief Sales and Marketing Officer at Model N. To help address these challenges, Release 8.2 gives manufacturers enhanced visibility into how price strategies are being executed across key customer and geographic segments and improves control over user access across regions and channels.
ABOUT RAINMAKER 2012

Now in its eighth year, RAINMAKER is the premier industry gathering for Revenue Management professionals in Life Sciences and High Tech. RAINMAKER 2012 provides a valuable networking forum and the opportunity to engage directly with fellow Revenue Management innovators across the Life Sciences and High Tech industries. Attendees will learn how leaders are deploying operational and analytic Revenue Management best practices throughout their global organizations and gaining true competitive advantage. RAINMAKER runs March 6-8 at the historic Hotel Del Coronado near San Diego.
About Model N

With over $ 150B in annual revenues across 50 countries managed in our Revenue Management systems, Model N leverages its deep industry expertise and best practices, highly configurable applications, and comprehensive services to support Life Sciences and High Tech organizations on premise or in the cloud. Whether you are an emerging business or a global leader, Model N results in revenue. http://www.modeln.com
Model N is a mark of Model N, Inc. All other company names mentioned are the property of their respective owners and are mentioned for identification purposes only.
Cybermation's Innovative Technology Leads to Highest Revenue Growth Rate Among Top 10 Job Scheduling Companies











(PRWEB) September 15, 2004
Markham, Ontario(PRWEB) September 15 2004 Cybermation, a developer of enterprise job scheduling and software change management solutions, has been identified in a new report from leading IT market research and advisory firm IDC as posting the highest revenue growth rate among the top 10 job scheduling companies in 2003. IDC attributes this to Cybermation's innovative event-driven solutions.
IDC published the results of its analysis of last year's job scheduling market in IDC Opinion Worldwide Systems Operations Software 2003 . The report states that the job scheduling software market grew by a substantial 7.8% in 2003, increasing from $ 968 million in 2002 to $ 1,044 million in 2003. This was the second consecutive year of positive growth in this market, after a decline in 2001.
In a competitive landscape, Cybermation demonstrated the highest growth rate, 36.4%, through sales of its job scheduling solutions: ESP Workload Manager for z/OS environments and ESP Espresso for distributed environments. "Cybermation has delivered a cross-platform solution that can be either mainframe-centric, distributed platform-centric, or peer-to-peer," said Tim Grieser, IDC analyst. "The company's comprehensive offering for event-driven automation includes file-activated triggers, as well as events based on system thresholds, such as CPU or memory, Java and Web services events, and application-based events."
In the IDC report, Cybermation is recognized as a leading provider of event-driven job scheduling, which has more real-time emphasis than traditional job scheduling. Cybermation's ESP job scheduling solutions automate jobs based not only on calendar requirements, but also on application and infrastructure events. This means that when a specified event occurs, such as an incoming web transaction or a database update, users can respond instantly in real time.
"We believe Cybermation is in the forefront of event-driven automation that will support the future ideal of the real-time enterprise," said Ray Nissan, CEO of Cybermation. "Our ESP products support other emerging technologies like web services, and open standards such as Linux. Cybermation helps its customers embrace the future by assisting them in aligning their IT infrastructure with business objectives."
About Cybermation
We make the complex, simple. Cybermation develops enterprise job scheduling and software change management solutions to help solve the pressing business and technology issues confronting enterprises today. Cybermation has a dedicated team of experienced industry professionals to effortlessly install our solutions, train staff and support customers. We have industry-leading customer enthusiasm levels and an enviable list of Global 2000 customers, including Allstate Insurance, CN Rail, Delta Air Lines, Gap Inc., Honda, McDonald's, Nike, Hudson's Bay Company, UPS, and Verizon in North America and T-Systems UK, Sony, GE Capital and Janssen Pharmaceutica in Europe.
Cybermation has global presence, with offices throughout North America and Europe. Our enterprise solutions include ESP Workload Manager and ESP Espresso for job scheduling environments and ESP Alchemist for software change management environments. For more information, visit http://www.cybermation.com.
# # #
©Copyright 1997-
, Vocus PRW Holdings, LLC.
Vocus, PRWeb, and Publicity Wire are trademarks or registered trademarks of Vocus, Inc. or Vocus PRW Holdings, LLC.
More Cpu Press Releases
Vancouver, BC (PRWEB) August 19, 2009
Keep-it-on.com released its energy recycling software which essentially pays its clients for the exchange of leaving their PCs on. Its application "Green PC" (freeware) benefits individuals who leave their PC on consistently by paying them to use their CPU cycles while their PCs are in idle state. Many larger companies will find this tool useful if they run their PCs overnight. The software was in development for approximately 7 months and was officially stable and safe enough for release by its 5th month into development. Green PC encourages people who never turn off to utilize its software not only for earning purposes, but its energy saving capabilities. Green PC uses state of the art technology to analyze power patterns and therefore adjust and optimize computer settings related to the users style of usage.
About Keep-it-on.com

Since Late 2008, Keep-it-on has been striving to develop environment friendly software by utilizing continuing technology and a strong team of focused developers. The company identifies itself as a community based organization. For more information, visit the Keep-it-on.com web site.
###