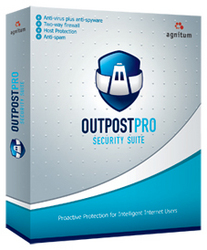 San Jose, California, US, and St. Petersburg, Russia (PRWEB) October 23, 2007
The security experts at Agnitum, the leading firewall provider, today announced the launch of the Outpost Pro 2008 product line, which opens with two Vista-compatible products: Outpost Firewall Pro (OFP) and Outpost Security Suite Pro 2008 (OSS). This new generation of Internet security solutions caters to individual users as well as small and medium businesses deploying the latest or older Microsoft operating systems.
Both the security suite and the personal firewall products are based on a new platform, utilizing a revamped, Vista-style graphical interface and lots of new and improved features. While providing even more security, Agnitum also managed to optimize performance, making both products very lightweight for users' systems.
Moreover, the new products are not just a set of features, but a set of everyday security services. All registered users receive the following benefits with round-the-clock security care:


Daily anti-virus updates;
Spyware definition updates;
Firewall rule distribution;
Application fingerprinting;
Host Protection updates;
Web site blacklist updates; and
Ad network updates.
Mikhail Penkovsky, global vice-president for Sales and Marketing, explained:
"Our key message with this new product line is not about the software itself, but also about everyday services delivered to all registered users. Nowadays it is not enough to update just virus or spyware signatures, you should take care of other key security areas as well. Agnitum does just that: besides virus and spyware definitions updates we deliver five additional services that make your protection more flexible and versatile. Our qualified engineers took care of seven areas to make all modules (firewall, antivirus, anti-spyware, host protection, and web control) of our Both the security suite work more efficiently. And this is for less than 14 cents a day for new users and about 8 cents a day for renewal licenses, not to mention the software itself."
Neither of the products requires lengthy or complete adjustment, however, they are designed to be customized according to user preference and security awareness. Novice users will benefit from a simple interface and comfortable default settings whereas advanced specialists can still create sophisticated configurations and make technical tweaks.
Outpost Firewall Pro 2008, which comprises a firewall and an anti-spyware plug-in, now offers the following innovations:
Yorkville Community School District Protects 1500 Computers with Vexira Antivirus and Saves $ 250,000













Medina, OH (PRWEB) May 19, 2011
Central Command Inc., a leading provider of malware, spyware and virus protection solutions for enterprises, businesses and schools, announced today that Yorkville Community School District 115 in Illinois has selected Vexira Antivirus to protect its 1500 computers in 9 schools from malware, spyware and virus infections.
Yorkville Community School District 115 located in Yorkville, Illinois has a highly professional staff dedicated to its long tradition of developing successful students. The school district decided to standardize on Vexira Antivirus to protect over 1500 computer systems across their network from malware, spyware and virus infections.
Vexira Antivirus is an award winning next generation malware, spyware and virus protection solution specifically designed to protect desktops, laptops, netbooks and servers contained within a network with both proactive and reactive malware, spyware and virus defenses.
"I would say Vexira Antivirus is the best virus, spyware and malware protection for large schools. We are always looking to improve the quality of the software we use and lower our licensing and operational costs. Vexira Antivirus has significantly improved our antivirus protection and I would estimate saved our school district over $ 250,000 in licensing and operational costs. We have over 1500 computers in 9 schools and being able to maintain its safe and reliable operation is imperative for the success of our students. Vexira Antivirus has exceeded all of our expectations," said Marc Rial, Network Administrator, Yorkville Community Unit School District 115.
"Vexira Antivirus is specifically designed for large scale malware, spyware and virus protection in high threat environments typically found in schools. With its easy to learn yet powerful central management system Network Administrators can completely control all aspects of the malware, spyware and virus protection across their network. Vexira Antivirus has many specific features and options designed to optimize the protection and aggressively defend each computer from infection. Helping educational institutions of all sizes defend themselves from malware, spyware and viruses has been a cornerstone of our organization since 1990. We have special programs and discount opportunities for accredited non-profit educational institutions," said Keith Peer, CEO, Central Command, Inc.
All Central Command's Vexira product family shares the same underlying technology that protect against malware, spyware and viruses. This ensures consistent protection against malware threats regardless of the operating system being used.
About Central Command: Central Command, Inc., founded in 1990 is a privately held corporation that serves enterprises, businesses, schools, universities, and colleges with malware, spyware and virus protection solutions. Visit Central Command at http://www.centralcommand.com or call 1 888-583-9472 for more information.
Central Command and Vexira are trademarks of Central Command, Inc. All other trademarks, trade names, and products referenced herein are property of their respective owners.
###
©Copyright 1997-
, Vocus PRW Holdings, LLC.
Vocus, PRWeb, and Publicity Wire are trademarks or registered trademarks of Vocus, Inc. or Vocus PRW Holdings, LLC.
Find More Computer Press Releases
Enemy-Proof Encrypted Email Protects War Fighters











Reston, VA (PRWEB) December 11, 2006
Among the difficulties our troops face overseas in dangerous areas is how to keep personal, morale and critical military information safe when emailing friends and family back home. TrustedPear™'s easy-to-use free encrypted-email service protects users' data and identities on the Internet. TrustedPear™'s encrypted-email cannot be intercepted or read by a hostile government -- its messages do not have a typical "encrypted" format. The stealthy messaging service not only protects the user's information, but hides the fact of communication as well. The encrypted email service is available for free for American war fighters at http://www.TrustedPear.com. Troops can speak freely and with confidence to friends and family, knowing they are not putting themselves or their unit at risk.
TrustedPear™ keeps a user's computer clean -- it uses RAM memory and never writes information to the hard-drive. Even when a user accesses an account from an Internet café in an unfriendly area -- downtown Baghdad for example -- the user's information stays protected. TrustedPear™ works anywhere a user can find the Internet and requires no special equipment.    For servicemen and women working in sensitive areas, TrustedPear™ never discloses a user's location. TrustedPear™ is available for free or by subscription at http://www.TrustedPear.com. Military users can gain a free upgrade by using a promotion code, "USA," when they sign up for the encrypted email service.
TrustedPear™ encrypted email is always safe with multiple forms of encryption. Users' private information is encrypted while the data rests on TrustedPear™ servers, and while it is "in transit" from the user to the server. Only when the user is actually reading a message is it ever "in the clear."    Troops with sensitive personal, medical or legal issues can now discuss them in complete privacy.
TrustedPear™ is ideal for anyone with personal secrets, or who just wants to keep their information private.
The service provides top quality free encrypted email and has consistently been ranked Number One at Google® News.
###






Attachments




©Copyright 1997-
, Vocus PRW Holdings, LLC.
Vocus, PRWeb, and Publicity Wire are trademarks or registered trademarks of Vocus, Inc. or Vocus PRW Holdings, LLC.
ING Company Protects Pension Funds with Bitbrains, Grid Dynamics, and Microsoft Solutions













Amsterdam and Fremont, Calif. (Vocus/PRWEB) February 10, 2011
ING Insurance Benelux deployed a cloud-based solution that uses a hosted platform from Bitbrains IT Services, Microsoft Windows HPC Server 2008 R2, and the HPC Excel Acceleration Toolkit (HEAT) solution from Grid Dynamics to significantly speed up financial simulations on insurance risk, saving hours of analysts' time and increasing the accuracy of important financial information.
ING Insurance Benelux's key financial models now execute from 10 to 50 times faster by running Microsoft Excel 2010 on a Windows HPC Server 2008 R2 cluster with a high performance infrastructure from Bitbrains and the HEAT solution from Grid Dynamics. Bitbrains IT Services is a leading provider of hosted cloud computing solutions and Grid Dynamics is an authority on systems scalability and cloud computing. Both companies are Microsoft partners.
ING Insurance Benelux, which handles life and non-life insurance, investment, and pension businesses in the Netherlands, Belgium, and Luxembourg, wanted to ensure that the company kept adequate pension fund reserves. It used a liability calculator to determine its hedging measures. Because they were limited to the processing power of stand-alone PCs, the company's risk managers wanted a faster way to process simulations and obtain the information.
ING Insurance Benelux, Bitbrains, and Grid Dynamics worked jointly to transform the calculator into a 24-core Windows HPC Server 2008 R2 environment and using the Grid Dynamics HEAT solution, which makes it possible to convert complex Excel spreadsheets to run in a distributed, Windows HPC Server 2008 environment.
"The comparative test results were identical, just a whole lot faster in the Windows HPC Server 2008 R2 environment," explained Hein Brat, program manager, Business Unit Corporate Clients at ING Insurance Benelux. "Our risk managers are hard to impress, but they've been really pleased with how well the cluster solution works and how easy it is to use."
Company decision makers were so impressed that they asked the risk managers to recalculate every simulation that they had run over the previous year—in just two weeks. Bitbrains scaled up the cluster, adding 72 more cores overnight. Not only did the risk managers meet their deadline, but they also conducted a higher number of simulations, thereby fine-tuning the accuracy of the year's results.
"Companies such as Grid Dynamics and Bitbrains IT Services are an essential part of making technical computing power more broadly available and accessible," said Bill Hamilton, director, Technical Computing, Microsoft Corp. "With HEAT, Excel, Windows HPC Server 2008 R2, and Bitbrains' expertise in complex infrastructures, our joint customers will accelerate their time to insight."
Bitbrains IT Services is providing a cloud infrastructure platform for the application, with a special focus on compliance and security to meet the specific requirements of ING. The company has a creative approach to problem solving in HPC, helping companies with non-standard, complex, and challenging new endeavors. Teaming with leading vendors such as Microsoft and Grid Dynamics, Bitbrains is able to deliver solutions that exceed expectations.
Developed by Grid Dynamics, HEAT helps companies break through performance barriers that are typical with complex, compute-intensive financial models using Excel. HEAT defines the parallelization logic with very little programming effort and time and consequently offloads compute-intensive, time-consuming calculations to a cluster of servers, where the models can be processed much faster. This significantly reduces execution times.
"Combining our experience in managing IT environments with Grid Dynamics' expertise in application scalability makes a powerful partnership, capable of solving many highly complex problems common to financial services companies," added Gjalt van Rutten, CEO of Bitbrains IT Services.
"Because compliance and security is essential for financial institutions, Bitbrains' expertise in application infrastructure for financial services perfectly complements our competence in high performance computing to deliver radical value to ING Insurance Benelux," noted Victoria Livschitz, CEO, Grid Dynamics.
About Bitbrains IT Services

Bitbrains IT Services designs, builds and supports leading edge cloud computing solutions for companies that require extreme levels of continuity, reliability and scalability for their complex and mission critical applications. Bitbrains' High performance computing concepts become reality with Extreme Engineering and Adaptive Hosting services. http://www.bitbrains.com.
About Grid Dynamics

Grid Dynamics helps companies achieve better performance, higher availability, faster time-to-market and lower operational costs by scaling mission-critical systems. Using the latest advancements in grid and cloud computing technologies, the company helps customers turn monolithic applications into scalable services; and static, underutilized server clusters into virtualized compute clouds. http://www.griddynamics.com
# # #
©Copyright 1997-
, Vocus PRW Holdings, LLC.
Vocus, PRWeb, and Publicity Wire are trademarks or registered trademarks of Vocus, Inc. or Vocus PRW Holdings, LLC.
New, Free Software Utility Protects, Repairs and Optimizes PCs













Boston, MA (Vocus) June 19, 2007
A new, free all-in-one system utility helps protect, repair and optimize computers with a single click of the mouse.
"There's no longer a need to rush and call a technician when your computer fails to perform," says Hugo Dong, President of IObit.
The product is called Advanced WindowsCare v2 Personal. IObit, the software company that developed it, says with computer technology becoming increasingly complex, it's vital that users maintain and optimize their PCs on a regular basis to keep computers free from Adware and Spyware.
"We know it hard for many PC users to access sophisticated and various Windows optimization tools to enhance their computer's performance," says Dong. "This freeware is designed to be the first point of call in solving these issues quickly and easily."
Advanced WindowsCare Personal is user-friendly and offers four major benefits:
1.    Defends Windows: Scan and remove Spyware and Adware with the latest definition; prevent Spyware, hijackers and bad websites from being installed, erase the history of all activities in computer including traces of online site visit activity.

2.    Cleans Windows: Boost system performance by deep scanning and cleaning out all missing, unwanted, obsolete and corrupt registry entries and junk files.

3.    Keeps peak performance: Fully optimize Windows for ultimate system performance and top Internet speed, based on how users use computer and what kind of network they have.

4.    Fixes system errors: Repair system configurations, eliminate system bottlenecks and prevent crashes, keeping your PC stable and roaring at peak efficiency.
About Advanced WindowsCare Personal: Advanced WindowsCare Personal works on Windows Vista/ XP/ 2000, multi-language supported. It is 100% clean and safe free of Adware and Spyware. For more information and to download a copy visit: http://www.iobit.com/AdvancedWindowsCarePersonal/. Licenses are available to qualified media interested in testing Advanced WindowsCare Professional.
About IObit: IObit is an innovative and young company founded in 2004 by two young programmers. With the release and popularity of Advanced WindowsCare v1 in 2005, IObit has become one of the most successful new companies on the Internet. IObit is also a provider of award-winning software products designed to deliver superior performance, protection and security to PC users. Among its products: Advanced WindowsCare Personal; Advanced WindowsCare Professional, a protection and cleanup program that offers all of the functionality of the Personal plus the automatic solutions; and IObit SmartDefrag, a free disk defragmentation program that runs automatically in the background, to speed up hard drives.
Contact: Tim Xue, IObit

Email: press(at)iobit.com

Website: http://www.iobit.com
###








Attachments




©Copyright 1997-2010, Vocus PRW Holdings, LLC.
Vocus, PRWeb and Publicity Wire are trademarks or registered trademarks of Vocus, Inc. or Vocus PRW Holdings, LLC.
Poole, Dorset (PRWEB) July 30, 2009
Ram raid attacks on ATMs across the world are being stopped by The Raminator - a tried and tested anti-ramming device now newly available through TestLink.
Raminator can withstand repeated ATM ram raid attacks from cars, 4x4s (SUVs), trucks, diggers and other construction or agricultural vehicles.
It is a specially manufactured mounting plate that is designed to absorb the force of sustained attacks - preventing the bolts that secure the ATM to the ground from shearing.
Independent ATM remanufacturer TestLink has signed a new deal which means ATM deployers can now buy high quality used ATMs fitted with Raminator from day one for added protection against ATM ram raid attacks.
Specifying the fitting of Raminator before ATM machines are installed shortens ATM installation times - saving clients time and money as well as protecting their ATMs from ram raid attacks.
ATM network operators can also task TestLink to upgrade their existing estates by retro-fitting Raminator to their networks of cash machines.
Raminator has been voted Best Security Product by ASIAL (the Australia Security Industry Association Ltd).
Now TestLink has signed an agreement with Raminator manufacturer Lockit Systems to make it more available to banks, mutuals and independent ATM deployers across the world.
Ram raid attacks on ATMs are a global problem, prompting growing concern among law enforcement agencies, ATM operators and deployers.
In March 2009, Raminator's success was highlighted by police at the ATMIA ATMS in Australia & New Zealand conference in Sydney.
Murray Chapman (Det Acting Supt, Commander Firearms And Registered Industries Squad, New South Wales Police) told delegates that, while the police could not endorse any particular product, there had been no successful ram raids since Raminator had been fitted.
TestLink Chairman Nick Beer said: "We see Raminator as becoming the accepted ATM industry standard for anti-ramming security. It makes sense - it works.
"Raminator is a unique solution against ram raids. It's simple, cost-effective, fits under ATMs discreetly and supports most ATM manufacturers."
He added: "ATM security is becoming increasingly important. There's a global recession and ATM crime is becoming more international."
Mr Beer highlighted the increasing number of ATM ram raid attack in South Africa - "most of them in shopping centres".
He said: "The criminals will drive through shopping centres to get at the ATMs. They are becoming more aggressive."
TestLink is also seeing increasing demand for its other ATM security solutions which also include:


ATM anti-skimming technology - Card Protection Kit+ (CPK+), proven protection against all known types of ATM skimming devices. Fits all ATMs including NCR, Wincor, Triton and Diebold. Invisible from the outside. Installation in under an hour. Silent alarm option available.
ATM cassette locking bar systems - added protection for your ATM cassettes, even when raiders are armed with keys. Only one ATM cassette can be removed at a time, delaying and deterring thieves.
TestLink is best known for its global used ATM sales - remanufacturing used ATMs to 'as-new' condition - plus associated services such as:

refurbished ATM parts and modules, ATM spares (savings of up to 60 per cent)
ATM cassettes and ATM cassette refurbishment
ATM estate management.
Customers of TestLink can buy used ATMs for up to 70 per cent less than the cost of new ATMS. They are purchasing high quality custom-specified ATMs from TestLink that are as reliable as new ATMs and often more so.
TestLink has 20 years of experience in the remanufacture and upgrading of ATMs. The company operates to ISO9000 and ISO14001 quality standards and has an ethical environmental policy.
For more information, www.testlink.co.uk or contact ATM Sales Manager Andrew French, +44 (0)1202 627121 (direct), +44 (0)7912 675152 (mobile) or TestLink Business Development Manager Rastislav Justh, +420 723 944 557 (mobile).
Information for Editors:
Web: www.testlink.co.uk
UK & Western European Operation    

TestLink Services Ltd        

No. 1 Factory Road        

Upton                

Poole, Dorset            

BH16 5SJ

United Kingdom            

Telephone: +44 (0)1202 627100

Fax: +44 (0)1202 625577
Central European Operation

TestLink Services Ltd

Luzna 591/4

Prague 6

16000

Czech Republic

Telephone: +420 220 121 450

Fax: +420 220 121 449
TestLink - Cutting Costs By Innovating Service
TestLink Services Ltd is an independent company specialising in ATM remanufacture, ATM refurbishment and ATM asset & estate management - benefiting the global environment by increasing the reuse and recycling of automated banking equipment and reducing ATM-related waste.
ATM operators and third party manufacturers across the world can cut costs by up to 70 per cent by purchasing ATMs remanufactured by TestLink to 'as-new' condition.
TestLink has 20 years of experience providing repairs to the leading ATM OEMs and maintenance organisations. The company has a capability across NCR, Wincor and Triton ATMs on all module types.
TestLink engineers strip each ATM down to its individual components, painstakingly rebuilding each module for maximum operational efficiency and longevity of service.
Each refurbished ATM undergoes a detailed 210-point inspection at TestLink before being shipped with delivery from just seven days.
Services provided by TestLink include:

ATM asset & estate management with detailed reports on how well your ATMs are functioning, recommended servicing and preventative maintenance, modules and parts inventory. Reports include the performance of external non-TestLink engineers and whether they need ATM training to improve productivity
ATM inventory management - sophisticated systems with online visibility of your inventory and its movements; secure storage of modules and parts; secure disposal of old or obsolete parts and modules to UK Ministry of Defence standards
ATM parts repairs - fast turnaround time; online status system; premium quality parts; obsolete part support; direct to site international shipment by advance exchange
ATM cassettes (NCR, Wincor, Fujitsu) - supply of refurbished ATM cassettes; repair and refurbishment of ATM cassettes; testing and configuration of ATM cassettes
supply of hand-portable ATM test equipment for NCR ATM cassettes
ATM security - anti-ramming, anti-skimming and cassette locking bar systems
mobile computer support to the corporate sector, repairing OEM products both inside and outside warranty
mobile computer support to SMEs and individual computer users via TestLink's dedicated Web site www.laptopsupport.co.uk
specialised Chip & PIN repairs on behalf of banks and third party maintenance organisations; refurbishing chip and pin devices to as-new condition.
TestLink serves its global markets from two fully resourced repair centres in the UK and the Czech Republic. Many of the 120 staff have direct OEM experience gained as engineers at ATM manufacturers NCR and Wincor.
TestLink was founded in 1989. It is still managed by its two founders, Chairman Nick Beer and Managing Director Greg Hughes.
The company operates to ISO9000 quality systems and ISO14001 environmental systems standards with an ethical environmental policy.
###