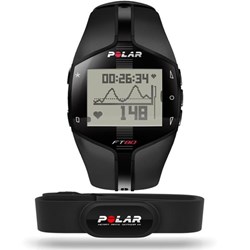 Bozeman, MT (PRWEB) September 13, 2013
Polar FT80 is still the best strength training watch on the market today among heart rate monitors according to the Heart Rate Watch Company.
"There is no other strength training watch on the market that uses the graphic recovery indicator, which is a big plus," says Rusty Squire, President of the Heart Rate Watch Company. He adds, "Plus the black version now has greater contrast and works outdoors, inspite of what articles all over the internet say because that is outdated information, just like so much of the web search information is."
NEW STRAP and TRANSMITTER
For 2013 Polar added the new H1 transmitter which is thinner and the new Polar soft strap, which is more reliable than the Wearlink fabric and fits like a second skin. "This was a great upgrade and we voted it the most comfortable heart rate strap for 2013," says Squire.
FEATURES
Polar FT80 offers Polar Owncode, which connects to over 90% of all gym equipment that is heart rate enabled and it is the only of the Polar heart rate monitor units that has a customized strength training program. "The Polar Star Trainer and calories total and from fat are also nice features, along with the fitness test," says Squire.
"The FT80 also offers you three distinct heart rate zones so you can have a customized fat-burning zone, aerobic zone and interval training zone, which is nice compared with single zone watches," says Squire. He adds, "All the batteries are user changeable and you can buy two at Wal-Mart for about $ 3.90, in fact, I did just the other day because I change my batteries every 9 months or so on both the watch and the transmitter."
FLOWLINK
Polar FT80 comes with the Polar Flowlink data transfer device which uploads watch workout data to the free online Polar Personal Trainer software. "You can build custom strength training workouts in Polar Personal Trainer and upload them to the FT80 so it becomes a coach/task master right on your wrist," says Squire.
COMPLIMENTARY STRENGTH TRAINING BOOK
The Heart Rate Watch Company offer a complimentary copy of "How To Elevate Fitness With Strength and Interval Training" to all customers and the book is especially poignant to those who buy the Polar FT80 watch.
PERSONAL ADVICE
"If you'd like expert advice and consultation then simply call us at 866-586-7129," says Squire. He adds, "It is the fastest way to cut through all the clutter of bad information that is out there on the web and talk to a real expert who uses and knows the product."
Baltimore, MD (PRWEB) January 14, 2009
The popular winter-time fundraiser known as the Maryland State Police Polar Bear Plunge is back for its 13th frigid year, once again offering chills and thrills for the whole family on Saturday, January 24, 2009 at Sandy Point State Park in Annapolis. And with participation 40% ahead of this same time last year and a $ 3 million fundraising goal, organizers are looking at this plunge to help keep Special Olympics Maryland afloat during these challenging economic times.
Dubbed the Aerotek Plungapalooza '09 and featuring the Maryland State Police Polar Bear Plunge XIII, the full-day festival opens at 8 a.m. with mass Plunges taking place at both 1 p.m. and 3 p.m. Wanna-be Plungers need only raise a minimum of $ 50 in pledges (or a personal donation) in order to be a part of the fun. For that contribution, all participants receive the commemorative Plunge sweatshirt, lunch courtesy of Damon's Grill and a photo gift. Additional event premiums are available for those raising $ 500 and above.
Registration is now open for the event and available online at http://www.plungemd.com or by calling 1-800-541-7544 x503. Participants who may have experienced delays in registering in 2008 will be pleased to know that the entire process has been revamped so that they can "freeze in the water, not in line." Improvements include the new FREEZ-E Pass system that allows pre-registered Plungers to use designated FREEZ-E Pass Only lanes, and a new Packet Pick-Up option at Special Olympics Maryland's Headquarters Office beginning Saturday, January 17.
Aerotek Plungapalooza is open to the public free of charge. General parking at Sandy Point State Park is extremely limited and available on a first-come, first-serve basis only. Reservations for school or charter buses are accepted by contacting organizers at plunge (at) somd.org or calling 410-789-6677. All others are encouraged to utilize the free Polar Express shuttle bus system that will run continuous routes all day long from the Naval Academy Stadium, Anne Arundel Community College and Kent Island High School.
The event has increased in popularity amongst local celebrities and politicians and scheduled to appear or participate in 2009 are Governor Martin O'Malley and his family; Baltimore Ravens Assistant Head Coach Rex Ryan; Ravens players Adam Terry - OT, Joe Flacco - QB, Todd Heap - TE, Jason Brown - Center, and Haloti Ngata - NT; WBAL-TV's Jennifer Franciotti, Barry Simms, Rod Daniels, Lowell Melser and Rob Roblin; 98 Rock's Mickey, Amelia & Spiegel Morning Show, Stash, Theo, Don Koenig and Sarah "The Queen" Fleischer; and Steve Rouse, Steve Davis and Bob Ehrlich from WBAL-AM.
Plungapalooza '09

The event has grown into a "can't-miss" spectacle that includes much more than just the Plunge, and 2009 will be no exception. Plungers and spectators alike are invited to enjoy the sights, sounds and smells of the boardwalk-themed festival tent - a huge, heated tent located on the grounds of Sandy Point State Park. Attractions include boardwalk-style games and displays, telescope photos, local and national vendors, live music by The Kelley Bell Band and 8 ohms, and other entertainment, event merchandise sales, a Plunge Food Court, live pig-racing action, sandcastle building, and a special area just for the kids with games, inflatables, face painting and more. Old favorites like the costume contest, live remote by 98 Rock, and the morning action at the Super Plunge Village will also be on the schedule. Vendor and crafter applications are now be accepted and are available at http://www.plungemd.com or by calling 410-789-6677 x113.
New for 2009 is a Polar Bear Plunge Pageant where 3 lucky ladies will be crowned Miss Polar Bear Plunge, Little Miss Polar Bear Plunge and Miss Hypothermic Hon.
The Plunge Phenomenon

Why has this event become such an institution? For some it's a tradition, for others it's done on a dare. It's on many Plunge participants' "bucket lists". It's something to look forward to in the post-holiday doldrums of winter, counteracting the late January date that has been tagged "the most depressing day of the year." And it's just about as daredevil as many Plungers ever want to get.
Whatever the reason, this chilly charity event has become one of the top fundraisers in Maryland, earning an estimated $ 3.5 million for Special Olympics Maryland in 2008 thanks to the 10,000 participants of all ages who were daring enough to take a dip in the wintry waters of the Chesapeake Bay.
The Plunge is open to the public free of charge thanks to the support of: Presenting Sponsors Aerotek, Union 486, Mike's Famous Harley Davidson, Rams Head Live and Wal-Mart; Legacy Partner Constellation Energy; Community Partner The Baltimore Council of Ravens Roosts; Media Partners 98 Rock, Comcast, WBAL-TV11 and WBAL-AM 1090; Official Medical Provider John Hopkins Emergency Medicine; Gold Sponsors Toyota, Fed Ex, Fence and Deck Connection, Party Perfect, Graul's Market, Frank Gumpert Printing, and Patuxent Companies.
About Special Olympics Maryland

The Plunge is the organization's largest single-day fundraiser, grossing more than $ 10 million in support of 10,000 Special Olympics Maryland athletes since its inception in 1997. Due in large part to the success of the 2008 Plunge, SOMD has implemented Young Athletes -- an innovative new "play" program for youngsters ages 2 to 7. This program focuses on early intervention in building and improving fine motor skills and hand-eye coordination in children with intellectual disabilities.
SOMD is a year-round sports organization dedicated to providing quality sports training and competition opportunities to Maryland's children and adults with intellectual disabilities and/or closely related development disabilities. SOMD currently serves 10,000 athletes statewide, and offers 28 sports, all at no cost to the athletes or their families. For more information about SOMD visit http://www.somd.org or call 410-789-6677 x117.
##
Lake Geneva, WI (PRWEB) January 17, 2012
Bravery Required is the newly adopted tagline for Crux Creative, the full service agency servicing the Chicago-Milwaukee area, and the anthem of whats required for design material to succeed in 2012.
In an overtly connected and overly commoditized world, a firm cant differentiate anymore just by using great looking graphics or safe designs. They have to bravely stand out and push themselves to stay committed to creativity without watering it down. says Michele Allen, President of the Lake Geneva based creative agency. We want to educate companies on what it means to be brave with their designs and how they can benefit from taking the plunge into bold creative work. After all, it always takes risk to be on the cutting edge, but doing so can also mean getting ahead of new trends and leading the market.
The team at Crux Creative is inviting architectural and exhibit firms from the Chicago-Milwaukee area to join them in taking another plunge; celebrating the companys new tagline, Bravery Required by participating in the Southeastern Wisconsin Polar Plunge. The annual event benefits the Special Olympics and takes place February 11, 2012 in Kenosha.
To sign up for the Southeastern Wisconsin Polar Plunge and receive free Bravery Required gear, visit http://www.cruxcreative.com and click the Polar Plunge tab.
For more information, contact Michele Allen, President of Crux Creative: 888.250.8695. mallen(at)cruxcreative(dot)com
###
Related Graphic Press Releases
Bristol, UK (PRWEB) January 14, 2009
Fibrenetix Storage Ltd has signed up Polar Graphics as its new Distributor for the United Kingdom & Ireland. Polar Graphics will distribute the full range of Fibrenetix products to the professional content creation industry; from the small workstation RAID to the high performance PCIe based PIXi products and the highly scalable SAS/SATA to Fibre E-Series range.
Jes Nagel, CEO Fibrenetix says; "We are very excited about the distribution and partnership agreement with Polar Graphics. We had been looking at a number of companies in the UK to try to find the right partner for our products but found the combination of high level storage knowledge with an understanding of content creation workflow very limited. Fortunately for us, Polar Graphics have established themselves over the years, based on these principles."

Fibrenetix is one of the few storage companies that truly specialize in storage for the content creation industry. All Fibrenetix products are tested and certified with all major capture cards, but more importantly, all products are tested streaming with real media. Fibrenetix currently holds a library of more than 8TB of media from SD, Apple Pro-Res, HD, 2K and even 4K, in both uncompressed and compressed formats.
Mr Nagel continues; "This partnership goes beyond the normal STOCK and SELL distribution agreement. The knowledge and skills that Polar Graphics have to offer will enable us to test and certify our products with an even greater variety of capture cards and application environments. We also plan to develop and streamline new compatibility tests with Polar Graphics, offering end users a performance and compatibility guarantee which will be second to none in the industry."
Garry Davis, Technical Director at Polar Graphics says; "We always test the products we distribute to ensure they do what they say on the tin. Fibrenetix build quality is very good, performance is very good, and the drive cooling is the best I have seen, which is crucial for reliability. Also, the support team based in Europe is very responsive."
He continues; "Fibrenetix have a wide range of PCIe, U320 SCSI and Fibre Channel products which combine good design and feature sets. There are a variety of management/configuration interfaces, redundant designs and onsite warranty options to ensure high availability of your data. Plus the modular design allows ease of maintenance and an upgrade path. With all these features you'd expect the products to be expensive, but this is not the case, they are extremely cost effective."
For more information about Fibrenetix and Polar Graphics, please visit:

http://www.fibrenetix.com

http://www.polar-graphics.com
###
Related Graphic Press Releases