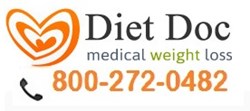 Chicago, IL (PRWEB) November 18, 2013
The professionals at Diet Doc are serious about helping everyone lose weight to improve health, longevity and quality of life. The company is consistently searching for new ways to make achieving weight loss goals simpler, more convenient and less costly for everyone in need. Utilizing Telehealth, the latest medical technology, now enables the company to reach patients in even the most remote regions of the country, delivering fast, safe and consistent weight loss directly to patients' doors. One of the first prescription diet companies to join this new revolution in healthcare, Telehealth allows patients and physicians to connect via the telephone, thus avoiding time consuming and costly visits to local weight loss clinics.
Patients who are ready to change their lives by losing unhealthy excess weight can begin simply by calling the company or logging on to the computer to complete a comprehensive, yet quite simple, medical evaluation, after which the patient will schedule an appointment, at their convenience, to speak directly with a board certified physician. This level of personal service allows the doctors to review and assess each patient's entire system and to identify any improperly performing organs or other barriers that may hinder fast weight loss, without the patient ever leaving their home. Each patient will receive a plan of action along with a complete and detailed physician report.
Qualified patients will work closely with nutritionists, who are certified and specially trained in the science of safe and fast weight loss. Diet plans will be designed that are unique to each patient's personal nutritional lifestyle and medical needs, designed to be rich in essential nutrients, helping the body to function at maximum capacity while melting pounds and inches. Because the diet plans incorporate a wide range of delicious food choices, patients find that they maintain their interest while the rapid loss of weight keeps them motivated. Each diet plan is uniquely developed with emphasis on achieving optimal weight loss with focus on safety and improved long term health and weight maintenance.
Diet Doc's prescription hormone complements the uniquely designed diet plans by sending a powerful signal to the hypothalamus to target stores of trapped fat to be released into the bloodstream and burned as the body's primary energy source. This dynamic combination turns the body into a fat burning machine with patients reporting fat melting from the body in areas that are typically the most stubborn and difficult areas to lose, such as the belly, hips, thighs and underarms.
Diet Doc offers incomparable services to dieters across the country, delivering a consistent effective medically supervised diet plan directly to patients' doors. To further add to the convenience of this revolutionized new diet plan concept, videoconferencing eliminates the need for costly, embarrassing and time consuming follow-up visits to weight loss clinics, while offering improved and easy accessibility.
The addition of Telehealth is making losing unhealthy excess weight easier than ever before. By shifting their focus to the numerous possibilities that Telehealth offers, Diet Doc has made their prescription hormone diet plans available nationwide. Diet Doc's physicians and nutritionists can reach out to a patient in any location using advanced technology, eliminating all geographical and communication barriers.
Diet Doc Contact Information:
San Diego, CA

(800) 272-0482

Weight-loss(at)Dietdoc(dot)info

http://doctorsupervisedweightloss.com/testimonials.php
Twitter: DietDoc10

Facebook: DietDocNaturalHealth
Denver, Colorado (PRWEB) July 18, 2013
Kyle Leon lets the public know how Customized Fat loss is becoming one of the best ways for people to lose weight with amazing end results, that people will see and love with beyond surprise.
According to http://www.DailyGossip.org following Customized fat loss plan people will learn the necessary daily steps to maximize the amount of fat they lose and how to schedule their meals per day. Customized Fat Loss System is a twelve week training plan that is designed from the heart for a truly unique fat loss system, which it includes eating the right foods to match the body structure and inner components.
Kyle Leons software is endorsed and promoted by registered physician Dr. Jill Hollowell, and according to Daily Gossip this is another reassurance that this new diet plan will work for all body types. Along with this, Customized fat loss keeps people on track with daily meals with the help of a specific diet plan being on the computer. According to the author this is now the new and refined way to work out without having to over think about daily plans and worry about what should be the next meal.
The central concept of the Customized Fat Loss program is called Somato-Specific Nutrition. In laymans terms, its what people normally know as all the different body types as well as the specific nutritional requirements depending on that body type.
Customized Fat Loss identifies and breaks down more body types than the three main types which are (ectomorph, mesomorph, and endomorph). That way it can give a more precise meal plan compared to other diet products out there and help people increase the chances of being lean and structured.
Customized fat loss is now growing with people around the world just dying to try it due to the fact its known to work and keep body looking in magnificent condition with results others will be envious of. As the word spreads around about this new product people learn how important it is to make sure they are all healthy and fit, this planning program just makes it more possible for everyone to enjoy eating, exercise, and life with a twist.
(PRWEB) May 26, 2006
Stellar Information Systems Ltd. has launched Stellar Data Care Suite which is a comprehensive data protection software designed to safeguard your data from almost any form of data loss. Stellar Data Care Suite is a powerful solution that helps you to protect your data by taking regular back-ups at a different time periods along with safeguarding it from major threats and continuously monitors the health of your hard disk to minimize the risk of any data loss. This Multi Utility Pack contains three exclusive applications - InstaBackup, Stellar Smart and Stellar Shield which help you in protecting data with their distinctive features.
Stellar InstaBackup is data backup software to backup any and every bit of data on your computer. InstaBackup simplifies the process of data backup both in the network and single user environment. InstaBackup is easy to use and contains several advanced options such as Full/Incremental backups, strong File Encryption, and Zip Compression. Its a comprehensive data protection solution for all Windows File Systems and requires no prior knowledge of data Backup.
Stellar Smart is an advance warning system for potential hard disk problems. The software makes use of hard disks in-built S.M.A.R.T technology to display a graphically detailed user interface which helps users take corrective action before a disk failure. The software takes advantage of predictable degradation of physical disk components to issue warnings before a disk disaster and is a must-have to ensure data safety on hard disks. Stellar Smart is equipped with a unique graphical user interface which displays, among other things, graphs showing hard disk temperature variations and CPU usage. An additional capability to clone potentially fatal disks (that is, paste the contents of a bad disk onto a healthy one) makes this a truly distinctive software.
Stellar Shield This is pre-crash data protection software that provides data restoration after any form of logical data loss. Once installed, Shield takes a snapshot of critical system attributes and information and stores it in your hard disk. In the event of any data loss, Shield searches the backup Image and helps recover/restore all the data immediately.
Speaking at the launch of the software suite, Mr. Sunil Chandna, CEO Stellar Informations, spoke about the proliferation of malicious software coupled with increasing instances of human-related errors leading to data protection & safety being of paramount importance in todays world. He continued by describing how this suite would almost completely eliminate data death and is a must for both personal as well as professional use.
The software is available in a physical disc (CD-ROM), and can be purchased for a price $ 69.
For further information on this product.
Visit: http://www.stellarinfo.com/data-protection.htm
Further information available at:
India helpline: 919213955509
USA (Tollfree): 1-866-978-0600
Site: http://www.stellarinfo.com
###


Newport Beach, CA (PRWEB) March 06, 2012
GTB Technologies, the Data Loss Prevention Company, announced that world-wide donations of GTB Technologies Inc's, eDiscovery Tools are currently underway to Non-Profit Cancer Centers. Due to the success of last year's donation event, GTB has decided to expand the program. Now GTB Customers, Partners & Business Associates can make a donation of GTB's eDiscovery tool to a Non-Profit Healthcare organization of their choice.
The GTB Donation program is in memory of Leslie Cohen Tully, a sister of one of GTB Technologies founders. Leslie was diagnosed with Stage II cancer in the Spring of 2002, who unfortunately, after a brutal fight, succumbed to the disease March 8, 2006; just a few days shy of her 48th birthday.
"Leslie had always been the first to lend a hand to various worthy charities including Cancer Research and Treatment, both before and during her struggle with the disease." says GTB co founder, Wendy Cohen, "We have seen firsthand that our donations help Cancer Centers avoid heavy fines and damaging publicity while achieving compliance and maintaining patient privacy. Now these organizations are able to spend valuable funds on research and patient care."
All eDiscovery donations include a perpetual license to the GTB eDiscovery tool, free training, free support as well as maintenance upgrades. To request a donation of the eDiscovery tool please Click Here
About GTB Technologies Inc:

With offices worldwide, GTB Technologies Inc. has re-invented the enterprise extrusion / data leak prevention marketplace, like no other; bringing a broad set of influential innovations such as solving the known market limitation of false positive rates.
Unlike others, GTB customers are comfortable moving into enforcement mode quite quickly. This is due to an innovative, unique differentiator in its DLP design. Based on a Content-Aware Reverse Firewall, GTB DLP is the only Data Leak Prevention solution which can block Real-Time, with unsurpassed accuracy, on all ports & protocols; while being intuitive for administrators to operate with minimal operating expense.
GTB customers' include enterprises across the Global 1000 in sectors such as financial services, healthcare, defense contractors, power and energy, telecommunications, retail, and high-tech, as well as government agencies around the world in defense, homeland security, law enforcement, and intelligence.
GTB's Flagship product, the GTB Inspector, a content-aware reverse firewall, provides port-independent inspection covering all 65,535 ports. This technologically unsurpassed platform - provides accurate visibility and control over all content and applications in use, on the network, in real time. Some of its market distinguishing features are:

Support for all file formats
Real-Time Detection (without the need for File Cracking Tools)
100% accuracy for detecting both Personal Identifiable Information, PCI and partial file matching (on fingerprinted data)
Multi-language detection
Flexible and easy policy definition
GTB SSL Proxy - for SSL encrypted visibility (all in one product)
Scalability to outbound network bandwidth
Workflow for event remediation
Port hopping
Tunnelling Detection
SIEM integration
24/7 support
All at a fraction of the cost of any other comparable DLP solution
Enterprises with Data Loss Prevention initiatives whom have an interest in evaluating the GTB DLP / Extrusion Prevention suite can sign up for a free 30 day evaluation at

http://www.gtbtechnologies.com/support_evaluation_dlp_downloads.asp
The Evaluation comes with free Data Leak Prevention education, training plus GTB's unprecedented support, analysis and reporting.
To learn more about next generation extrusion / data loss prevention solutions, how to "Put the 'P' back into DLP" , visit http://www.gtbtechologies.com or follow us on twitter@gtbtechnologies
Find More Tech Press Releases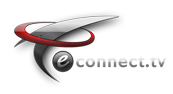 Las Vegas, Nevada (PRWEB) January 23, 2012
Today eConnect.tv announced the availability of new versions of POS Connect and Casino Connect, which include the added dashboard functionality featured in the latest Windows 8 innovations by Microsoft. The dashboard leverages touch screen friendly tiling built into its next version of the Windows 8 Operating System. The new OS is one of the most highly anticipated in years as it takes the best features from Windows and adds a better graphical user experience to the platform.
Chief Architect, Jeremiah Morrill designed the new interface for eConnect. In 2011 Mr. Morrill was awarded the coveted Microsoft MVP for Client Application Development. Mr. Morrill will be attending the Microsoft MVP Summit in Redmond, Washington at the end of February.
We are so happy to release this version of our software, commented Travis Whidden, eConnects Chief Technology Officer. Jeremiah has been such an asset for us. The delivery of this new dashboard function is going to streamline the end user experience allowing the business operator to see real-time information and drill down with the touch of the finger.
eConnect empowers Casinos, Restaurants, Retail Stores and Banks with the ability to proactively monitor live transactional information synchronized with surveillance video. This gives business operators mission critical reports with the dynamic ability to see all visual aspects along with every keystroke from the transactional source systems. eConnect offers their products as both local installations and cloud based, hosted solutions.
For custom solutions, eConnects eStream Analytics interfaces to any digital 3rd party system enabling businesses to deploy Proactive Video Intelligence which is far more valuable than data alone.
eConnect interfaces to electronic casino games and slot systems, which can be seen in this video demonstration:

http://www.econnect.tv/dragonbaccaratdemo.html
As a free download see eConnects Dragon Baccarat game for the iPhone: http://itunes.apple.com/gb/app/dragon-baccarat/id463309728?mt=8
Additional Information:
See eConnect at ICE Gaming Jan 24th-26th in Stand L1-449

http://www.totallygaming.com/event/ice-totally-gaming-2012/exhibitor/econnect
About eConnect:

eConnect is the industry leader in Retail Loss Prevention, Fraud Detection and Live Streaming Business Intelligence. eConnect integrates with all major Gaming, Point of Sale, NVR based surveillance systems, and ATMs providing information critical to business efficiency and profitability. eConnects product suite consists of POS Connect, Casino Connect, ATM Connect and eStream Analytics. eConnect is partnered with many of the top leaders in POS, Retail, Gaming and Surveillance. The eConnect system can be installed locally on clients property or can be hosted remotely in the cloud to minimize infrastructure requirements. See eConnect at the World Game Protection Show in Las Vegas from Feb. 27th-29th.
Learn more about eConnect in this video

http://www.econnect.tv/index.php/video
# # #
Related Graphic Press Releases
A2Z Keywording Launches Keyword Perfect™ 2.0 Image Tagging Studio to Ensure Photography Professionals Are Never at a Loss for Words













Tivoli, NY (PRWEB) October 18, 2010
A2Z Keywording, specialists in the practice of professional image keywording, today announced the launch of Keyword Perfect™ 2.0, a highly efficient sales tool that enables photographers, stock photo agencies, archivists and other imaging professionals to tag their photo libraries using a comprehensive dictionary of searchable keywords, ensuring that their images are as accessible as possible to potential buyers. First developed as the in-house engine around A2Z Keywording's successful keywording service, Keyword Perfect is now available to pro photographers as a means to quickly input relevant tags and, with a minimum of keystrokes, generate dozens of associated keywords that make their work more likely to be identified by stock agencies and other image buyers.
Attendees of the PhotoPlus Expo (Oct. 28-30, 2010, New York) are invited to visit the A2K Keywording booth (#177) to view demonstrations of Keyword Perfect and obtain trial versions of the software.
With an easily mastered user interface running on top of a powerful platform that includes A2Z Keywording's proprietary keyword dictionary and thesaurus, Keyword Perfect imports digital images into its workspace and displays them in a convenient filmstrip pane. Users can then keyword each image by selecting any number of pre-defined and/or user-generated tags, representing not only the image's physical contents, but also its less tangible elements such as time of day, photo style, concept, emotion and activity. The keyword engine then reads each assigned tag and adds a number of logically associated keywords, eliminating significant input time while ensuring that the images are thoroughly and accurately identifiable to discerning image buyers.
"After all the time, effort, and emotion that goes into creating great images, properly editing them and preparing them for the market, photographers still need to ensure that their images will be seen by potential buyers, regardless of how broad or specific a search those buyers might conduct," said Alexander Zane, president of A2Z Keywording. "The only way to ensure maximum success is to tag each image comprehensively, but no photographer wants to spend precious hours manually keywording or fumbling with a dictionary and thesaurus. With Keyword Perfect, we took the system we used to produce accurate keyword matrices for as many as 200,000 images per year and made it available to everyone. We're confident that the results will be a true revelation to both veteran photographers and those new to image tagging."    
As more photographers make their work available to image buyers and additional content floods the marketplace, it is absolutely vital to properly keyword images to ensure they are searchable by the most appropriate audience. To increase the accuracy of Keyword Perfect, A2Z Keywording developed a powerful set of automated checks that guide users through a structured review of their work to catch oversights or inconsistencies. This feature, comprising more than 300 individual checks, helps avoid the human errors that are common in manual keywording. And since Keyword Perfect manages keywords in a central dictionary and reviews all work in a structured process, it delivers an unsurpassed level of consistency.
"A2Z Keywording has long provided a critical service to stock houses like ours by keywording large batches of images quickly and accurately, and I admit that I've been somewhat envious of their capabilities in the past," said Monika Mosch, managing director of the stock agency goZOOMA. "With Keyword Perfect, anyone who relies on high keyword quality can achieve professional results in less than half the time it would take to input manually. The software is powerful, yet easy to work with; clearly A2Z Keywording has honed this product to meet the specific requirements of both photographers and image consumers who search through large volumes of stock images."
Pricing, Availability and System Requirements
Starting today, Keyword Perfect is available for purchase at http://www.keywordperfect.com at a list price of $ 249.00. A special introductory launch price of $ 199.00 is available through Dec. 31, 2010 and a free trial version is available.
-- PC Requirements: Windows XP, Windows Vista recommends utilizing a quad-core processor. Minimum 2 GB RAM, recommended 3 GB.
--Apple Requirements: Intel Macintosh 2.5 GHz dual core CPU with 2GB minimum RAM (4GB is recommended) running Mac OS 10.5.x (Leopard).
--Minimum 15-inch monitor.
About A2Z Keywording
A2Z Keywording are specialists in the practice of professional image keywording, having created keywording databases for stock photography agencies and publishing companies for more than a decade. With the release of Keyword Perfect 2.0 in 2010, A2Z Keywording has expanded its presence in the stock photo industry by offering individual users the same comprehensive and efficient keywording engine that has driven its business for more than 15 years.
Using a proven methodology, A2Z Keywording's service and technology transcribe virtually every detail of a given image - not just its personal subject and object, but the unique emotions, concepts and photographic styles that give the image its character and make it stand out in a crowded marketplace. Companies who have worked with A2Z Keywording include Meredith Publishing; Reader's Digest; Images.com; Direct Stock; Hemera Inc.; American Showcase; Solus Images; Corbis; The Metropolitan Museum of Art; and Chelsea House Publishers.
For more information, visit http://www.a2zkeywording.com and http://www.keywordperfect.com.
###








Attachments
















©Copyright 1997-2010, Vocus PRW Holdings, LLC.
Vocus, PRWeb and Publicity Wire are trademarks or registered trademarks of Vocus, Inc. or Vocus PRW Holdings, LLC.