Visalia, CA (PRWEB) June 04, 2013
Cosmetic dentist, Aung Myint, DDS, has announced the launch of a new, patient-focused website created by dental website design leader, ProSites, Inc. Dr. Myints practice is utilizing the website to educate the community on the importance and ease of attaining good oral health. The website includes a links page with informative dental resources as well as a frequently asked questions (FAQ) page to address common concerns on topics ranging from bad breath to the safety of silver fillings. It also offers valuable information for those researching noninvasive treatments for dental implants in Visalia.
"This web site is mainly to educate people about dentistry and to let them know what kind of services we can provide to maintain and promote the oral health of the people, says Dr. Myint.
The website possesses interactive attributes including educational dental videos and a Smile Gallery feature to help patients make the best informed decisions about their oral health. Current and prospective patients now have access to information about ABC Dental group doctors, helpful dental links, before and after photos, and other informative content. Some of the services offered at ABC Dental Group include:
Family Dentistry

Cosmetic Dentistry

Invisalign

Wisdom Teeth Extractions

Sedation Dentistry
The website also utilizes extensive search engine optimization techniques to reach patients and local consumers who are searching for Gummy Smile Treatments in Visalia or other cosmetic procedures.
People can learn many subjects about oral health from our web site. They will learn ways to be able to take care of their teeth properly. says Dr. Myint. The website explains everything from very basic oral health care to all of the latest concepts and hi-tech dental services. Our Smile Gallery section is also great because it shows that simple esthetic changes can make a big positive impact on their smile line. I hope our website puts people at ease and helps them feel comfortable calling us whenever they need dental care.
About Aung Myint, DDS

Dr. Myint has over 30 years of experience in practicing dentistry. He graduated from the University of Dental Medicine in Rangoon in 1977. Dr. Myint continued his postgraduate training in the state of California emphasizing on Cosmetic dentistry, Implants and Invisalign. He has a special interest in creating beautiful smiles using simple and complex aesthetic dentistry with updated technology including the minimally invasive computer guided surgical technique for placing dental implants. Dr. Myint is a member of the American Dental Association, the California Dental Association, and the American Academy of Implant Dentistry. To learn more about the practice, log onto abcdentalgroup.net.
Find More Computer Press Releases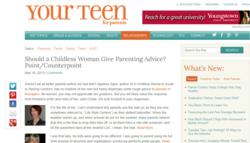 Beachwood, OH (PRWEB) May 31, 2013
With its new feature, Point/Counterpoint, Your Teen Magazine for Parents explores whether adults without kids have any right to advise parents on how to raise their children.
Two women share their viewpoints in Should a Childless Woman Give Parenting Advice? Point/Counterpoint.
Your Teen Magazine for Parents created the feature to prompt parents to think about whether they value or resent the opinions of childless adults.
View the full package here:

http://yourteenmag.com/2013/05/parenting-advice-from-a-childless-woman-2/
We were all perfect parents before we had kids. We all promised that our kids would never behave like those other kids. And then we had our own kids, Editor in Chief/Publisher Susan Borison shares. On the other hand, someone without children has a different and potentially valuable perspective to share. Our package already is triggering adamant discussions about the sensitive subject.
The Point/Counterpoint includes Ageleke Zapis, author of "A Childless Womans Guide to Raising Children" and Julie Cristal, a freelance writer and mom of two who weighs in with her parental rebuttal.
Here are some excerpts:
Ageleke Zapis:

When we were teenagers, we were never let loose at the mall to run wild and act up with our friends. We were at home doing homework or told to spend quality time with our family. (Truth be told, sometimes it was quality time and other times it was quantity time.) As far as my parents were concerned, hitching a ride with my friend Jackie to the mall was never an acceptable option. I was allowed to wander as far as my mothers voice would carry and not an inch further. (For the record, her voice carried down to the end of the block.)
Julie Cristal:

Mostly, I wish those who judge would pull up a chair the next time they see a group of loud, frozen-yogurt consuming teens and learn their backstories. Or visit a school. Most teens today are nothing short of magnificent and it gives me great hope for the future when I spend more than a few hours with several. They are kind and good and creative, using not only traditional artistic mediums, but those that involve crayons being replaced with computers.
About Your Teen Magazine:for Parents
Your Teen addresses the challenges inherent in raising teens and helps parents of teens to continue the journey toward the goal of successful parent. In the magazine format, parents can post questions, offer personal tactics and hear the different perspectives of professionals, other parents and teenagers on relevant topics. Your Teen hopes to ease the worry.
Your Teen is available in Barnes & Noble.
Find More Computer Press Releases

ATLANTA, Ga. (PRWEB) December 27, 2012
Its almost the New Year and technology fans of the world are already salivating over the new gadgets to hit shelves in 2013. While nothing is certain and everything is possible, Protect Your Bubble, gadget insurance brand has a list of some possible gadgets that are certain to turn heads and be big hits in the upcoming year.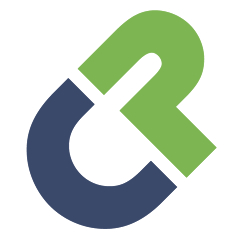 Charlotte, NC (PRWEB) October 12, 2012
Command Partners is coming off of a stellar third quarter, adding three new employees and bringing on several new high-profile clients to accelerate their growth.
The Charlotte-based startup hired a Chief Strategy Officer, a Director of Online Marketing and a Client Success Manager to add to their already impressive team.
Since we founded Command Partners, we have been able to assemble the best team in the business, said Managing Partner Amish Shah. The reason that high-profile clients continue to come to us is because they recognize our top-talent and our remarkable track record of growing businesses through our marketing strategies that maximize ROI.
Along with new team additions, Command Partners has become the preferred agency for startups and established technology companies across the globe.
Some of Command Partners most high-profile client additions include:
COOKOO Watch - Based in Washington, is a cutting-edge technology and engineering company that has teamed up with world-class manufacturers and design experts to create the COOKOO Watch and smart keychain.
Connectedevice - Based in Hong Kong, Connectedevice is a global technology company specializing in the design and manufacturing of wireless communication accessories. They are recipients of both the CES and Red Dot awards for outstanding design and quality.
EarTop Technologies - Led by a 19 year old CEO, the company and founder have been named to Forbes 30 under 30 and selected by the White House as an Empact 100 Showcase company. EarTop is a technology company that turns wired devices to wireless. They are building their first product, which will make Bose and Beats by Dre headphones bluetooth compatible.
Simpleware - Based in New York City, Simpleware is dedicated to solving everyday kitchen problems by inventing innovative products. They have currently created the worlds first perforated cutting board and are on track to grow their product line rapidly.
Onanoff - Based in Hong Kong, Onanoff is a design and technology company that makes simple products for your everyday digital life. They have sustained interest in their product line after a successful Kickstarter campaign, and look to launch a new universal tablet dock that will be the worlds first to fit the rumored iPad mini.
Genetipetz - Based in Charlotte, Genetipetz is a company that designs and creates unique plush toys that combine different animals to create an imaginative new combination. The founder invented the animals to celebrate difference and diversity by showing children that sometimes the combination of several different qualities make us better.
Full Color Games - Based in Las Vegas, Full Color Games is a revolutionary deck of playing cards that will reinvent the popular games of solitaire, which will be hitting the app market soon. They have reinvented the deck of cards, removing face cards and the traditional black and red, while adding a fifth suit.
Phosphor Watches - Based in Los Angeles, Phosphor Watches is a new American watch brand focused on the relentless pursuit of watches that integrate new technologies combined with compelling design. Due in part to Command Partners efforts, their new smartwatch, Touch Time, received over $ 300,000 in funding on Kickstarter.
Church Street Realty - Based in Charlotte, Church Street Realty is a realty company serving downtown Charlotte.
Classic Graphics - Based in Charlotte, Classic Graphics is ranked in the top 2% of graphics companies in North America, serving some of the most notable corporations in the country.
Education Corporation of America - Based in Alabama, ECA owns and operates private institutions of higher education throughout the United States.
Manchester Sky - Based in Charlotte, Manchester Sky is an innovative entertainment and educational research & development company. Manchester Sky also has an education foundation that funds scholarships and grants for nonprofits.
Having clients around the world in different time zones isnt a simple task, but with the team we have assembled, we are able to serve our clients on their schedule, said Managing Partner Roy Morejon. Clients in the tech industry come to us because they are aware of our track record, and I dont see that slowing down anytime soon.
Command Partners has grown over 300% in the last 9 months, building a premier list of clients and adding top-notch talent to their team. With these additions, Command Partners will be able to continue their drive towards an incredibly successful year into 2013. To learn more about Command Partners, visit http://www.commandpartners.com or contact them to learn how they can help you.
About Command Partners
Command Partners is a digital media agency that focuses on driving online visibility and lead generation, including social media marketing, search engine optimization, public relations and strategic advisory services. Command Partners works with clients ranging from high-tech startups, e-commerce brands, B2B and Fortune 500 companies. Command Partners is located in Charlotte, NC and works with clients around the globe.
For more information, go to http://commandpartners.com, Find us on Twitter and Facebook.
Find More Graphic Press Releases
Homestead, Florida (PRWEB) June 13, 2012
Agape Gear, a leader designed of religious clothing designed specifically for the younger generation, has plans to expand its mission to teach, inspire, challenge and encourage young people to develop a closer and more meaningful relationship with Jesus Christ. An important focus in any persons life is their faith in God, said company co-founder Karin Vickers. We believe a person without that focus may stray from the path given to them. Agape Gear was created as a vessel to bring faith back to the forefront of society with vibrant, thought-provoking and inspiring clothing designs in order to bring todays youth and those who arent so young - back to the right track.
Agape Gear was founded in 2010, when Karin and her sister Melissa decided they needed to find a way to reach out to young people who were moving away from the teachings of Jesus Christ, as well as those who had never experienced a relationship with Him. Offering T-shirts featuring vibrant, contemporary graphics combined with faith-inspired sayings, Agape Gear hopes to reach a generation raised on Facebook, Twitter and video games by providing inspiring and visually stimulating religious clothing. I have three teens, and I can see how they would be drawn first to a cool graphic and then to focus on the message, said Melissa. We're not trying to hit anyone over the head and drag them to faith. We just want to see faith in a way they can relate. In this day and age, everyone can use a bit of faith.
Karin developed the initial idea for an online store offering faith-based tees after experiencing a difficult life event that caused her to rekindle and deepen her own faith in God. It usually takes a challenge to get most of us to turn to God for help or comfort, she recalled. After experiencing His grace firsthand, I wanted to find a way to encourage young people to have a relationship with Jesus Christ, even when everything is smooth sailing. Today, Karin and Melissa have been joined by Karins brother, Gary Vickers, turning Agape gear into a true family business. In addition to the eye-catching and youthful designs of their apparel, the team hopes the online store will appeal to teens and others who are drawn to the ease of an online shopping experience.
About Agape Gear

Using 3dcart Shopping Cart Software to power their E-Commerce, The entire line of Agape Gear apparel can be seen at its website, agapegear.com.
China looks to Australia for guidance on Web Site Security and Development











(PRWEB) February 25, 2000
In an increasing climate of Web Site hacks and Internet attacks, Canberra based eDIME Internet Agency was featured last Friday on China's Central TV - CCTV National News commenting on Australia's leading role in Internet security and secure web sites, especially for Government. eDIME has the largest portfolio of Government Web clients in Australia including the Prime Minister, ATO and Defence.
China has had unprecedented attacks on its Government run web sites and is looking closely at the approach Australian Government is taking to protect its own Sites.
As the recognised leading developer of Federal Government Web Sites, eDIME was featured for the news piece and a documentary will follow to be aired on China TV. The story was seen by an estimated 800 million Chinese through this broadcast.
eDIME's Managing Director, Marcus Dawe interviewed by China Central TV commented: "Australian companies are way ahead of the Internet and Web Site security game and China should look to Australian expertise to assist in securing the rapidly expanding Chinese Internet marketplace ."
eDIME is currently in consultation with several major Chinese and other Asian based firms for rolling out some of its expert products for Web Site development.
A streamed RealMedia version of the news story is available from http://www.edime.com.au/china.ram


(Chinese version only. Transcript will be available soon)
©Copyright 1997-
, Vocus PRW Holdings, LLC.
Vocus, PRWeb, and Publicity Wire are trademarks or registered trademarks of Vocus, Inc. or Vocus PRW Holdings, LLC.
New Industry Measure Report Looks at the Present and Future of New Media Marketing











New York (PRWEB) August 14, 2007
The Industry Measure today released its special report, "The Multichannel Mix--Creatives: The Role of Print, Web, Wireless, and Other Platforms in Today's New Media Environment" which provides a detailed overview of the new media landscape as it applies to ad agencies, graphic designers, corporate design departments, and commercial photographers. The 147-page report examines the vast proliferation of new (and newer) media technologies and platforms and provides a critical analysis of where graphic design and production professionals have been focusing their energies, where they have not, and where they will likely need to in the next 12 to 18 months.
What is the current perception of Web publishing as an opportunity? What about e-mail campaigns? Blogs? Podcasting? Webcasting? RSS? Mobile media? Third-party studies have found these new and newer media becoming more important to consumers and, perhaps more importantly, to advertisers and marketers. To what extent are those who produce advertising and marketing materials following suit?
"The Multichannel Mix" looks at these technologies and platforms in the context of each of the graphic design and production markets The Industry Measure regularly surveys-- ad agencies, graphic designers, corporate design departments, and commercial photographers--and draws on the 12-year Industry Measure/TrendWatch Graphic Arts historical database to track adoption rates and interest in new and newer media.
The report also provides data on such recent survey questions as "which media channels do you use now, which do you see becoming more important in the next 12 months, and which do you see becoming less important in the next 12 months?" Original Industry Measure survey data are supplemented with secondary research sources to provide a comprehensive look at the past, present, and potential future of the new media impact on advertising and marketing.
The report also provides a glossary of new media technology terms and buzzwords.
This report is the third in a series. Previous reports examined the impact of new and newer media on publishers and commercial printers.

Industry Measure reports are available for online purchase at the Industry Measure eStore in PDF format (http://www.theindustrymeasure.com).
Researcher's Comments...

"Marketers, advertisers, and anyone else who develops content have all been wrestling with an increasingly diverse media mix. What does this mean for the concept of 'mass media'? What are the consequences of this media mix for those who develop content? What strategies have advertisers and marketers been implementing? What strategies should they implement?"

According to the Report…

-- in Summer 2007, 12% of all graphic design and production firms cited "using the Internet more effectively" as a business challenge, an all-time low;

-- in Summer 2007, 45% of ad agencies said that "variably-printed direct mail" was becoming more important for marketing;

-- in Summer 2007, 29% of ad agencies said that "print catalog mailings" were becoming less important for marketing;
Availability...

The Industry Measure special report, "The Multichannel Mix--Creatives: The Role of Print, Web, Wireless, and Other Platforms in Today's New Media Environment" is available for purchase by visiting the secure Industry Measure eStore online at http://www.theindustrymeasure.com or by phone at 866-873-6310. The price for the 147-page report is $ 995. Industry Measure eStore customers can download this report in PDF Acrobat format immediately after purchase.
About The Industry Measure...

The Industry Measure specializes in the assessment of trends and changes in graphic communications markets by providing timely and strategic information, hard-hitting market analysis and concise expert opinion. The reports have earned the reputation for containing the most reliable and timely industry intelligence in the graphic arts and graphic design marketplaces. The Industry Measure can be reached on the Web (http://www.theindustrymeasure.com), via email (info@ theindustrymeasure.com) or toll-free by phone at 866-873-6310.
All brand names, trademarks, and registered trademarks are the property of their respective owners.

Press/Business Contacts…

Deborah Papineau

The Industry Measure

T: 866-873-6310

Sales Contact:

Vince Naselli

The Industry Measure

T: 866-873-6310
###
©Copyright 1997-
, Vocus PRW Holdings, LLC.
Vocus, PRWeb, and Publicity Wire are trademarks or registered trademarks of Vocus, Inc. or Vocus PRW Holdings, LLC.
Related Graphic Press Releases
(PRWEB) February 24, 2010
Supply chain executives at hi-tech companies will face increased pressure to reduce costs as hi-tech manufacturers look to supply chain initiatives to boost profitability during the economic revival.
The eyefortransport 2010 Hi-Tech & Electronics Supply Chain Report presents the survey responses of over 100 hi-tech supply chain executives, providing insight into their current key issues and strategy plans for 2010.
The report shows that the top 5 concerns facing hi-tech supply chain executives are reduced freight capacity, supplier risk management, outsourcing and working in new markets, new product launches and visibility. Despite taking a slight back seat during the recession, sustainability is also coming back to the forefront of executives' concerns in 2010.
Interesting statistics include 55% of hi-tech shippers expect that they will be able to maintain the reduced freight rates they negotiated during the recession, however, only 14% of transport solution providers expect that they will be able to continue offering these reduced rates.
With air freight rates rising, 44% of executives have reduced their use of air freight in 2010, and around 30% have increased their use of ocean and road transport.
Overall, hi-tech supply chain executives are optimistic about 2010, with 37% of executives saying that they thought the hi-tech industry had performed better than other industries in the recession.
The key issues of the report will be discussed at the 4th Hi-Tech & Electronics Supply Chain Summit taking place May 26-27 in Amsterdam. The event brings together a community of 150 senior supply chain executives from hi-tech and electronics manufacturers and retailers. This year, presentations and participants are confirmed from Oce Technologies, Fujitsu Microelectronics, Intel International, Philips Electronics, Schneider Electric, Sharp Electronics, Asda, Conergy, Epson, Microsoft, AirTies Wireless Networks, Canon Europe, Tyco Electronics, Walt Disney Studios Home Entertainment, Cisco, ASML, Tandberg, Alcatel-Lucent, Carestream Health, TomTom, Lexmark, LG Electronics, 3M Europe, Infineon Technologies and others.
Supply chain executives from top hi-tech companies can qualify for complimentary passes to attend by applying online: http://events.eft.com/hitech/register.shtml
To download a complimentary copy of the report, please visit: http://events.eyefortransport.com/hitech/download-report.shtml
For Sponsorship and thought leadership opportunities at the event, please visit: http://events.eyefortransport.com/hitech/sponsor-and-exhibit.shtml.
###
Related Tech Press Releases