(PRWEB) May 9, 2005
Magicolor 2450, the latest model of Konica Minolta's award winning 2400 series, was recently launched. It is said to have jam-packed features. It comes handy with more power, versatility and color management to suit both office and design applications.
This compact desktop printer is 30% smaller compared to other printers. It uses auto-run installation software to have a step-by-step printing guidance. Magicolor 2450 has 4,500-page toners to keep it running in a matter of minutes. In connection to its processing power, it uses a user-friendly Emperon controller to process and print pages quickly and orderly. Emperon supports numerous network protocols like TCP/IP, NetWare and EtherTalk. It is also compatible with Postscript 3, PCL 6, Windows and Macintosh environments. It is powered by 300 MHz PowerPC CPU to ensure simplified printing even with complex files. Another feature is the PageScope that provides supply status and remote printer configuration and management. It also uses Konica Minolta's Simitri Polymerized Toner in order for the printer to create clearer and more vivid images plus crisp and full texts. The use of this printer reduces 30% of the usual toner consumption and still keeps the printer clean.
Magicolor desktop printer has a 9600 x 600 dpi-class resolution. This is the reason why it can deliver photographic details as well as brilliant and consistent color gradients. The use of Enhanced Automatic Image Density Control (eAIDC) is maximized to achieve color accuracy and consistency. eAIDC automatically calibrates the printer to achieve high quality print for a long period of time. It is also equipped with automatic ICC-based color matching and lively contone screening built. Both of the foregoing advanced features were designed to optimize easy automatic color and print correction.
Magicolor 2450 package comes with a set of printing supplies including ink (cyan, magenta, yellow and black) with their all-in-one imaging cartridges. Aside from that, the company is also giving a one-year guarantee to all purchasers. To purchase the same, purchasers can login to http://www.buymagicolor.com.

About Rush Printing Services
Rush Printing Services is a printing company committed to meet even your most intricate and difficult printing needs. It offers a wide variety of custom printing needs using its high definition printing technologies. For queries, you can visit them at http://www.rushprintingservices.com.

# # #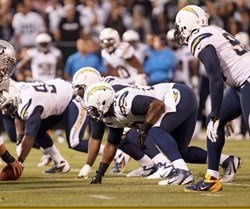 Newport Beach, California (PRWEB) November 20, 2013
NVISION Laser Eye Centers is giving away two tickets to the final game of the season – San Diego Chargers versus the Kansas City Chiefs – on December 28, 2013. NVISION is the official LASIK center of the San Diego Chargers.
"I have performed LASIK surgery on several San Diego Charger players, including Malcolm Floyd, Kassim Osgood and Quentin Jammer," says Dr. Max Parikh, a LASIK surgeon at NVISION Laser Eye Centers La Jolla, Calif. location.
Below are just a few San Diego Charger players' testimonials about their LASIK with NVISION:
"Thank you Dr. Parikh for making me a better football player."

Quentin Jammer, Chargers Cornerback #23.
"My vision is amazing after LASIK. Thank you so much Dr. Parikh! You guys are the best!"

Kassim Osgood, Chargers Wide Receiver #81
As the San Diego Chargers Official Team Ophthalmologist, Dr. Parikh knows the importance of precision in LASIK San Diego procedures. And, having undergone LASIK surgery himself, he understands the process both as a surgeon and as a patient.
To register to win the San Diego Chargers' tickets, go to http://www.nvisioncenters.com/chargers.
About NVISION Laser Eye Centers
NVISION Laser Eye Centers is an innovative leader in lifestyle surgical eye care with 15 locations throughout California. NVISION is the first provider in California to offer LASIK eye surgery with the Swiss-engineered Ziemer Femto LDV™ Crystal Line Laser. In addition, NVISION is the first provider in California to offer the bladeless, computer-controlled LenSx laser -- unquestionably the most technologically advanced option for laser cataract surgery, and the first in the nation to offer Avellino DNA testing for an added level of LASIK safety.
With more than 1500 eye doctors who refer their patients and trust their own eyes to NVISION surgeons, NVISION Laser Eye Centers is the Eye Doctors' #1 Choice®. For more information, visit http://www.NVISIONCenters.com or call 1-877-91NVISION (1-877-916-8474).
Related Computer Press Releases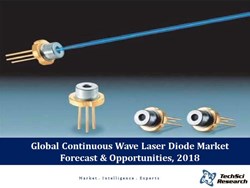 (PRWEB) October 23, 2013
Rapid growth and increased acceleration of display applications market has been driving the market for laser diodes for several years. Over the last few years, the market for diodes has witnessed noteworthy changes in terms of output enhancement and scope in various industries. Continuous wave based laser diode is one of the key markets in the laser diode industry and is growing profusely as a result of its introduction in applications such as consumer electronics, defence/aerospace, telecommunications, industrial, etc.
According to a recently published report by TechSci Research "Global Continuous Wave Laser Diodes Market Forecast & Opportunities, 2018", the global continuous wave based laser diodes market is expected to cross US$ 5.9 Billion by 2018. Increasing applications such as Pico-Projectors, Head-Up Display, Biomedical Instrumentation, Blu-Ray and Gaming Consoles are expected to drive the market for continuous wave laser diodes globally. Osram Opto Semiconductors, Coherent, Newport and Nichia are the leading players in the laser diode market.
The continuous wave based laser diodes are being deployed for material processing, telecommunications, storage devices, laser pointers, etc. Global continuous wave based laser diodes market is expected to see dramatic changes over the next five years because of the increasing applications in consumer electronics and defence sectors. Emerging applications such as head-up display and panels in automotive market are also contributing significantly to the growth of laser diodes market.
"Green laser diodes are the newest technology in the continuous wave based diode market and the market is still at a nascent stage. During the next five years, it is expected to be the fastest growing segment in the laser diode market because of its increasing usage in head up display and Pico projector applications. These diodes are capable of providing more polarized output and this segment's growth is likely to be driven by the growth in automotive, consumer electronics and defence applications", said Mr. Karan Chechi, Research Director with TechSci Research, a research based global management consulting firm.
"Global Continuous Wave Laser Diodes Market Forecast & Opportunities, 2018" has analyzed the potential of laser diode market and provides statistics and information on market sizes, shares and trends. The report will suffice in providing the intending clients with cutting-edge market intelligence and help them in taking sound investment decisions. Besides, the report also identifies and analyses the emerging trends along with essential drivers and key challenges faced by the industry.
Related Tech Press Releases
Dallas, Texas (PRWEB) July 24, 2013
The global 3D Scanning market is estimated to grow from an estimated $ 2.06 billion in 2013 to $ 4.08 billion by 2018, at an estimated CAGR of 14.6% from 2013 to 2018.
3D scanning is one of the growing areas of applications amongst a wide range of 3D technologies. This technology is well suited for complex geometries that require a high degree of precision. This precision technology generates highly accurate and quick results, as it uses a laser beam for capturing digital information about the shape of any physical object. The technology is widely adopted in various industry verticals, such as architecture, healthcare, manufacturing, aerospace, forensic and power generation. With continuous advancements in the technology, the demand has risen for portable 3D scanners and other 3D scanning services.
A few of the major players in the market are Faro Technologies, Konica Minolta, Creaform, Surphaser, Autodesk, 3D Systems, 3D Digital Corp. and others. The 3D scanning research report analyzes global adoption trends - evolving platforms and forces in this rapidly emerging market. The report also focuses on opportunity analysis, competitive landscape and estimates the market size with forecasts, across multiple verticals and regions.
The report also focuses on various geographical markets for each of the sub segments within the 3D scanning environment. The major geographical regions include North America, Western Europe, Eastern Europe, Asia Pacific including Japan, Middle East and Africa, and Latin America. This report segments the 3D Scanning market (http://www.reportsnreports.com/reports/266570-3d-scanning-market-by-devices-optical-laser-structured-light-range-short-medium-large-solutions-portable-pcmm-services-reverse-engineering-quality-inspection-rapid-prototyping-worldwide-market-forecasts-and-analysis-2013-2018-.html) by type of 3D scanners, 3D Scanning by range, solutions, applications, services, verticals and geographical regions.
On the basis of type of 3D Scanners:

The market is segmented into: Optical scanners, Laser scanners, Structured-Light based scanners, and others.
On the basis of Range:

The market is segmented into: Short range, Medium range and Long range scanners.
On the basis of Solutions:

The market is classified on the basis of solutions into: Portable 3D scanners, Portable Coordinate Measuring Machine (PCMM) and others.
On the basis of Applications:

The market is classified on the basis of applications: Quality Control, Computer Aided Inspection, Cultural Heritage and others.
On the basis of Services:

The market is segmented on the basis of services into: Reverse Engineering, Quality Inspection, Rapid Prototyping, Face and Body scanning, others.
On the basis of Verticals:

The market is segmented on the basis of verticals such as aerospace & defense, entertainment & media, medical & healthcare, architecture & engineering, oil & gas, energy, power & utilities, automotive & transportation, manufacturing and others.
On the basis of Regions:

Geographical regions are classified into North America, Europe, Middle East & Africa, Asia-Pacific (APAC), and Latin America.
Buy a copy of the report @ http://www.reportsnreports.com/purchase.aspx?name=266570. Alternatively can get DISCOUNT @ http://www.reportsnreports.com/contacts/discount.aspx?name=266570.
Company Profiles (View, Overview, Products & Services, Financials, SWOT Analysis And Strategy & Analyst Insights):

1.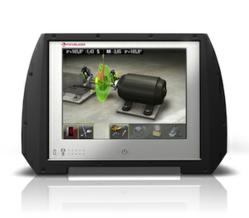 Richmond, Virginia (PRWEB) April 10, 2013
The new Fixturlaser NXA Pro laser-based shaft alignment tool utilizes the latest technology in digital signal processing, as well as other innovations, to provide faster and even more intuitive operation, but with advanced functions and capabilities.
"A revolution in usability" says Elos Fixturlaser's CEO Hans Svensson about the new high-end system for precision shaft alignment, the Fixturlaser NXA Pro. "If we can provide the ultimate shaft alignment system when it comes to usability, we will help thousands of companies worldwide to become more efficient, reducing waste of both components and energy. We believe strongly that if all rotating equipment in the world were aligned within specifications we would have a much healthier environment. An alignment system that is as easy to use as the Fixturlaser NXA Pro will pave way for this result."
The new Fixturlaser NXA Pro alignment system replaces the Fixturlaser XA Professional system, incorporating numerous innovations and improvements. The innovations start with a new display unit with a 6.5inch touch screen with video game style realistic graphics and include a completely redesigned set of transmitter/detectors.
A MEMS (microelectromechanical systems) gyroscope in the display unit powers the new OmniView function. With OmniView, the screen display changes in real time to always show the machine being aligned from the same viewing angle as seen by the operator, i.e., the system logs the users position and keeps track of it in relation to the machine. No other laser alignment system can do this.
The new sensors use a 2nd generation scientific grade CCD technology with 'best-in-class' accuracy as well as increased reliability. Resolution of the 30 millimeter vertical sensors is equivalent to the vertical resolution of ultra high-definition television. Updated algorithms improve the sensors performance for linearity, sidespot and dirt rejection, and ambient light filtration.
The redesigned sensors now offer the smallest form factor on the market, with batteries and Bluetooth communication built-in, providing for easier access on machines with limited space. The new high performance inclinometers incorporated into the sensors have 2.5 times higher accuracy and 10 times higher resolution than the previous generation. In addition to the new inclinometers, the sensors also have built-in MEMS gyroscopes, allowing the system to track shaft rotation angle, even when placed in the vertical orientation required for performing a vertical shaft alignment. No other laser alignment system can do this.
Power management has been completely redesigned for the new NXA Pro to provide the industrys best operating times while using 40% less power. The system operates, under continuous use, for up to 10 hours between charges. (The sensors can continuously measure for 17 hours without charging.) Also included is an advanced 1-hour quick-charge feature.
Reporting and data management has also been updated. Reports can easily be downloaded to a USB drive.
The Fixturlaser NXA Pro continues to support the Verti-Zontal Compound Move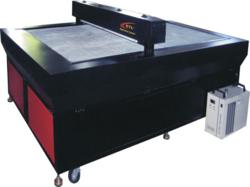 (PRWEB) July 12, 2012
Eastern Laser, the premier laser machine manufacturer, offers new laser engraving machine ETC-2516 for leather engraving. According to Eastern Laser, ETC-2516 is usually used for leather engraving of upper vamp, handbags, and dermises, boxes and cases, and so on.
The processing forms include drilling holes, drawing lines on the surface or cutting pictures. The process requirements: no yellowing on the surface of the lines, the bottom color of the materials should be showed, no blacking at the incision of the dermis, the engraving is clear. Materials include synthetic leather, PU leather, PVC leatherwood, Rough dermis materials, semi-products, various kinds of leather upper materials, and so on. The engraving speed is determined by sizes of graphics. The slower speed, 0.8 meter per minute, is for small pictures and the higher, 1.5-3 meters per minute, is for big pictures. The optical density 75% is enough to breakdown most leathers. The speed of dermis cutting will be slower, 0.4-1.2 meters per minute and the optical density is 60-75%. The incision of dermis will black. Air slash will generate oxide layers. Its difficult to meet the requirements of no blacking at the incision of dermis. To meet these requirements, some processing is need, such as move away the blacking edge with plasticizes. And until now, there is no resolution to the odor generated in the cutting process. Cutting with nitric require high pressure nitric and its of slow speed and high cost. But its of better effect to cut non-oxide layer. Different leather should use different cutting methods. For example, in marking of leatherwood, the leather can be wetted first and then marking for better effect. For cutting of dermis, masking tape can be laid on to avoid yellowing; blacking of incision need special treatment.
Laser machine can mark characters, serial number, date of production, bar code, two dimensional bar-code etc. Moreover, product Numbers, serial number or the date, time can skip automatically. A laser target text& graphics is so clarity, and can not be altered or erased, facilitating product quality and tracking system more effective, whats more, colluding, fake or out of date products can be prevented.
Laser marking machine can process all metal products, such as: stainless steel, iron, copper, aluminum, gold, silver, alloy and all the metal oxides , which is widely applied in hardware products, jeweler, watches, integrated circuit (IC), plastic buttons, mobile communications, automotive parts, tableware, sanitary ware, hardware tools, electric appliance, medical equipment, etc.
(PRWEB) May 28, 2012
The digital control laser cutter by Eastern Laser is designed and manufactured in accordance with the principle of constant light; its cutting power would not be affected by the optical path, which ensures the evenness and consistency of the cutting. Besides, this laser cutter applies cross travel table to the working platform; therefore, it enjoys the features of easy maintenance and reasonable structure.
Eastern Laser digital control laser cutter is equipped with high quality axial high power CO2 laser generator. The laser beam output comes from the laser generator and then focuses on the laser cutting head after being treated and transmitted by the optical path system. Furthermore, this co2 laser cutter is assisted with cutting gas and under precision driven by the digital controlled machine. This laser cutter can perform perfect laser cutting on all kinds of metal and nonmetal boards.
With the functions of CAD/CAM automatic programming and optimizing the lay-outs, the controlling software of Eastern Laser digital control laser cutter runs on windows operation system, and can identify many kinds of CAD graphics. In consideration of customers 'convenience, user can also build their own laser cutting database and then select the processing program directly from it.
The main components of this digital control laser cutter, such as CNC system, servo motors & drivers, precision straight ball-guide, precision ball bearing screw rods, optical lens, are all imported originally from USA to ensure the reliability and stability of the machine.
Eastern Laser digital controlled laser cutter is also equipped with two-temperature cooling units, optional regulated power supply, oil-free air compressor, freeze drier, dust-exhausting equipment and other auxiliaries to ensure the normal running of the whole units.
Precision digital controlled machine uses high rigidity framework body featuring good rigidity, stability and dynamic performance.
The three axes are driven by servo motors from Japan Mitsubishi and Panasonic featuring good performance, quick reaction and free of maintenance.
By adopting the famous precision ball screws from Japan and Korea to transmit power, this machine operates accurately in according with the direction of ball linear guides.
The cutting head could automatically follow and adjust distances between parts to ensure fixed focus, which improves the cutting quality.
Find More Graphic Press Releases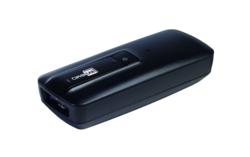 Plano, TX (PRWEB) May 30, 2012
CipherLab, a leading innovator in Automatic Identification and Data Capture (AIDC) has delivered a new scanner 1662 laser scanner to the 1600 series of pocket-sized scanners. Easily to be carried around, this scanner is also equipped with laser reader to better assist your field staffs when capturing barcodes under the bright sunlight. Additionally, the long lasting battery life of 1662 laser scanner makes it a must-have tool for your mobile staffs.
While being operated in outdoor environments, the scanners performance may be affected by sunlight. We hence developed an additional reader option for field workers who have to deal with the situation every day, commented Sherman Chuang, President of CipherLab. We have confidence that the 1600 series laser scanner can not only get the jobs done but also done better.
In addition to these features, the 1662 laser scanner comes with software tools for easy configuration coupled with a large 4 MB on-board memory which provides flexibility in data storage. It is also equipped with Bluetooth
Laser Atlanta Upgrades Its SpeedLaser® Models











Norcross, GA (PRWEB) September 21, 2010
Laser Atlanta, LLC announced improvements to its product line that contain several upgrades in hardware, software, and feature sets to develop the current "Level 4" SpeedLaser. These enhancements are now available on every model offered including the S (standard), B (binocular), and R (rugged).
The new and advanced improvements include:

1. HUD (heads-up display) that auto rotates in a horizontal or vertical position depending on operation and HUD optics with newly designed combiner.

2. HUD display which indicates speed, range, or both.

3. An all-inclusive logic processor with additional RAM, ROM, and a more user friendly interface.

4. New firmware/software upgrades which include:

         a. Following to Close™ special "tail gating" software that measures distance between vehicles.

         b. New Stealth Mode™ operation that is undetectable by most laser jammers.

         c. New jammer algorithms to anticipate newly designed laser detectors.

5. New updated CPU board which supports our high resolution encoder.

6. New CPU board which supports the Dual Access HUD.

7. Optional improved video camera (SpeedProof™ Evidence Recorder) with 2X the amount of zoom and brighter picture.

8. Optional wireless Bluetooth® technology with its patented methodology.

9. Optional 9V battery handle with disposable or rechargeable 9V batteries and wall charger.

10. Service support now includes "while you wait" annual certifications and 48 hour turnaround policy for repairs.
Laser Atlanta is the original developer of the SpeedLaser LIDAR based speed detection technology and has thousands of units in force throughout the world. The enhanced Level 4 models now have the most advanced technology available in the market today at a price that affordably enables law enforcement agencies to provide the technology to their entire fleet.
Laser Atlanta developed and launched the Level 4 enhancements after extensive research and investment in technology applying the latest available developments in LIDAR and optics.
Laser Atlanta's management stated, "We are delighted to be able to offer these new technologies, features and upgrades. Our speed detector product line excels in the industry as the fastest, reaching out the farthest and being the most feature rich. Additionally, our products have the best maintenance 'total cost of ownership' in the industry. Laser Atlanta products are superior in reliability, accuracy, value and service excellence."
Other advantages of the SpeedLaser include:

Patented true speed accuracy validation technology with the highest quality courtroom credibility and outstanding range (up to 7,000 feet/2,133 meters)
Rugged housing manufactured out of GE Lexan®
Jammer detection
Automated daily test
Available Bluetooth wireless technology
Dot and crosshair HUD, RS232 data output
International Association of Chiefs of Police (IACP) listed
SpeedLasers are designed and manufactured in the USA with low cost software upgrades available to law enforcement and the best warranty in the industry. The R and S models have an available 8x user installable monocular scope and USB/SD storage. The R model has video capture options as well as print and photo evidence capabilities.
About Laser Atlanta

Since 1989, Laser Atlanta has been one of the leading innovators in the design, manufacture and sale of LIDAR products. We use our unique laser platform to provide ranging solutions for the military and civil engineering community. Since 1991, Laser Atlanta has been the trendsetter for LIDAR speed detection devices for law enforcement. With the fastest acquisition time, longest range and proprietary Stealth Mode™, SpeedLasers produce tickets that stick even against drivers using jammers. With three models from which to choose, the best warranty in the business and all-weather use, SpeedLaser LIDAR is the World's Best for the World's Finest™. Visit http://www.LaserAtlanta.com for more information.
SpeedLaser® and Laser Atlanta are registered trademarks of Laser Atlanta, LLC. All other trademarks are the property of their respective owners.
# # #
©Copyright 1997-
, Vocus PRW Holdings, LLC.
Vocus, PRWeb, and Publicity Wire are trademarks or registered trademarks of Vocus, Inc. or Vocus PRW Holdings, LLC.
Related Cpu Press Releases