Houston, TX (PRWEB) October 8, 2005
On the side of every U-Haul truck or trailer, the motto 'Moving made easier' clearly states the benefits of using U-Haul products and services. The same could be said in the case of the move U-Haul made from NetManage and other terminal emulators to Zephyr's PASSPORT WEB TO HOST. U-Haul employed its 'can-do' spirit to replace the aging desktop terminal emulators with Zephyr's web to host terminal emulation, resulting in a considerable saving of resources.
U-Haul is the nation's leading do-it-yourself-moving company with a network of more than 15,000 locations in all 50 United States and 10 Canadian provinces. The 60-year old industry giant has the largest rental fleet in the world, with more than 93,500 trucks and 85,000 trailers. U-Haul has also been a leader in the storage industry since 1974, with more than 340,000 rooms, more than 33 million square feet of storage space and more than 1,000 storage facilities throughout North America.
There were a number of benefits U-Haul sought to gain in the transition to PASSPORT WEB TO HOST, including:
Migration to a 32-bit terminal emulation suite to access CA Visual Express application
Less CPU utilization on the desktop
Migration to a browser-base emulator, making it easier to deploy to each workstation in the corporate office
Resolution of an outstanding 3270 host printing issue
Replacement of three emulation programs with a single solution
Use of a centralized emulator for IBM mainframe, UNIX and AS/400 access, which would ease PC support and simplify the troubleshooting of connectivity problems
U-Haul chose PASSPORT WEB TO HOST over a number of other solutions because:
The software featured a simple server installation (easy installed on a Microsoft Windows 2003 Server running IIS)
They were able to get their end users up and running in seconds
Found that PASSPORT contained all of the functionality they required, and was written in a straightforward way so that users can customize the emulator without any prior training
The solution was designed specifically for IP communication
Efficient use of the desktop's CPU, which could be free resources for other applications
About PASSPORT WEB TO HOST
PASSPORT WEB TO HOST is a browser-based terminal emulation suite that can be deployed from a centralized web server, including Apache/Tomcat, BEA Weblogic, IBM WebSphere Application Server or Microsoft IIS. Designed for Internet Explorer and Microsoft Windows, the application offers TN3270E, TN5250E, VT220, SCO ANSI, Wyse 60 and FTP clients for access to IBM mainframe, AS/400 and UNIX host applications. Offering 3 application programming interfaces, the package can be used for client-based host integration that requires screen-scraping of host applications.
Download a trial copy of the PASSPORT WEB TO HOST application:
http://www.zephyrcorp.com/downloads/web-terminal-emulator.asp
For more information on U-Haul International, Inc and its services, visit http://www.uhaul.com.
# # #
Find More Cpu Press Releases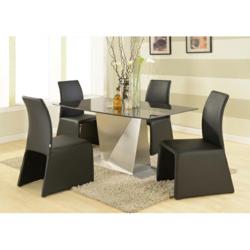 (PRWEB UK) 31 December 2012
Leading furniture supplier of UK, FurnitureInFashion is here to surprise its customers by offering a distinctive and stylish dining range of Monaco black granite with dining chairs. The company takes pride in launching this beautiful six seater range which can complement any given modern and contemporary d


FRANKLIN, Tenn. (PRWEB) August 24, 2012
Metova, Inc. has made the 2012 Inc. 500|5000 list of the fastest-growing private companies in America. This is the second year in a row the mobile app developer has cracked into the rankings. Listed 1614 overall, Metova cited a three-year growth rate of 182 percent.
The Franklin, Tenn. based company, ranked 17th out of the 49 Middle Tennessee area companies that made the list. The company also ranked 125th nationally within the software industry.
Last year was the first time that we were eligible for the list, so making it these last two years ever since weve been able to says something really special about our company, staff and the work that we produce for our clients, said Kevin Ross, president and founder of Metova. Were excited to continue to push the envelope in mobile and tablet app development, changing and growing as our industry continues to move forward.
Metova, which now employs 25, has grown rapidly from its startup roots in 2006 as an early player in the mobile industry. The company develops custom mobile applications for smartphone and tablet platforms, including Android, iOS, BlackBerry and Windows Phone. Its base of full-time employees has more than doubled over the last three years. In 2011, Metova was one of only five companies in Tennessee to be listed on Inc.s 500 list, ranking 492nd.
According to the magazine, companies are chosen for the list by comparing revenue growth from 2008 to 2011. Companies must be U.S.-based, privately held, independent, for-profit and not a subsidiary or division of another company. Revenues in 2008 must have been at least $ 100,000 and at least $ 2 million for 2011. The 31st Annual Inc. 500|5000 Conference and Awards Ceremony will be held October 3-5, 2012 in Phoenix.
Previous Inc. lists have included such tech powerhouses as Microsoft, Vizio, Intuit and Oracle. The full 2012 list can be accessed at http://www.inc.com/inc5000.
Metova, Inc. is a software company that develops custom mobile applications for smartphone and tablet platforms, including Android, iOS, BlackBerry and Windows Phone. Founded in 2006 by Kevin Ross, the company of 25 employees is based in Franklin, Tenn. With more than 150 clients, Metova works with the worlds most respected brands, including members of the social, media, technology and health care industries. Metovas goal oriented, agile development process is guided by the principles of innovative and simple design and superior customer service. You can find Metova on Facebook at Facebook.com/Metova, Twitter at Twitter.com/Metova, or on the Web at Metova.com.
The Printing on the Wall: CGSM Redesigns Itself for Tenth Anniversary











Wilton, CT (PRWEB) June 20, 2006
As the largest direct marketing event of the year kicks off in New York City today, Canterbury Graphics Strategic Marketing (CGSM) is celebrating a decade of industry-leading changes that have enabled it to provide services for every link of the direct marketing supply chain, from design to execution.
When Mark Kolier launched Canterbury Graphics here ten years ago, he called himself a print manager to distinguish the services he provided from print brokers who just put deals together. He was already looking into the future.
"Printers are no longer in the print business," Kolier says. "Today they're in the communications business."
Back in 1996, marketing departments still had specialists on staff for every phase of print production, and print salesmen just took orders and put ink on paper. That was before every business had a website and the printing industry was blindsided by an explosion of electronic documents.
A veteran of the print production business with more than 20 years experience, Kolier saw the changes happening and knew he had to act. He recognized early on that the business model that had made Canterbury Graphics successful in the past wouldn't work in the future. Print production used to be a separate component in direct-marketing, tacked on the end of a chain of related activities. Managing print production was what Canterbury Graphics did, but Kolier saw it wasn't going to be enough anymore. To stay ahead of evolutionary changes in direct marketing, he needed revolutionary changes in Canterbury Graphics.
The new model
Today, print production, and all the other activities involved in a successful direct marketing campaign, are integrated into a strategic process. To facilitate that process, Canterbury Graphics, under the new name Canterbury Graphics Strategic Marketing, has been redesigned to provide the breadth and depth of skills required for every piece of the direct marketing supply chain from design to execution.
Room for error has gotten smaller as the supply chain for direct marketing has gotten longer. "Planning is everything," Kolier says. "We have to work backwards to understand what kind of job it is, how it's being distributed, what class of postage we're using, how far back do we have to order paper to make sure that it will meet the press date, when do we need to do our postage requests, data requests, artwork requests. Now that we've added data modeling, we're more frontloaded than ever."
You want it WHEN?
One thing hasn't changed, Kolier says: "The most important thing for a customer today is still completing his or her job on time. It's just that today," he adds, "there is a lot more involved in getting the job done than there used to be."
Kolier has built the new CGSM around providing all the skills and services that are needed to consistently exceed the expectations of its direct-marketing customers. Today it even offers email marketing and web initiatives. As part of its commitment to expanding its scope, CGSM hired Peter Stein as Director of Business Development in February. Stein is responsible for helping clients acquire new customers and retain existing ones through the use of data modeling and analytics and the development and execution of targeted marketing programs.
CGSM customers today have the flexibility of choosing from an expanding menu of services to complement their own abilities, and CGSM has the certainty of knowing that nobody knows all the facets of direct marketing better than CGSM.
As complex as print production for direct marketing has become, one simple principle still applies, Kolier says: "At the end of the day, your customer has to benefit from whatever you are doing. We never lose sight of that."
CGSM customers appreciate its proactive diligence.
A contact you keep
"What CGSM is doing now is certainly consistent with where marketing practices are going," says David Adelman, founder of New York-based OCD-Media, a media planning and buying agency. During his career Adelman has been director of media planning at Initiative Media and TN Media, associate media director at D'Arcy Masius Benton & Bowles and has held senior level media positions at Schering-Plough, McCann-Erickson and Saatchi & Saatchi. Everywhere he's been in the last ten years, he's kept Mark Kolier's business card handy. "CGSM consistently exceeds all quality expectations and, because Mark knows the print and paper markets so thoroughly, he can often come in at a price that is substantially less than anyone else. I first worked with Mark ten years ago when I was at Schering-Plough, and I haven't used anybody else since."
Meeting deadlines at the New York Sun
Deadlines have a special meaning to anyone in the publishing business and anyone who helps you meet them earns a special appreciation. Linda Seto has worked in the circulation department of several magazines and newspapers and is currently Circulation Director of the New York Sun, New York's newest broadsheet. Seto has been relying on Kolier and CGSM for a range of inserts and direct-mail packages since 2000. Besides CGSM's ability to be a one-stop-shop for all her projects, "The best thing about them," she says, "is when I have a tight deadline, they always meet it. If I tried calling around to individual printers, they would have said, 'Forget it'. Mark's a great guy and the staff is wonderful," she adds. "They keep me on schedule."
Today, print production is a strategic communications service. It's not just about ink and paper and selecting the right printer. It's about marketing strategies and creative design; it's about modeling and data analytics; it's about variable data printing and targeting the right audience.
"It's about time," says Kolier.
About CGSM
CGSM is a privately-held direct-marketing agency specializing in the marketing strategy, design and production of direct mail-packages and inserts. Its print production skills combined with a focus on data analysis and modeling make it possible for CGSM to offer a unique approach to customer acquisition and retention that takes into account all the complex details of a direct-mail marketing campaign without ever losing sight of the overall business objectives. For more information, please visit http://www.cgsm.com or call 203-563-9233.
For a press kit or to schedule an interview, please contact Arthur Germain of Communication Strategy Group by phone at 631-239-6335.
Media contacts:
Arthur Germain, Principal, Communication Strategy Group for CGSM
631-239-6335
http://www.gocsg.com
# # #






Attachments

















©Copyright 1997-
, Vocus PRW Holdings, LLC.
Vocus, PRWeb, and Publicity Wire are trademarks or registered trademarks of Vocus, Inc. or Vocus PRW Holdings, LLC.
Houston, TX (PRWEB) December 12, 2006
Texas Memory Systems, Inc., makers of the World's Fastest Storage®, announced that Fox River Financial Resources, a highly-skilled stock trading company, has successfully accelerated its Oracle database with a RamSan solid state disk to gain a competitive advantage in the highly competitive stock trading arena.
Fox River electronically trades equities, options and futures for top-tier institutional investors. Fox River promises clients trade executions at a set price that is better than they can obtain themselves, thus increasing the profit on trades. To trade competitively Fox River depends on its proprietary Oracle-based software system to rapidly gather and analyze market data. This computing system maintains in excess of 20 terabytes of data.
"The RamSan has greatly improved our transactional ability so we can deal with more customers and a lot more transactions," said James Moskalik, Director of Technology Services at Fox River. "Without the RamSan, it wouldn't be possible to capture rapidly incoming options tick data. Overall, Fox River has gained significant competitive advantage thanks to its investment in a Texas Memory Systems solid state disk."
Solid state disks are typically used alongside traditional storage to allow IT managers and database administrators to increase the number of concurrent users and simultaneous transactions without adding servers, RAM, or monolithic RAID. The Texas Memory Systems RamSan-400 used by Fox River can deliver 400,000 I/Os per second, 3,000 megabytes per second of bandwidth, and sub-15 microsecond response time.
"Technology is used as a weapon," added Mr. Moskalik. "We are pitting our technology against our competitors. In this business, you really do live and die by how good your technology is. Milliseconds make a difference here. For example, one of our batch processes went from over 3 hours to under 20 minutes when we moved to the RamSan."
A more detailed case study of Fox River's use of a solid state disk for competitive advantage is available on the Texas Memory Systems web site: www.texmemsys.com.
About Fox River
Fox River Financial Resources is a privately held trading company that provides multiple trading services for equities, options and futures. They also offer algorithmic execution for a diverse client base of institutions, hedge funds and broker dealers. Fox River delivers a superior service to clients by combining the best mathematical minds, trader talent and technology. More information is available by sending an email to info @ foxriver.com.
About Texas Memory Systems
Texas Memory Systems (http://www.texmemsys.com) manufactures the World's Fastest Storage® and is the market leader in solid state disk technology. Their RamSan line of solid state storage is used to accelerate enterprise applications like OLTP databases, batch processes, and data warehouses, modeling and video editing up to 2500%. Founded in 1978, they sell direct to large enterprise and government organizations. They also sell through OEM and reseller partners.
Texas Memory Systems, World's Fastest Storage, RamSan and Active Backup are trademarks or registered trademarks of Texas Memory Systems, Inc.
# # #