(PRWEB) October 14, 2004
LapiStor Ltd, the international RAID data storage specialist, has opened an office in Italy – thus further extending its network of offices and representation across Europe.
With offices in UK, Israel and the USA - the new office in Italy is regarded as an important extension of the company's presence in southern Europe, providing enterprise networks with enhanced RAID data storage protection and business continuity.
Management of the new office will be the responsibility of Morganne McNab who has over fourteen years experience in international sales and account management, serving an OEM and Distribution customer base in the IT industry. Having worked for both Quantum Corporation and Seagate Technology, she has more than ten years experience in the data storage industry and, most recently, has collaborated with Giga Designs on a new business venture in the European CPU market.
Tony Howard, Managing Director of LapiStor, said "The new office in Italy will create an ideal platform for us to support both Channel & OEM partners throughout southern Europe. This development further extends our market presence across the continent and will give us closer coverage of the Italian market. I am confident that Morganne McNab, who is an energetic and experienced, multi-lingual business manager, will quickly build up a strong centre for the company and its customers in this important part of Europe."
The contact details for the new office in Italy are:- LapiStor Ltd, Milano, 20154, Telephone : +39 349 64 25 798, website http://www.lapistor.com, email morgannem@lapistor.com .
About LapiStor
LapiStor, is a UK based company with a strong international outlook that specialises in the design and manufacturer of high-performance and cost-effective RAID solutions for markets worldwide. The company, which is a member of SNIA Europe, is noted for its comprehensive capability, which enables it to provide reliable storage solutions - based on specialist expertise.
LapiStor designs solutions that exploit S-ATA drives for value, and Fibre Channel and SCSI drives for performance and scalability. The company's wide range of products is often used to expand storage capacity in SAN environments or can be directly attached to servers (DAS/SAS) and is designed for four to 24 Bay enclosures.
Its RAID units are used not only in IT departments and networks, but also in specialist roles, including CCTV, Telecommunications, ISPs, Seismic recording, and Voice recording.
LapiStor designs and builds its own branded solutions, which include the StorPacTM and DataPacTM ranges of products. These can obtained via the company's network of authorised distributors and resellers or directly from the manufacturer. In addition, as a bespoke sub-contractor, LapiStor, also, designs and builds data storage solutions for OEMs, Value Added Integrators and Solution Providers. The company offers full customer branding of the product, including packaging, manuals, logos and GUI. An important area of activity within the company is the provision of engineering services to OEM and other customers in the design of their own RAID solutions.
Founded in 1999, the company's high-quality, RAID-based, storage units are designed and assembled in LapiStor's own ISO9001 certified factory at Leeds in Yorkshire. The company, also, has regional sales offices in the UK, USA, Israel and Italy at Tunbridge Wells, Seattle, Herzelia and Milan, respectively. Technical Support Services are based in the UK & USA
LapiStor Ltd, New Works, New Line, Greengates, Bradford BD10 9AP
Tel 01274 610800; Fax 01274 610888
Email: sales@lapistor.com
Website: http://www.lapistor.com

PR Contact : Paul Calderwood
Kingswood Marketing & Public Relations
Park House, 45 Pampisford Road, Purley, Surrey CR8 2NJ
Tel No 020 8763 2241; Fax No 020 8763 2245; Mobile 07785 316337
# # #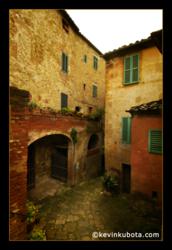 Bend, OR (PRWEB) July 10, 2012
Over the past several years, photo-industry icon, Kevin Kubota, has done seven workshops in Italy. This year it'll be program number eight, September 30 - Ocotber 6, 2012. What makes this program so unique is that it's only open to twelve attendees. Cost is $ 4875 per person and includes all transportation, accommodations, tours and most meals with wine. The workshop includes daily photo excursions and outstanding classroom time with instructional help with photo projects, workflow and image enhancement. The only requirement is a passion for photography and your gear - the Kubota team will help you with the rest!
MORE DETAILS:

Each day of the workshop will include trips to wonderful attractions such as castles in the region, production facilities for local cheese, oils, and balsamic, wineries, cooking classes, and more. The local guides will lead the group to some of the most picturesque locations of the famed region, and along the way Kubota will help each participant with different aspects of their photography, from capture to workflow techniques.
"The Secret Italy trip was fantastic!" said Shane Rodimel, a past Secret Italy attendee. "The convenience of having everything planned out for us from each stop along our way that offered incredible photo ops, all the way down to the wonderful Italian dinners we shared together. All we had to do was show up! My wife, who is not a photographer, had an awesome time as well. We made many friends and continue to stay in touch. A big thanks to Kevin, Clare, Max and Cristiana for their planning and hospitality. I would do it again in a heartbeat."
This year's workshop is limited to 6 couples or 12 participants, and includes all in-country transportation, accommodations, tours and the majority of the meals. The group will have most meals with wine together daily in order to enjoy each other's company as well as experience true local cuisine. All attendees are responsible for their own airfare to Italy.
For more information on the workshop, please visit the Kubota Image Tools website.
About Kubota Image Tools:
Kubota Image Tools was created by Idea Guy Kevin Kubota to empower photographers with time-saving and creative tools for Photoshop
Pittsburgh Umbrella Company Signs Agreement to Distribute High Fashion Umbrellas from Pasotti Ombrelli of Italy











Miami, FL (PRWEB) March 24, 2006
Pittsburgh Umbrella Company (PUC) and Pasotti Ombrelli reach an agreement for distribution of the highly fashionable and timeless elegance of the Pasotti line of umbrellas. With the extensive network and supply chain that PUC brings to the table and the handcrafted masterpieces made by Pasotti, specialty boutiques will now have access to these high end umbrellas.
Mercedes Zayas, Administrator for Pittsburgh Umbrella Company stated that, "We are thrilled to have this additional line to add to our portfolio of umbrellas." Pittsburgh Umbrella Company will continue to manufacture and distribute it's technologically advanced line of umbrellas. The PUC line of umbrellas are covered in the highest quality material, known as air jet. It has the lowest level of friction on the market, keeping the umbrella and the user dry at all times. Also, the carbon plastic frame is a revolutionary design, adding strength and durability over its steel competitors, with its flexibility and tensile strength. "No where else can you find such a unique combination of high quality materials which come together to produce an umbrella that will outlast any other," said Ramón Zayas, Director of Pittsburgh Umbrella Company.
Pittsburgh Umbrella Company and Pasotti Ombrelli are beginning the ramp up process for the high demand and distribution of the Pasotti line which begins now in Spring.
For more information regarding this agreement or to view the entire portfolio please visit the website where you can also obtain more detailed contact information.
###






Attachments




©Copyright 1997-
, Vocus PRW Holdings, LLC.
Vocus, PRWeb, and Publicity Wire are trademarks or registered trademarks of Vocus, Inc. or Vocus PRW Holdings, LLC.