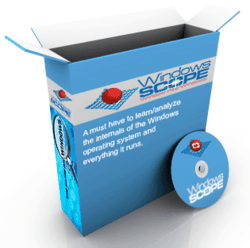 Amherst, MA (PRWEB) March 30, 2012
Designed as a Window into Windows, WindowsSCOPE enables in-depth analysis and reverse engineering of the Windows kernel and all kernel and user-space programs and drivers at a given time, through its unique extraction methods, intuitive representations of information and interactive graphical visualization, including down to single-instruction-level detail.

WindowsSCOPE Law Enforcement provides incident responders and digital forensics investigators with a powerful tool for in-depth analysis of computers running Microsoft Windows. In addition, it provides interoperability with existing tools, allowing it to be used either standalone, or combined with CaptureGUARD memory acquisition hardware or third party software based acquisition methods.

For more information, including demonstration videos and trial downloads, please visit the WindowsSCOPE website (http://www.windowsscope.com).
Find More Computer Press Releases
ad:tech San Francisco Delivers Advice and In-Depth Brand Case Studies for Stronger Returns












San Francisco (PRWEB) March 10, 2009
ad:tech expositions, LLC (http://www.ad-tech.com), the leading conferences and exhibitions organizer for the global marketing community, today announced its annual show in San Francisco to bring together marketers and share practical advice for achieving strong returns from digital advertising in a slow economy. The event will take place from April 21-23 at Moscone Center West.
During the 3-day conference, ad:tech San Francisco will explore media revenue and distribution strategies, expose marketing and branding best practices and tactical takeaways, and quickly bring attendees up to speed on emerging trends, platforms and technologies. Session tracks will drill into real-world case studies, cost cutting, improving returns, and practical training workshops that empower attendees as they head back to the workplace.
Keynote speakers include Jimmy Wales, Founder of Wikipedia, on how to reach today's digital consumer in "their" space, Jason Kilar, Chief Executive Officer of Hulu, talking about disruptive technologies and the flight from traditional to digital media, and Steve Hayden, Vice Chairman of Ogilvy Worldwide, sharing cutting-edge creative. Early bird pricing for ad:tech San Francisco is available through Friday, March 20. The exhibit hall pass, which includes all keynote presentations, is free when registering by March 20.
"This year's ad:tech focuses on delivering practical solutions that will continue to drive business and innovation during these uncertain times," said Drew Ianni, Chairman of Programming and Senior Global Analyst for ad:tech. "Although the economy is struggling and is having a far-reaching impact on many industries, including advertising, the new ideas that are born now will propel the industry for the next decade and strengthen digital advertising and branding."
ad:tech San Francisco is in its 13th year and recently won Tradeshow Week's Fastest 50 award for the show's rapid growth and popularity. In addition to the regular ad:tech conference and expo, three additional events will take place at Moscone West: MobileMix, SMX@ad:tech, and ADSPACE.
MobileMix: Mobile Marketing Conference + Expo

Free to ad:tech full conference attendees, MobileMix is a one-day mobile marketing conference on Tuesday, April 21 that explores the opportunities the mobile channel presents to engage consumers. Mike Wehrs, President and CEO of the Mobile Marketing Association, will keynote the event by surveying the mobile landscape and providing the state of the mobile industry. Other sessions during the day will explore how to best reach the mobile consumer, understanding mobile culture, building brand awareness, and managing your brand appeal and reputation on mobile devices.
Details about the MobileMix conference are available at: http://www.ad-tech.com/sf/adtech_san_francisco_mobilemix.aspx
SMX@ad:tech

This year, ad:tech San Francisco is partnering with Danny Sullivan, Editor-in-Chief of SearchEngineLand.com, and his SMX search conference series to bring attendees the best practices and emerging trends for search engine optimization and marketing for one day on April 22. This conference track includes in-depth conversations on paid search and SEO, and gives an overview of the growing search market.
ADSPACE: Contextual Advertising Conference + Expo

Additionally, ADSPACE - the first and only conference for small to mid-sized publishers wanting to increase their digital revenue on AdSense or similar networks, and advertisers looking to maximize their ROI and optimize ad targeting - will be co-located with ad:tech. Details on the ADSPACE conference are available at: http://www.adspaceconference.com/sf/adspace/.
ad:tech San Francisco will offer conference attendees access to 175+ speakers, 7 keynote addresses, and 50+ breakout sessions with the industry's biggest names including Hulu, Babycenter, Adobe, MTV, Yahoo!, Wal-Mart, Kodak, SFGate, The Wall Street Journal Digital, Forbes, Fox Interactive, MySpace, Marvel Entertainment, NBC Universal, Levi Strauss, and many more.
The exhibit hall will showcase key exhibitors from companies such as Google, Casale, iCrossing, and Rubicon Project, to name a few. A full list of exhibitors is available at:

http://www.ad-tech.com/sf/adtech_san_francisco_exhibitors.aspx.
Platinum Sponsor: Casale Media Gold Sponsor: EDebitPay Silver Sponsors include: Clickbooth; GenieKnows.com; TattoMedia Bronze Sponsors include: AdDrive; Consumer Direct; Neustar; Reply.com Premiere Media Partners include: Fast Company; Forbes; iMedia Connection; MNI Media Partners include: BtoB; DIRECT; Digital Moses Confidential; DM News;eMarketer; MarketingSherpa; Mashable; Mobile Marketer; Personal Life Media; PRWeb; Search Marketing Standard; SmartBrief; Webmaster Radio; Website Magazine Association Partners include: IAB; SF BIG; MMA; OPA; SFAMA; WMA; WOMMA
About ad:tech:

ad:tech expositions, LLC is the leading organizer of conferences and exhibitions for the interactive marketing community worldwide. ad:tech produces the world's largest interactive marketing events held in New York, San Francisco, Chicago, London, Paris, Shanghai, Singapore, Sydney and Tokyo. ad:tech is produced by dmg world media; based out of the company's headquarters in Larkspur, California. For listings of exhibitors, speakers, events and upcoming conference offerings, visit http://www.ad-tech.com.
About dmg world media:

An international exhibition and publishing company, dmg world media produces over 300 market-leading trade exhibitions, consumer shows and fairs each year and publishes 45 related magazines, newspapers, directories and market reports. dmg world media employs 700 people and maintains a worldwide presence through more than 30 offices in the United States, Canada, the United Kingdom, France, the United Arab Emirates, China, India, Singapore, Australia and New Zealand. dmg world media is a wholly-owned subsidiary of the Daily Mail and General Trust plc (DMGT), one of the largest and most successful media companies in the United Kingdom. Additional information on dmg world media can be found at http://www.dmgworldmedia.com.
Media Contact:

Nicole Calvo

Edelman

650-762-2941
###
©Copyright 1997-
, Vocus PRW Holdings, LLC.
Vocus, PRWeb, and Publicity Wire are trademarks or registered trademarks of Vocus, Inc. or Vocus PRW Holdings, LLC.
Related Tech Press Releases