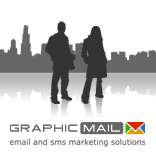 (PRWEB) May 18, 2012
GraphicMail, a leading global hosted email marketing solution, announced today the release of updated Reports metrics that make it easier than ever for clients to track campaigns, analyze results and refine messaging. The redesigned Reports feature a Web 3.0 look and feel with a simplified, single-page data display to deliver powerful new analytics such as industry comparisons, geo-location tracking, detailed recipient activity views, device, email client and operating system statistics and social engagement.
Analytics and tracking are essential to successful email marketing campaigns, says Nick Eckert, CEO of GraphicMail. Our clients have always loved our Reports page, and theyll love the new and improved version even more because its now easier to track campaign progress worldwide and analyze results.
Needless to say, the reports also depict popular analytics such as email deliveries, opens, click activity, bounces and unsubscribe rates over time to enable users to gauge campaign effectiveness.
Clients can also view browser, email client and operating system statistics to find out which technologies and tools their customers are using. Since email newsletter and campaign views vary according to browser, operating system or whether customers are viewing them on mobile or desktop devices, browser analytics can provide valuable insights clients can use to optimize subscriber views and improve campaign results.
The new Reports metrics also allows users to compare their campaign results to industry benchmarks to see how well they perform relatively to their peer group when it comes to measuring email campaign success. Clients can also analyze the geo-location of their customers by viewing a world map that depicts campaign analytics in full detail.
GraphicMail sharpens the focus on recipient activity with a live feed view and new functions that enable detailed tracking of subscriber interactions in real-time. The page displays all relevant subscriber activities chronologically and in an easy-to-understand format.
To support deeper analytics and integration with popular business tools, the new Reports section enables clients to import and export data, subscriber information and more. Additionally, metrics on link or message triggers are also measured in full.
Arguably a first in the hosted, self-service email service provider industry, GraphicMail offers detection by device.
What that means, says Barbara Ulmi, is that you can now detect who in your email list views your mailer on a mobile device or on a desktop. This crucial information gives you the power to further segment your audience and make a positive impact on subscriber experience.
The upgraded GraphicMail Reports function supports end-to-end campaign tracking and analytics to allow clients to monitor and refine email marketing campaigns to generate better results. Find out more about the improved Reports at http://www.graphicmail.com.
About GraphicMail
GraphicMail is a hosted email marketing solution which lets users design newsletters, manage contact lists and track campaign performance. The platform provides seamless email marketing and publishing features that are easy and affordable enough for small businesses, yet powerful for large companies looking for a corporate-scale solution. GraphicMail offers mobile marketing services, such as bulk SMS / text campaigns and SMS sends with links to mobile sites that can be tracked and analyzed. They also offer social media integrations in the form of social sharing features and social data gathering tools. The company has been used by customers such as, Shell, the American Medical Association and Dell Empower since 2002. The product is available in 11 languages and is represented by 18 offices globally.