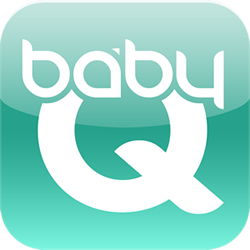 Grand Rapids, Michigan (PRWEB) July 31, 2013
Two tech-savvy doctors are helping expectant moms around the globe with their free app, babyQ, and its sister website of the same name. The app has been downloaded by thousands of women in more than 20 countries since it launched in November. It works by generating a babyQ score based on a brief survey about the users lifestyle, exercise, nutrition and stress level. The user then receives custom tips throughout the pregnancy via push notifications or the babyQ website, with a goal of helping expectant mothers make healthy choices that improve overall maternal and fetal health.
Mark Gostine, MD, of Grand Rapids, Michigan, was inspired to create the babyQ app when his daughter Emily announced her first pregnancy. An anesthesiologist by training, Dr. Gostine has begun dedicating his clinical knowledge and energy to helping women have healthier pregnancies and babies. He teamed up with OB-GYN Gareth Forde, MD, PhD, to develop babyQ. Dr. Forde, currently pursuing a fellowship at the University of California, Irvine, has a background in clinical research.
The babyQ app was developed after researching nearly 40,000 deliveries in West Michigan. Being able to share this valuable information to women all over the world, especially to those who do not have access to prenatal care, is extremely gratifying, says Dr. Forde.
In an era of overwhelming online information and advice geared toward pregnant mothers, babyQ offers custom, research-based, physician-approved data based on common sense. Drs. Gostine and Forde use research from the World Health Organization, the American College of Obstetrics and Gynecology, the U.S. Food and Drug Administration, their own clinical observations, and a wide range of current scientific literature to inform their recommendations.
Dr. Gostines daughter, Emily Brann, says babyQ provides medically sound advice you can use. Brann says the app and website fill a gap in the market for expectant moms. BabyQ is unique. When I first looked for information online, I found plenty of sites with information about the baby's development, but nothing about what I, the mother, could do to improve the baby's health."
We can help women turn on the correct genes while their babies are still in the womb, setting the stage for better physical, emotional, and intellectual development, including IQ, says babyQ co-creator, Dr. Gostine.
babyQ has been used and endorsed by The Bachelors Molly Mesnick and Olympic swimmer Amanda Beard, both new mothers. It won App of the Month from Pregnancy and Newborn Magazine. babyQ is available through the iTunes App Store and works with both iPhone and Android mobile technology.
More about Mark Gostine, MD:
Mark Gostine, MD has been a physician for more than 30 years. He is a proud father of four and a grandfather of two. A native of Michigan, Gostine received his medical degree from Wayne State University in Detroit and is Board Certified in both anesthesiology and pain management. As a practitioner of nutrition, he has been voted one of the best 100 doctors in his field. Currently President of Michigan Pain Consultants and founder of ProCare Systems, he is based in Grand Rapids, Michigan, where he has conducted extensive research on nearly 40,000 deliveries over the years.
More about Gareth Forde, MD:
Gareth Forde, MD, PhD is an obstetrician-gynecologist, clinical professor, researcher, and a father of five. He speaks and publishes extensively on maternal and pediatric health issues and focuses on the field of genetic imprinting in his research and medical practice. Forde earned his M.D. from the University of Minnesota Medical School, a Ph.D. in environmental science from Jackson State University, a masters in molecular and cellular biology from Florida Agricultural and Mechanical University, and completed a post-doctoral fellowship in biophysics at Mount Sinai School of Medicine in New York. He is currently pursuing a fellowship in gynecologic oncology at the University of California, Irvine.
Visit the babyQ website: http://www.babyQ.com Media interviews are available. Contact Emily at 616-350-2073 to arrange coverage.
Related Tech Press Releases