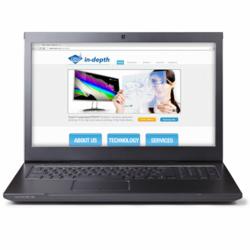 Houston, TX (PRWEB) August 30, 2012
In-Depth Geophysical specializes in on-shore and off-shore imaging and seismic data processing, primarily for the oil and gas industries. Using state-of-the-art technology including 3D tomography, Gaussian beam, Reverse Time Migration (RTM), interactive imaging and fault-constrained depth imaging, In-Depth helps companies to achieve greater efficiency in the discovery and utilization of the earths resources.
In-Depth Geophysicals team of experts includes geophysicists and tech professionals from the corporate world, academia and the oil industry. With their combined 50 years of experience, and with some of the most advanced technology available on the market today, these specialists have developed products, software and services that provide velocity and depth imaging solutions for companies in North America, the Gulf of Mexico and around the world.
Recognizing the need for a more professional image, and a website that better reflects their vision for the future, In-Depth Geophysical decided to develop a new and improved online presence. They asked Houston web design company Adhere Creative to provide an updated website design that is more attractive, user-friendly and functional.
The addition of quality content, streamlined graphics and simple, intuitive navigation enhance the complete redesign and bring the companys site up to date. Simplified forms and live demo capability offer visitors an easy way to get the information they need.
The new site also highlights the partnerships that In-Depth has with some of the companies on the cutting edge of depth imaging and seismic data processing, and their relationships with geophysicists around the world. Links to these resources offer visitors a complete picture of the breadth and scope of the companys expertise.
Connie Meng, Business Analyst with In-Depth Geophysical, is confident that the new website will have a positive effect on the companys professional image. We are incredibly excited to have this new website. It really gives a more professional appearance to our company and reflects our culture much better than before. It is absolutely beautiful, and I couldn't recommend any company more than Adhere Creative. Their attentiveness to our needs and attention to detail really made making such a huge change as easy as possible.
Adhere Creatives Director of New Business Daniel Vaczi is pleased to help In-Depth update their look, improve their sites functionality and reach their current and future goals: In-Depth Geo's new website gives them a renewed sense of the value they provide. We believe that this new marketing tool will open new doors for them.
The new In-Depth Geophysical site is located at http://www.indepthgeo.com.
About Adhere Creative
Adhere Creative is a Houston web design company that offers web design, search engine marketing, content marketing and other inbound marketing services. Adhere specializes in results-driven marketing initiatives.
Find More Tech Press Releases