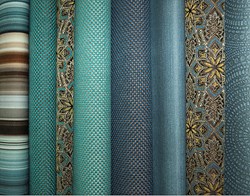 St. Louis, MO (PRWEB) October 04, 2013
In Anzea's newest product introduction, each fabric and vinyl incorporated at least two shades of blue to stay on point with the latest fall decor trend. "Florentine," "Tuscany," and "La Piazza," three new textile designs, are pictured in their blue colors, as well as Hemp Canvas and Sistine. These Anzea textiles are on trend while also delivering high performance. The three fabrics in the new product introduction utilize GreenShield technology, ensuring the textiles are environmentally friendly.
What consumers may not know is the color blue has been used since the beginning of human civilization. In wall paintings from Egypt, Rome, and Mesopotamia there is evidence of its use within fashion and decor. Blue pigmentation creation has evolved over the years. The first blue pigment to be used was derived from azurite, the mineral. Indigo was the next major pigment of blue that has been used. Indigo is responsible for the color of blue denim jeans. The newest pigment of blue was recently discovered at Oklahoma State University using manganese. This pigment and recipe is the closest anyone has come to re-creating the Ancient Egyptian blue. Historically speaking blue is very rare to find in nature, therefore it could only be afforded by the royal or wealthy. This resulted in the historical relationship between wealth and blue, giving us the modern expression of "blue blood." Blue Anzea textiles make the perfect on-trend addition to any room.
Even though the textile industry doesn't change trends nearly as often as the fashion industry, there are always fashion-conscious ways to encapsulate the latest trends in décor and textiles.
About Anzea:
Anzea was founded in 1990 by creative director Mitzi Mills and business partner Bruce Doeren. Since the company's inception, Anzea has focused on contract upholstery textiles offering the marketplace the option of leading edge colors, bold designs and high performance. These designs are reflective of Mills graphic design background, love of photography and travel.
The Anzea contract textile collection is a spirited mix of materials from luxurious natural fibers to recycled polyester yarns. Bleach cleanable, solution dyed fabrics and vinyl upholstery form a cohesive high performance bond with the green faux leathers in nylon matrix and polyurethane. To complement Mills designs, Anzea expanded to include the Jhane Barnes collection adding a layer of sophisticated fashion. Barnes joined Ruth Adler Schnee as an inspiring voice in the Anzea design brand. Schnee's mid-century designs for Anzea are in galleries and museums worldwide. Schnee's understanding of the whimsy in textile design has influenced the color palette and patterns developed by Anzea and the design team over the last 22 years. Design, marketing and warehouse facilities are located in the Fort Worth, Texas arts district. Visit Anzea at http://www.anzea.com or call at 1-877-862-6932.